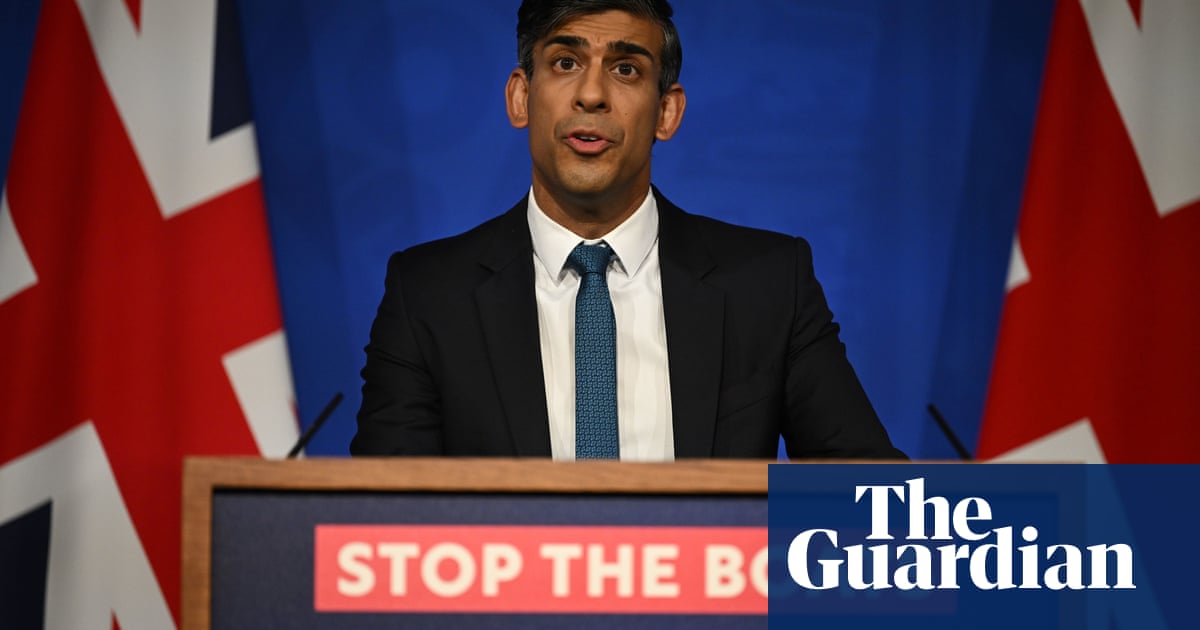 Rishi Sunak has staked his political credibility on pushing through emergency legislation to resurrect his high-profile plan to deport asylum seekers to Rwanda, after the supreme court ruled it was unlawful.
In a confrontational media briefing held on Wednesday afternoon, organized quickly in response to the five judges' unanimous dismissal of the proposal, Sunak stated that a new law would put an end to the cycle of legal disputes by officially declaring the safety of the East African nation.
In response to mounting pressure from the Conservative party's right wing to leave the European convention on human rights (ECHR), Sunak stated that he would not permit a foreign court to hinder these flights. However, he did not disclose how he would ensure this.
The prime minister stated that they are ready to do whatever it takes to resume flights and will not choose the simpler option. They made this statement while standing at a podium with the phrase "stop the boats" displayed.
A potential alternative proposal for a fresh global agreement involving Rwanda would offer "legal assurances" that individuals expelled from the UK would not be sent back to their nations of origin, he stated.
According to sources from Whitehall, it may take over a year to finalize a treaty that would formalize the previous agreement with Rwanda. However, there is a possibility that it could be challenged in court.
The statement issued by Lord Reed, the president of the supreme court, stated that all five judges concurred with the court of appeal's ruling that there was a genuine danger of asylum requests being incorrectly processed in Rwanda. This could lead to individuals being unjustly sent back to their home country and facing persecution.
He referenced evidence provided by the United Nations' refugee agency, the UNHCR, which revealed the shortcomings of a previous deportation agreement made between Israel and Rwanda.
The decision found that there were significant reasons to believe that sending the individuals to Rwanda would subject them to a genuine danger of mistreatment.
Although a few Conservative Members of Parliament expressed strong opposition to the ruling, with Lee Anderson, the vice-chair of the Conservative party, suggesting that Sunak disregard the laws and immediately return the migrants, the Prime Minister stated that he acknowledged and honored the decision but would attempt to find a workaround.
Sunak's urgency to pass laws may face obstacles if his proposal is met with opposition in the House of Lords, which appears probable. The Liberal Democrats stated on Wednesday evening that Sunak has essentially "doubled down on his unsuccessful approach".
The Bar Council cautioned that enacting a law to overturn this decision would pose significant and crucial considerations regarding the roles of the courts and parliament.
Sunak did not specify a timeline for the introduction of the legislation, nor did he explain how it would address the supreme court's ruling that the Rwanda plan violated three current UK laws.
During Sunak's press conference, he mentioned that the government is putting in significant effort to adhere to their schedule of the first flights departing in spring. However, he avoided giving a definite assurance that this will occur before the upcoming election, declining to do so three times.
Continued postponement is expected to anger Conservative Members of Parliament on the party's right wing, who are vigorously advocating for government officials to implement laws that would restrict the European Convention on Human Rights and the United Nations Refugee Convention in UK legislation – a decision that would also worry moderate Tories and potentially impact the peace process in Northern Ireland.
Following the press conference, the New Conservatives, a faction within the Tory party with populist tendencies, led by backbenchers Miriam Cates and Danny Kruger, stated that a bill must be presented to parliament in a matter of weeks and it must contain all necessary measures to ensure that flights resume within a few months.
Some supporters of Suella Braverman, who was dismissed as home secretary by Sunak on Monday after various scandals, strongly criticized the decision. Braverman had also joined a group of Conservative MPs in urging for immediate legislative action.
An ally of Braverman stated that this is a treaty that he is attempting to turn into law, essentially a revised plan A. This will likely result in another legal battle for him. It is another example of Rishi's fanciful ideas.
A previous government official expressed concerns that the treaty will face legal challenges and could lead to their party being voted out of power. They also criticized the emergency legislation as a deceptive tactic and accused Sunak of abandoning Conservatism and relying on Cameron to guide them through the year. This situation is unsustainable.
Sunak is likely aiming to alleviate any concerns among fellow MPs with his bold and assertive attitude displayed at the press conference. When questioned about his support for Anderson's suggestion to disregard the ruling, Sunak responded by acknowledging that these remarks demonstrate the intensity of sentiment within the country.
Sunak stated that both his and the country's patience have worn thin. He expressed a commitment to taking the required actions to eliminate any hindrances in implementing the policy and ensuring that flights can depart as scheduled in the upcoming spring.
He refrained from making a firm commitment to leave the ECHR, stating that he will instead "reconsider our international partnerships to eliminate any hindrances" and pointed out that other nations, such as Italy, are considering implementing similar policies to deport individuals to third countries.
Several Conservative Members of Parliament have proposed reevaluating the Rwanda plan and shifting the focus towards alternative methods to prevent small boats from crossing the English Channel.
Natalie Elphicke, who represents the Dover constituency where most of these arrivals occur, stated on Times Radio that the supreme court's ruling today is straightforward and we must shift our attention away from Rwanda.
The court has stated that the UK can potentially make outsourcing agreements with other countries, which is something that many other countries already do. However, it is important that we prioritize addressing the immediate threat of people smugglers becoming more confident during the winter season.
In the House of Commons, James Cleverly, the recently appointed home secretary, downplayed the possibility of withdrawing from the European Convention on Human Rights (ECHR).
Yvette Cooper, the opposition's secretary for home affairs, implied that Cleverly had previously made a private comment about the Rwanda plan being "crazy", a remark that Cleverly did not directly deny.
Source: theguardian.com