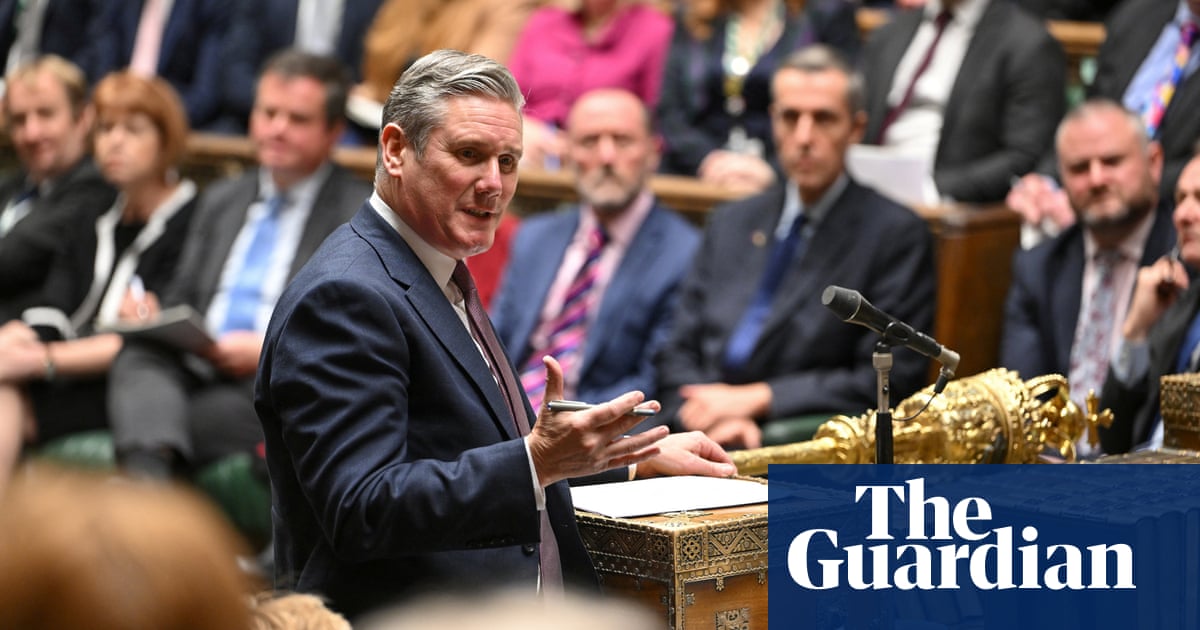 Eight members of the Labour party's senior leadership, including Jess Phillips, have stepped down in protest as Keir Starmer faced a significant revolt over a decision to vote for a ceasefire in Gaza.
In total, 56 members of the Labour Party supported a proposed change to the king's speech proposed by the Scottish National Party. This dealt a significant blow to the efforts of the Labour leader to maintain solidarity amidst the Israel-Hamas conflict.
The Labour officials had previously stated that any member of the frontbench who supported the amendment, which specifically demanded a ceasefire, would be fired.
On Wednesday evening, Phillips, Afzal Khan, Yasmin Qureshi, and Paula Barker resigned from their positions on the front bench after voting in favor of the amendment and going against party discipline.
The leader of the Labour party dismissed Rachel Hopkins, Sarah Owen, Naz Shah, and Andy Slaughter following the vote. Mary Foy, who serves as Angela Rayner's parliamentary private secretary (PPS), and Dan Carden, another PPS, have also departed from their positions on the frontbench.
After the voting ended, Starmer expressed his disappointment that his fellow party members did not support his stance.
"Like other global leaders, I have consistently urged the importance of following international laws, implementing humanitarian pauses to allow for the delivery of aid, food, water, utilities and medicine. I have also expressed concern about the significant number of civilian casualties."
He stated, "Being a leader means making ethical decisions, which is the bare minimum that the public deserves and what leadership requires."
The leader of the Labour party had aimed to prevent a revolt by proposing a distinct amendment that would denounce Israel's military operations without explicitly demanding a ceasefire. He also advised his members to abstain from voting on the SNP's motion. Nevertheless, numerous members opted to support both measures, fueled by frustration among Labour members regarding Starmer's handling of the matter.
Members of Parliament casted their votes, with 293 voting against and 125 in favor, resulting in a majority of 168, to dismiss the amendment proposed by the Scottish National Party. Before the vote, Qureshi, Khan, and Barker resigned from their positions.
Phillips, the most prominent member of the front bench, announced that she was resigning with a feeling of great sadness.
In her resignation letter, the MP for Birmingham Yardley stated that this week has been particularly challenging in the world of politics since she first joined parliament.
I have made every effort to prevent this result, but I am saddened to announce that I will be stepping down from my position on the Home Office team.
"I am obligated to cast my vote in alignment with the opinions of my constituents, my personal beliefs, and my emotions which have been deeply affected by the ongoing crisis in Israel and Palestine for the past four weeks."
I am unable to find a path where the current military operation does anything other than jeopardize the prospect of peace and safety for individuals in the region, both presently and in the long run.
Shah, MP for Bradford West, and Khan, MP for Manchester Gorton, announced in Parliament that they plan to vote for a prompt ceasefire. Helen Hayes, MP for Dulwich and West Norwood, initially planned to support the amendment but ultimately chose to abstain from voting.
Following the vote, Shah expressed the need for us to clearly state our stances. As parliament members, our responsibility is to utilize our platforms to persuade individuals, which is exactly what I did in the chamber earlier.
She informed Sky News that she is not the only one advocating for a ceasefire, as her inbox has been flooded with thousands of emails on the topic. The British public has expressed a strong sentiment regarding this issue.
At some stage, there will be an end to the fighting. If we had asked for a pause in the fighting yesterday, 144 innocent children could have been saved. Sadly, a child loses their life every 10 minutes.
Previously, she stated in the Commons: "Our principles drive us to improve and for this reason, even though it may put our personal positions at risk, we must do what is morally correct."
Although it is customary to align with our closest ally, the US, for the sake of foreign policy, it is a moral imperative to distance ourselves from them in pursuit of peace.
We are aware that there will ultimately be a pause in this ongoing crisis – all wars come to an end with a stop in fighting.
The issue is not whether there will be a halt in fighting, but rather when it will occur. For the Palestinian people, each passing minute, hour, and day brings more sorrow as orphans are created, mothers mourn, and families are destroyed.
Khan informed Starmer that he planned to support a ceasefire shortly before addressing the Commons, according to sources at The Guardian. It is believed that Khan was questioned about whether the leadership could persuade him to change his stance.
Khan addressed the Commons stating that if a ceasefire had been implemented yesterday, 144 children in Gaza would still be alive today. He also accused Israel of violating international humanitarian laws and crossing all boundaries.
Starmer has received increasing criticism for his stance on the conflict after his interview last month, during which he seemed to imply that Israel could deny access to water and electricity to civilians in Gaza.
In a recent speech at the Chatham House thinktank, he made an effort to address the divisions and promote healing. He urged Israel to follow international law, but did not explicitly call for a ceasefire.
On Wednesday, Starmer devoted a significant amount of time to meeting with his shadow ministers in an effort to reduce the anticipated rebellion.
Source: theguardian.com