People who were forced to leave a deteriorating tower in Bristol due to chaotic circumstances may have to wait several weeks before being allowed back. This is because the city council has confirmed that significant flaws in the building's construction, dating back 65 years, have put it in a dangerous situation. The council also announced that other buildings from the same time period will be inspected as well.
Approximately 400 individuals, including an estimated 100 children, have been instructed to vacate Barton House, which is the oldest high-rise building in the city council's housing complex. Nine households have chosen not to comply with the evacuation order, and 29 households could not be reached. The remaining residents either found temporary lodging with loved ones or were provided accommodations at local hotels and a rest center located at city hall.
The mayor of Bristol, Marvin Rees, stated on Wednesday that additional assessments must be conducted on the 15-storey building before residents can go back. When questioned about the safety of the building over the past 65 years, he replied, "It was not constructed according to the designated specifications, so the answer is yes."
Rees stated that a survey of three out of 98 apartments showed that the building may not have been constructed according to its original design. Several concerns have arisen, indicating that there is a significant risk to the building's structural integrity in case of a fire, explosion, or major impact.
"This includes the apparent lack of structural ties between the floors and the load-bearing external walls. There is lower fire resistance of these structural elements and less concrete cover than set out in the original plans for the floors. Even if there was concrete cover as thick as set out in the original plans, this would still be less than would be used in a building built today."
According to Kye Dudd, a member of the city council in charge of housing services, due to the occurrence of five recent fires in tall buildings, evacuation was the only option.
He stated that there is no proof of any other building experiencing the same problem. However, they conduct regular surveys and in light of recent events, they will be more diligent in inspecting buildings with similar age and design.
"We're not in a position to say how long the more extensive surveys [on Barton House] are going to take but I would say it's days and weeks rather than anything longer."
Many people were angry and frustrated with the way the evacuation was managed, and they were worried that other buildings might also be in danger. Despite numerous inquiries, the city council has not addressed this issue.
Nuh Sharif, a 42-year-old taxi driver, reported that he, his wife, and two daughters had stayed at a hotel in the city center overnight. He expressed dissatisfaction with the state of the room, describing it as messy and the mattress as dirty.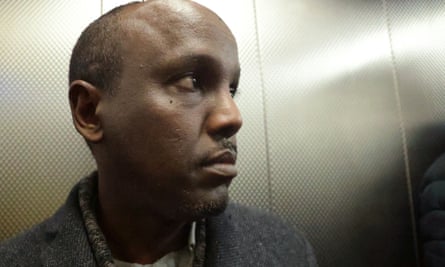 On Wednesday, Sharif went back to his apartment on the sixth floor to retrieve some of his belongings, such as additional pillows and sheets. He has been living in the apartment complex since 2012 and expressed concerns about its safety. He worried that if something were to happen, the building might collapse and questioned whether the proper precautions had been taken after the Grenfell disaster.
Shaban Ali, age 36, chose to remain in his apartment on the 11th floor despite being told to evacuate. He explained, "I had no other choice. I wasn't given another option. They took my contact information and said they would call, but they never did."
Ali, who has joint custody of his children, called their mother to request her assistance in caring for them. He expressed his frustration and disappointment with the council's handling of the situation, stating that there is a lack of strong leadership.
Ali expressed disapproval towards Rees, who is currently attending a conference in Rwanda, for not addressing the situation until 24 hours after the evacuation. "People are frustrated. I doubt they will desire to return here permanently and the concern is that they will simply relocate us somewhere else."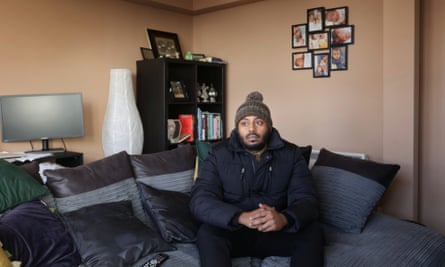 According to him, certain individuals remained behind to care for their pets while others stayed out of fear that their homes would be attacked. He expressed concern over the situation.
Rayhan Ismail, a parent of two young children aged six and three, expressed that he and his family did not get to sleep until midnight due to the evacuation. He described the experience as chaotic and shocking.
According to Khalid Abdi, a community worker, individuals were experiencing panic. He witnessed residents collapsing in shock. Abdi also mentioned that those living in adjacent buildings were worried about the possibility of being impacted as well. The entire neighborhood is on edge.
Stuart Roberts, aged 44 and a resident of the eighth floor of Barton House, stated that he had no plans to leave. He shared that he was being urged to relocate to a bed and breakfast, but he refused to do so. Stuart expressed his frustration with the constant displacement of families and asserted that he was willing to take his chances staying in his current home, as he does not believe it is in danger of collapsing.
Despite the overall negative atmosphere, there was a glimmer of hope. A nearby establishment, Cafe Conscious, stepped up to become a central point for locals, collecting donations of food, water, toiletries, and diapers. "The community is more capable of organizing than the local government," stated Rebecca Scott, a prominent figure in the community.
Source: theguardian.com