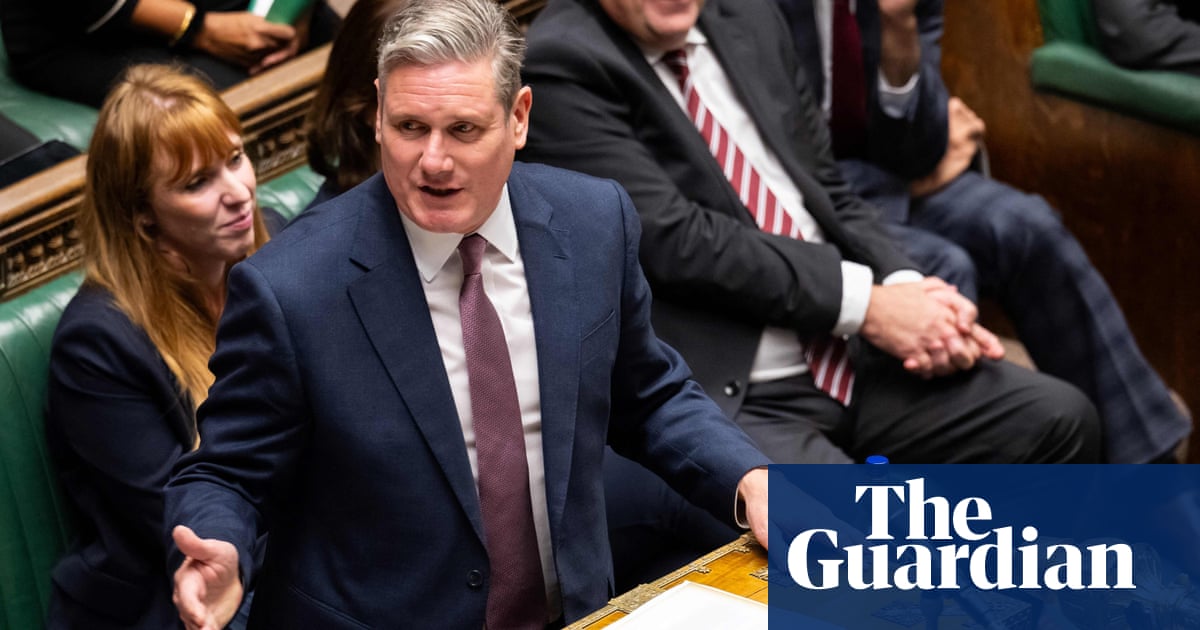 Approximately 25% of Labour Members of Parliament have openly advocated for a cessation of hostilities in Gaza, going against the party's stance, which includes two members of the frontbench.
Highlighting the amount of pressure on Keir Starmer regarding this matter, 49 Labour MPs have expressed their desire for a ceasefire or have signed a Commons motion advocating for one. This accounts for 199 out of the current total of Labour members in the Commons.
There is ongoing speculation that certain frontbenchers may be considering resignation. On Friday, Imran Hussain, MP for Bradford East and shadow minister for the future of work, endorsed an early day motion urging a halt to hostilities.
Approximately 40 Members of Parliament from the Labour party have endorsed the EDM, which serves as a formal means for expressing a viewpoint. The EDM denounces the killing of Israeli civilians by Hamas, but also states that this does not warrant retaliating by punishing the entire Palestinian population. It also urges for a cessation of hostilities.
Inquiries to the Labour party regarding the potential consequences for Hussain's disagreement with the party's stance on a ceasefire went unanswered. This implies that Starmer and his team are eager to prevent worsening the situation.
Yasmin Qureshi, the shadow minister of equalities, is among those who have called for a ceasefire through alternative methods. She expressed her views during prime minister's questions on Wednesday, although she has not faced any consequences yet.
Qureshi inquired of Rishi Sunak, "How many additional innocent Palestinians must perish before the prime minister requests a humanitarian ceasefire?"
A representative from the Labour party described this as a desire to be informed of when Sunak may request one, rather than insisting on a ceasefire itself.
The stance of the Labour party, as stated by Starmer and his team, is that they endorse a proposal supported by the US and UN for "pauses" aimed at providing humanitarian relief. These pauses would aim to temporarily halt the bombings by Israel and the firing of rockets from Gaza, in order to facilitate aid delivery, allow civilians to evacuate, and secure the release of hostages held by Hamas.
According to this position, demanding a full cessation of hostilities would deprive Israel of its justified ability to pursue Hamas following their killing of nearly 1,400 civilians and taking over 200 hostages on October 7.
Starmer faces strong demands from several of his MPs to increase efforts in providing aid for Gaza. The Hamas-controlled health ministry reports that over 6,500 individuals, including numerous children, have lost their lives due to continued Israeli attacks.
Several Labour MPs have reported receiving a significant volume of communication and messages from their constituents expressing concern about the party's stance. This was particularly evident after an interview on LBC during the Labour conference, where Starmer stated that Israel has the right to restrict power and water supply to Gaza. He later clarified that his statement was focused on Israel's right to self-defense in general.
Multiple members of the Labour party have informed the Guardian that they have been inundated with a higher volume of emails and messages regarding this particular matter than any other in the past. In certain instances, over 1,000 individuals have reached out to a single member of Parliament, representing a diverse range of perspectives from Muslim communities and beyond.
The leader of the Labour party and his deputy, Angela Rayner, held a meeting with over 12 Muslim Labour MPs on Wednesday afternoon. They expressed that his stance on the conflict was causing distress among many members of the party.
Participants at the gathering contended that the frustration extended beyond just a "Jewish-Muslim community matter".
After the LBC interview, a group of Labour councillors resigned from the party. On Wednesday, 150 additional councillors came together to sign a letter to Starmer and Rayner, urging the Labour party to support a ceasefire.
Starmer has faced allegations of misrepresentation regarding a meeting he had with Muslim leaders in Cardiff on Sunday.
The South Wales Islamic Centre reported that a gathering between Starmer and approximately 30 leaders from the community was "tense", and that the tweets made by the Labour leader afterwards were not truthful.
Source: theguardian.com