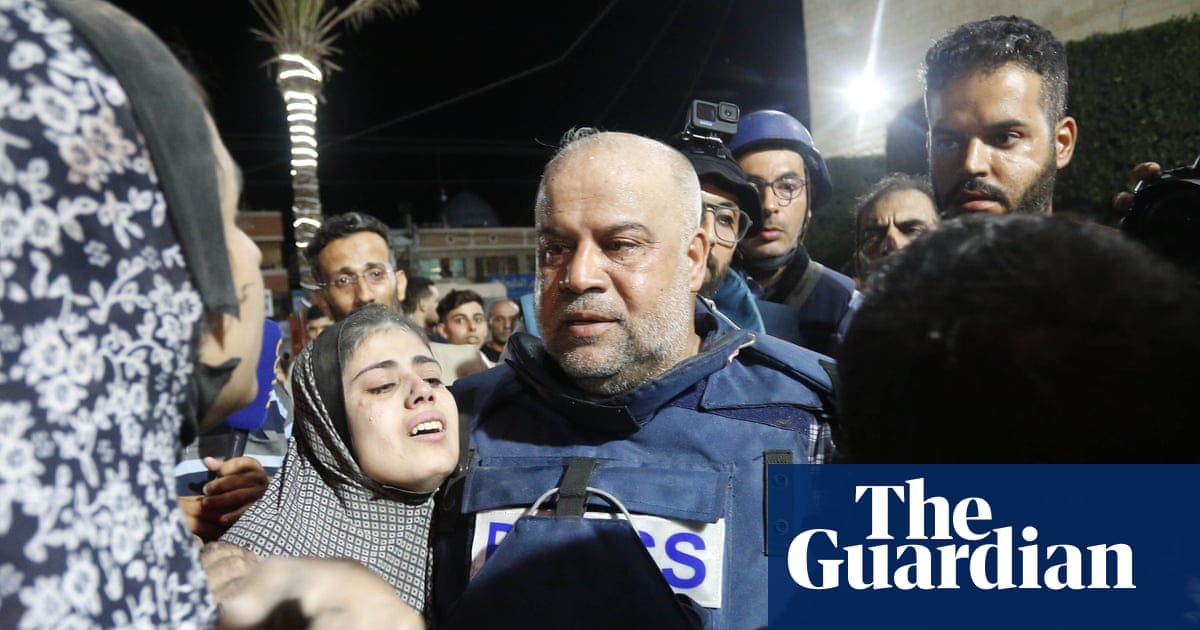 A reporter from Al Jazeera is grieving the death of his entire immediate family following their fatalities in an Israeli airstrike in Gaza.
Wael al-Dahdouh, the bureau chief for Al Jazeera in Gaza, and his family relocated to a residence in the Nuseirat camp in central Gaza following Israel's warning on October 13th for individuals in the northern part of the region to evacuate.
On Tuesday night, an airstrike killed Dahdouh's wife, son, daughter, and grandson. The Hamas-controlled health ministry reported that the surge of Israeli attacks has resulted in hundreds of deaths.
According to Al Jazeera, the Nuseirat camp in Gaza was the target of an attack on a family's home. The family had sought refuge there after being forced to flee their neighborhood due to initial bombings, which were prompted by Prime Minister Benjamin Netanyahu's request for civilians to relocate to the south.
The network strongly denounces the random targeting and murder of innocent civilians in Gaza, which has resulted in the death of Wael al-Dahdouh's family and many others.
The health ministry reported that twenty-one additional individuals lost their lives in the same airstrike.
According to Al Jazeera, additional members of Dahdouh's family were interred beneath the debris.
While assisting with the live broadcast of the night sky in the besieged territory, Dahdouh was informed that his family members had passed away.
Shortly after, the TV channel changed to a video of Dahdouh arriving at Al-Aqsa Martyrs hospital in Deir al-Balah. He was overcome with sorrow as he looked over his deceased son's body in the hospital's morgue.
"They take revenge on us in our children?" he said, kneeling over his son's bloodied body, still wearing his protective press vest from that day's work.
In an interview with Al Jazeera as he was leaving the hospital, Dahdouh stated, "The events are obvious. This is a deliberate series of assaults on innocent children, women, and civilians. I was simply reporting on an attack in Yarmouk when the Israeli airstrikes hit multiple areas, including Nuseirat."
"We were skeptical that the Israeli occupation would let these individuals go unpunished. Unfortunately, that is exactly what occurred. This is the supposed 'safe' zone that the occupation army mentioned."
The video is expected to make a strong impact in the Arab region. The journalist, who is 53 years old, is highly respected in his hometown of Gaza for sharing the stories of people's struggles and challenges during numerous conflicts with the rest of the world.
Al Jazeera correspondent Youmna ElSayed expressed her heartbreak while reporting on Wael's family in Gaza. She observed his broken state and noted how he brings a calming presence to those around him. ElSayed described him as a big brother, rather than just a bureau chief.
He chose to remain in Gaza City despite the dangers and persisted for 19 consecutive days. He explained, "I must be present in Gaza City to document the struggles of those who are being bombed daily."
On Thursday, Dahdouh and other individuals who were grieving attended the funeral while wearing blue flak jackets, commonly worn by reporters in the Palestinian territories.
The Israeli military did not provide any comments about the strike. They claim to only target Hamas military sites in Gaza and accuse Hamas of using civilians as shields.
According to the health ministry in Gaza, which is controlled by Hamas, over 7,000 Palestinians have lost their lives in less than three weeks due to the ongoing conflict. This number includes those who were killed in an explosion at a hospital, which is still being debated. This death toll is more than triple the number of Palestinian fatalities during the six-week-long Gaza war in 2014. The ministry's report also states that over 2,900 minors and 1,500 women were among the casualties. The victims also include 22 journalists, as reported by the Palestinian journalists' union.
According to the Israeli government, the conflict has resulted in the deaths of over 1,400 individuals in Israel, primarily innocent civilians who were killed in the initial attack by Hamas on October 7th.
In Khan Younis on Wednesday night, Israeli airstrikes destroyed over eight homes that were owned by an extended family, resulting in the death of at least 15 individuals. Emergency vehicles quickly responded to the area while debris from the demolished structures lingered in the atmosphere.
Approximately 1.4 million individuals, out of Gaza's total population of 2.3 million, have been forced to leave their homes. Nearly half of them have sought refuge in UN shelters. Despite Israel's directive for residents to move to southern Gaza, hundreds of thousands still remain in the northern region, risking being labeled as "accomplices" of Hamas.
.
This report was contributed by Reuters.
Source: theguardian.com