Following Eddie Howe's injury-ridden team's 2-0 loss to Bournemouth, Kieran Trippier engaged in a heated exchange with disgruntled Newcastle supporters.
The visiting team, who were dealing with multiple injuries, were defeated by Dominic Solanke's two goals in the second half on the southern coast. After the game, the players went to acknowledge the fans who had traveled to support them. A video was shared on social media of Kieran Trippier responding to a fan by asking, "Aren't the guys giving it their all? How many injuries do we have?"
Later, Trippier downplayed the incident, stating to Sky Sports that the fans were simply emotional after traveling a long distance. He had a conversation with one of them, assuring them that the team was giving their all and there was no need to panic. Despite the loss, he apologized for the result and praised his teammates for their effort.
The manager of Newcastle, Howe, acknowledged the frustrations of the fans. He stated, "Kieran is okay. Emotions can be intense." He also expressed that everyone is feeling emotional after the recent events. He emphasized the importance of their away supporters and thanked them for their continuous support.
Howe's return to Bournemouth was a nightmare as his team's seven-game unbeaten streak came to an end and their injury problems worsened. Newcastle were already without 11 players due to injuries and suspensions, with Callum Wilson sustaining a hamstring injury in the midweek loss against Borussia Dortmund.
Howe announced that Wilson will be leaving the England team and will be out of action for a period of time. Later on, he also had to sub out Almirón due to a hamstring injury in the first half.
Due to a lengthy list of injured players, Lewis Miley, 17, made his first Premier League start in central midfield. Newcastle's limited choices resulted in 18-year-old Ben Parkinson, who had never played in a first-team match, being left to play as the lone striker.
According to Howe, the game was difficult to watch as we were unable to perform to our best. This was not our usual performance and it was a real struggle. The last time we defeated Newcastle was in 2017 when I was managing Bournemouth. It was a completely off day for us. While there are factors that contributed to our performance, I do not want to make excuses. My focus is on supporting the players.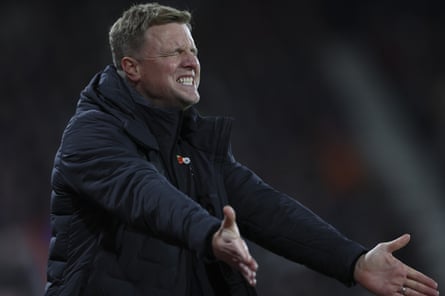 The dominant Bournemouth team took an hour to make a breakthrough, which was the only surprise. Joe Willock challenged Antoine Semenyo, causing the ball to roll off him and into the path of Solanke. Solanke then quickly ran into the area and scored a powerful shot, just inside Nick Pope's near post.
Bournemouth scored a second goal from a corner when Solanke redirected the ball with his heel after Sinisterra's header hit the post. This secured Bournemouth's second win of the season and moved them out of the bottom three.
According to Bournemouth manager Andoni Iraola, our team rightfully earned this victory. We performed well and had numerous opportunities. Fortunately, we were able to seal the deal in the second half.
"Dom has been a valuable asset to our team. Both on and off the field, he supports and assists his fellow teammates. Though he may have missed opportunities in the first half, he remained focused and maintained his level of play."
Source: theguardian.com