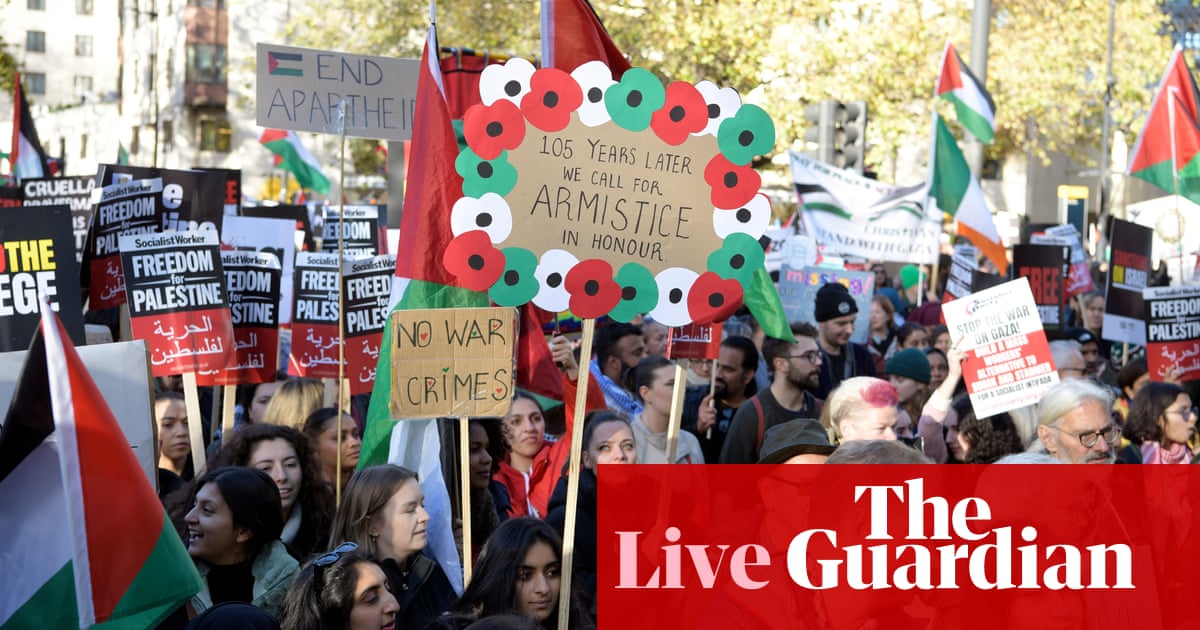 London will be addressing any instances of unrest and safeguarding important locations in preparation for tomorrow's memorial ceremonies.
Live updates from the pro-Palestine march in London. We are concluding our coverage, but here is a recap of the main happenings throughout the day:
Today, a large number of individuals participated in a demonstration in support of Palestine in London. According to the Metropolitan police, approximately 300,000 individuals gathered in the city, while event organizers estimated the number to be closer to 800,000. They declared it to be one of the largest marches in British history.

The Metropolitan Police have reported that 126 individuals have been taken into custody in London due to severe violence. Matt Twist, an assistant commissioner, described the violence from right-wing protestors towards law enforcement as "unusual" and "alarming". He additionally revealed that several far-right groups were stopped and searched, resulting in the discovery of weapons such as a knife, baton, and knuckleduster, as well as class A drugs.

Approximately 150 individuals supporting Palestine were taken into custody by authorities in Grosvenor Place, Belgravia during the evening. The Metropolitan Police reported that a separate group from the main protest were setting off fireworks and a significant number were concealing their faces. Several arrests were made when some of the fireworks hit officers in the face.

The Met discovered several severe crimes related to hate and potential support for Hammas during the protest, and they are currently under investigation.

Nine law enforcement personnel were harmed on Saturday. Two of the officers needed medical attention after stopping a rowdy group from reaching the Cenotaph during a commemorative ceremony.

Rishi Sunak has condemned "violent scenes" from the far-right group the English Defence League and associated groups and "Hamas sympathisers".

Suella Braverman has faced criticism for fueling tensions. The anti-fascist organization Hope Not Hate demanded her resignation as home secretary, and politicians such as Yvette Cooper and Sadiq Khan pointed out the detrimental impact of her statements.

During his time at Victoria station, Michael Gove was surrounded by a group of pro-Palestinian demonstrators. They expressed their disapproval by chanting "shame on you" while the police escorted the communities secretary through the concourse.
According to the PA, London will have double the usual number of officers on duty this weekend, with 1,375 officers assigned for Sunday. The PA also reports that the Cenotaph will have continuous police coverage for 24 hours until the conclusion of Remembrance events.
There is an increasing demand for Rishi Sunak to remove his home secretary from their position.
As far-right violence erupted on Saturday, Braverman faced increasing pressure due to her labeling of pro-Palestinian protesters as "hate marchers" and her accusations of police bias for allowing the rally to take place.
In an opinion article published in the Sunday Telegraph, Starmer expressed his concern about the way the home secretary and prime minister have treated both the police and protesters this week. He also highlighted the recent controversial statement made by the home secretary, where she described homelessness as a "lifestyle choice," and criticized their lack of respect for the values and principles of the country.
"Suella Braverman has been actively exacerbating division and animosity among the British public, and undermining the integrity of her position. This behavior is damaging and unacceptable."
London will address any instances of unrest and safeguard important locations in advance of tomorrow's commemorative occasions.
A video clip shared on X, the platform previously known as Twitter, depicts several demonstrators holding flags and advancing towards Gove while police officers from the Metropolitan force push them back and yell at them to retreat. Further details about this event can be found below.
The organization Campaign Against Antisemitism has issued a statement accusing Sir Mark Rowley, the commissioner of the Metropolitan police, of neglecting the safety of Britain's Jewish population. They are also demanding answers from Rowley regarding the decision to allow the march to proceed.
The CAA reports that the Jewish community is experiencing fear and that they have received reports of families being targeted while leaving synagogues. The statement expresses disappointment in the policing approach towards these demonstrations and believes that the march should not have been permitted. They call on Sir Mark Rowley to address the concerns of Britain's Jewish population, as they feel he has let them down.
London said:
I would like to express my appreciation for the Met police who handled a challenging day with exemplary professionalism. The vast majority of individuals who exercised their democratic right to protest in the streets of London today did so in a peaceful manner.

Unfortunately, there have been instances of far-right individuals assaulting law enforcement and others using the pro-Palestinian demonstration as a platform for promoting bigotry and discrimination, including anti-Semitism. This behavior is not acceptable, as well as any efforts to intimidate politicians.
Khan claimed that the far-right had been "encouraged" and "emboldened" by comments they'd heard this week, including from senior politicians, such as Suella Braverman. He said:
I encourage everyone to consider the influence their words and actions may have on others.
He stated that he fully backs the Met in their efforts to take action against individuals who have broken the law. He also expressed his ongoing support for their "zero-tolerance approach" towards those who engage in violent acts or spread messages of hate.
Hope Not Hate, an anti-fascist organization, has demanded for Suella Braverman to step down following the far-right confrontations at the Cenotaph on Saturday. Nick Lowles, the CEO of Hope Not Hate, stated that as the home secretary, she has a duty to ensure the safety of all communities and prevent any repercussions from global events occurring in the country. However, Lowles criticized her actions in recent weeks, stating that they have only worsened tensions and incited violence among the far-right. He concluded that Braverman must resign from her position.
The organization, which works to monitor and raise awareness about the extremist right-wing movement, reported that they had been monitoring the movement's reaction to the recent pro-Palestinian protests. However, they only noticed increased activity after Braverman mentioned the Cenotaph and Armistice Day.
The police of Metropolitan reported that they have apprehended approximately 150 individuals who participated in the pro-Palestinian protest at Grosvenor Place in Belgravia.
The group was setting off fireworks and several individuals were wearing masks, according to their statement. They also mentioned that officers were utilizing their authority under Sections 60 and 60AA to apprehend and search the individuals involved.
Source: theguardian.com