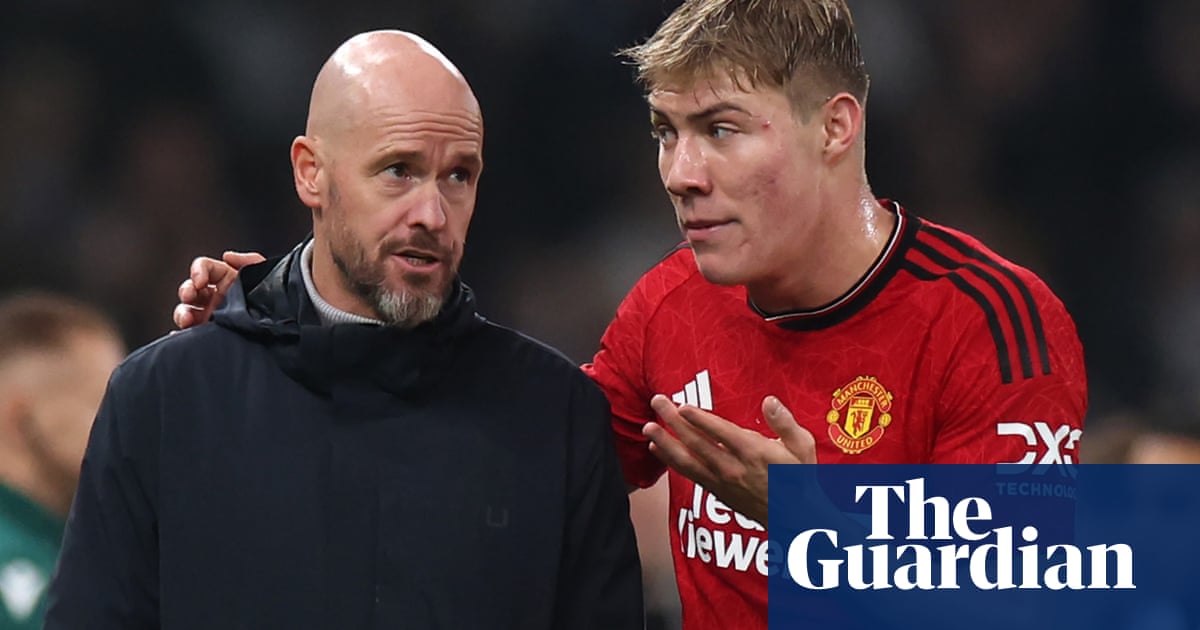 Rasmus Højlund expressed his belief that Erik ten Hag has the support of all players in the dressing room following Manchester United's 4-3 defeat against Copenhagen in the Champions League.
The 20-year-old forward netted two goals, bringing his overall tally in the tournament to five. However, United currently holds the lowest position in Group A with only two matches remaining. Out of 17 games played this season, United has suffered nine losses, while winning the remaining eight. This loss on Wednesday will likely intensify the criticism on Ten Hag, especially as they prepare to face Luton in the Premier League on Saturday.
Regarding Ten Hag, Højlund expressed, "He is an excellent coach. He pays attention to every little aspect and has been a great source of support and confidence for me. I believe all the players in the team also back him. I am hopeful that it won't be long before we see success for United. The first half hour of today's game was some of the best football we have played this season."
At Parken, United had a 2-0 lead due to Højlund's goals. However, the game shifted when Marcus Rashford received a red card for stepping on Elias Jelert's ankle near the United area. As a result, Rashford will be suspended for the upcoming game against Galatasaray. If Uefa considers it violent behavior, the suspension will be extended, preventing him from playing against Bayern Munich at home as well.
Donatas Rumsas, after being prompted by the VAR, was shown to the sideline screen to assess the situation and subsequently gave Rashford a red card at the 43rd minute. Ten Hag criticized the call as "unfair" and just three minutes later, Mohamed Elyounoussi scored a goal that United's manager argued should not have been counted due to an offside Copenhagen player obstructing the view of goalkeeper André Onana.
Ten Hag stated that Diogo Gonçalves' penalty, scored in the ninth additional minute of the first half, should not have been awarded for handball against Harry Maguire. Højlund commented that their team currently needs some good fortune and that they are lacking attention to detail.
United regained their advantage in the second period thanks to a penalty from Bruno Fernandes. However, Lukas Lerager and Roony Bardghji scored late goals, resulting in another loss for the team. Ten Hag's squad is now one point behind Galatasaray and Copenhagen, with an equal goal difference as Galatasaray and a worse one than Copenhagen. Fernandes stated to Uefa, "We have a challenging task ahead, but we must persevere and overcome it."
When asked about scoring against his former team, Højlund expressed mixed emotions. He was happy to have scored two goals, but disappointed that his team received a red card and could not continue their strong performance in the first 20-25 minutes. It was a unique experience for him to hear FC Copenhagen's anthem before the game, but ultimately his loyalty lies with Manchester United and he hopes they win every match.
Denis Vavro, defender for Copenhagen, has referred to Alejandro Garnacho as a "clown" for attempting to tamper with the penalty spot before Gonçalves's successful kick. Garnacho also tried this tactic during the previous match at Old Trafford two weeks ago, but Onana was able to save Jordan Larsson's kick in added time.
According to Vavro, who spoke to bold.dk, this is the second time that Garnacho has done this. And to do it on our home turf? In my opinion, he is behaving like a clown. It shows a childish mentality when he attempts something like this again, especially during an away game. It's one thing to do it at home in the 97th minute, but to try it in the first half here? I don't understand why he would do that.
On Saturday, United supporters will continue their demonstrations against the Glazer family's ownership of the team. This comes after a temporary break due to the passing of Sir Bobby Charlton. The 1958 group is calling for a complete sale of the club and has requested for fans to gather behind Old Trafford's Stretford End before the 3pm start time.
Last year, the American family announced their intention to potentially sell United. It is anticipated that Sir Jim Ratcliffe will purchase a 25% stake for £1.3bn, giving him control over football policies.
In 1958, Steve Crompton, a spokesperson, stated that the fight is still ongoing. The recent death of Sir Bobby was a setback, but they will not give up until the Glazer family, who are seen as greedy, is completely removed from their club.
Source: theguardian.com