John is the title of a song released in 1969 by John (Let's Hope For Peace).
Klaus Vormann, the bassist for the Plastic Ono Band, described the intense feeling of being surrounded by death as Yoko Ono led an improvisational performance at the Toronto Rock and Roll Revival festival. The relentless and anguished stream of screeching feedback and screaming was just as provocative as any other music from the late 1960s.
19. Born in a Prison (1972)
No one is ever going to claim the politicised Sometime In New York City as among John Lennon's post-Beatles masterpieces, but it's not without its highlights. Among them Born in a Prison, one of Ono's most successful early attempts at straightforward, sweetly melodic songwriting: the lyrics are better than Lennon's on-the-nose political hectoring, too.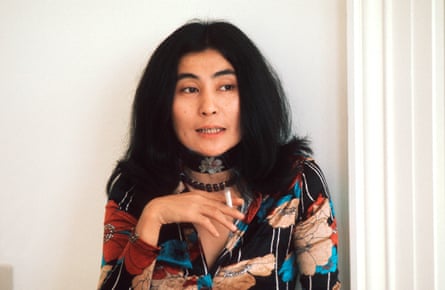 Unfortunately, I was unable to attend "I Missed You Listening" in 2012.
What would the musical collaboration of Yoko Ono and members of Sonic Youth sound like? Perhaps something similar to S Club 7? "I Missed You Listening" features detuned guitars, a mix of howling and grinding noise, and nerve-jangling vocal improvisation that lasts for almost 15 minutes with atonal and arhythmic elements. It may be difficult to listen to, but there is something charming about its unapologetic approach.
17. Open Your Box (1971)
Open Your Box exists in a very odd space. It's ostensibly about sexual freedom but Ono sounds nearly choked with fury over Lennon, Ringo Starr and Klaus Vormann's fabulous avant-funk – almost proto-baggy – backing. Its lyrics got it banned, not that radio was in a tearing hurry to play it, anyway.
Rephrasing:
The act of communicating with the Universe (1995).
In the 1980s, Ono's efforts to transform into a popular pop/rock musician were unsuccessful. However, in the 1990s, her artistic career experienced a revival, with help from her son, Sean. Her album Rising in 1995 struck a balance between traditional songs and innovative experimentation, resulting in a modern and trendy sound. The track "Talking to the Universe" was particularly noteworthy for its edgy yet danceable vibe.
I am asking you to keep me in your memory as 'A' and 'B' from the year 2001.
Clearly a very tough cookie to start off with, Yoko Ono noticeably declined to mellow with age, which brings us to the two-part opening to 2001's Blueprint for a Sunrise, an alternately furious and distressing meditation on domestic violence split between spoken word and spooked-out, echo-drenched and Ono-strafed funk-rock.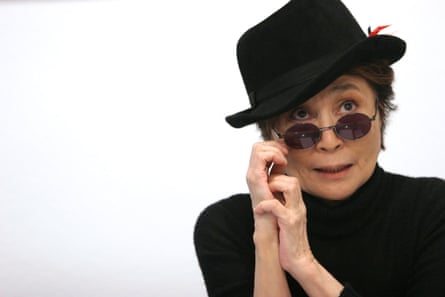 The film titled "Waiting for the D Train" was released in 2009.

The present-day Plastic Ono Band led by Sean Lennon brings joy through their adoption of the experimental style of their predecessors from the early 70s, adding a new punk-inspired energy. "Waiting for the D Train" charges forward like the subway it is named after, providing the ideal backdrop for Ono to unleash her vocals.
The title of this piece is "I Don't Know Why" and it was created in 1981.
Many songs were written in response to John Lennon's death, but none were as intense or chilling as the one Yoko Ono wrote the day after his murder. The music is a tight, new wave rock and the lyrics express a painful release of confusion and rage: "You despise us, hate me – we had it all."
The Sun Sets! (2009)
In addition to the intense improvisations of the 70s Plastic Ono Band, Ono's latest albums also incorporated the recognition she had gained from New York dance floors. The album The Sun Is Down! features her vocals accompanied by a powerful disco beat and a blend of sparkling electronic sounds and distorted acid lines.
I am a Witch, released in 2007.
Initially documented for the unreleased album A Story in 1974, and later released as part of the six-disc compilation Onobox in 1992, the most exceptional rendition of Yes, I'm a Witch can be found on the 2007 remix album with the same title. This version ditches the smooth funk of the original in favor of edgy guitars and provides a more fitting backdrop for Ono's clever response to her critics: "I plan on sticking around for a long time."
10. Moonbeams (2013)
At the age of 80, Ono released her latest album, Take Me to the Land of Hell. Despite her age, her track "Moonbeams" seamlessly transitions from tranquil electronica and spoken word to chaotic and noisy alternative rock, with Ono's passionate vocals switching between gentle and intense.
9. Death of Samantha (1973)
On her third solo album, Approximately Infinite Space, Ono's material became increasingly strident in its feminism and confident in its songwriting: both demonstrated on the subtly shattering Death of Samantha – understated 70s rock, shot through with a disturbing lyric – that also yielded a great cover by Boy George and Sinéad O'Connor.
8. Goodbye Sadness (1981)
The majority of Season of Glass, released in 1981, was composed well before John Lennon's tragic death. However, it is clear that "Goodbye Sadness" was not written beforehand. The softly sung song has a reminiscent feel of early rock and roll ballads, with the addition of saxophone. The lyrics serve as an effort to alleviate grief, yet they convey a sense of hope rather than closure.
7. Don't Worry Kyoko (Mummy's Only Looking for Her Hand in the Snow) (1969)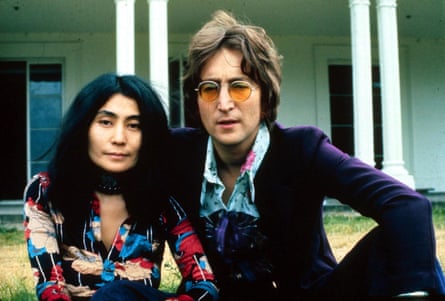 In addition to the bold and unapologetic release of a Beatles single that vividly portrayed the experience of heroin withdrawal, listeners were also treated to the B-side track "Don't Worry Kyoko". This intense bluesy riff, accompanied by Ono's haunting cries, was praised by Lennon as "one of the greatest rock'n'roll records of all time".
6. Listen, the Snow Is Falling (1971)
On the other side of Happy Xmas (War Is Over) was a lovely Christmas song by Ono, featuring a wistful tune accompanied by sleigh bells and chimes. If you are not a fan of her singing voice, you may enjoy Thea Gilmore's enchanting 2009 rendition.
5. Mrs Lennon (1971)
The best tracks on Ono's first two albums are almost invariably the far-out improvisations, but the stark Mrs Lennon is the exception: the lyrics suggest being the controversial wife of a Beatle isn't much fun; the beautiful, melancholy chord sequence was subsequently ripped off wholesale by Big Star on their 1978 song Holocaust.
Each man has a woman who loves him, released in 1980.
John Lennon's contributions to the comeback record Double Fantasy leaned towards well-crafted classic rock, while Ono's seemed to reflect a more contemporary, post-punk style. Her track "Every Man Has a Woman Who Loves Him" combines elements of post-disco and reggae, drawing inspiration from Grace Jones' recent release, Warm Leatherette.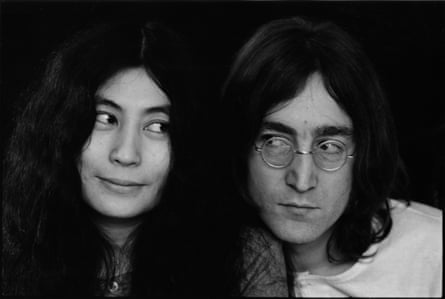 3. Why (1970)
It is intriguing how Ono's albums from the early 1970s align with the contemporary explorations of Krautrock. The hypnotic beat in "Why" carries a distinct motorik influence, although with a noticeable Ringo-esque sound. Additionally, the sudden shift into action midway through and Ono's intense vocals create an exhilaratingly confrontational experience.
2. Walking on Thin Ice (1981)
John Lennon firmly believed that the unsettling yet catchy song "Walking on Thin Ice" would reach the top spot on the charts. However, it did not, but it did become a popular anthem in the post-disco and new wave clubs of New York. These clubs were more open to Yoko Ono's experimental style, especially when paired with a funky bassline and edgy post-punk guitar riffs.
1. Mindtrain (1971)
To be honest, if Mindtrain had been released by Can instead of John Lennon's wife, it would have been praised as a groundbreaking rock masterpiece many years ago. However, it was met with confusion and criticism. But don't listen to the skeptics; listen to the lively instrumentals that show Lennon and Starr having a joyfully uninhibited time and get lost in its infectious rhythm. With the addition of Ono's unique contributions, this is truly a fantastic album.
Source: theguardian.com