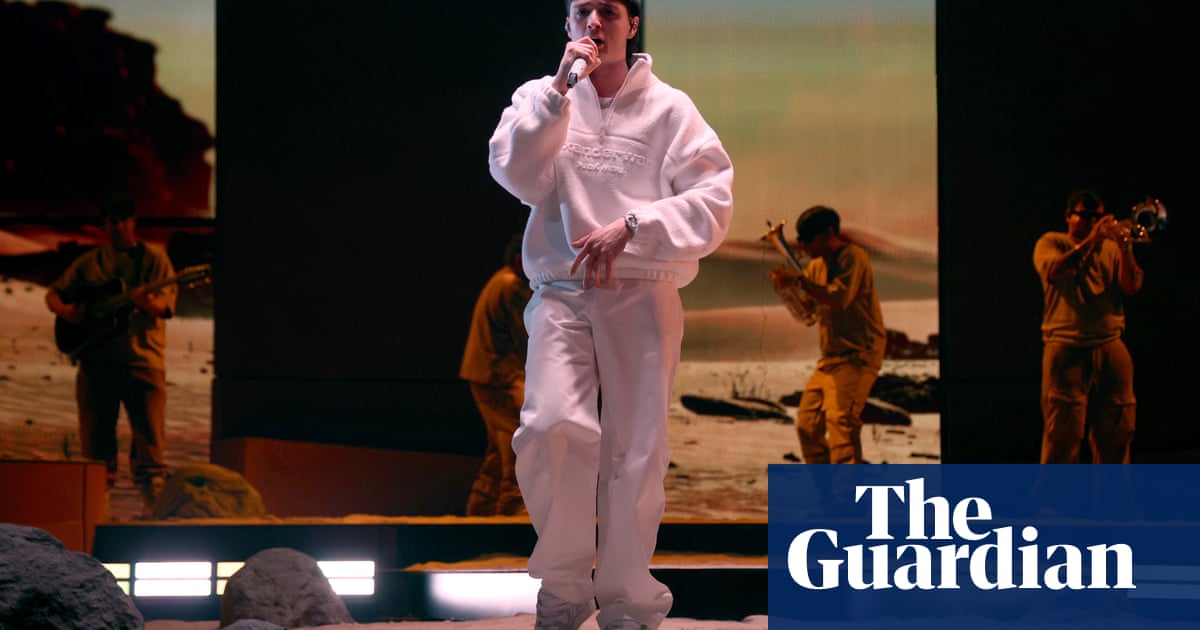 A common track from Peso Pluma, a highly renowned singer in Mexico, may initially feature a guitar and trumpet, giving off an air of nostalgia – but the lyrics soon reveal tales of drug trafficking, piles of money, and jewel-adorned firearms.
Peso Pluma has produced some of the most notorious recent examples of narcocorridos – ballads celebrating the exploits of the Mexican underworld that are hugely popular not just at home but across Latin America and the US.
A tribute to a low-ranking member of the Sinaloa cartel may have resulted in the recent death threats he received while in Tijuana, causing him to cancel his upcoming concerts.
During this week, city officials made the decision to prohibit the performance and playing of narcocorridos within city limits. This is yet another effort by politicians to censor the genre, although past attempts have actually resulted in increased popularity.
Corridos have their roots in northern Mexico, where they were originally used to tell the stories of infamous bandits and revolutionaries. However, in more recent years, they have shifted their focus to Mexico's drug lords, with lyrics that depict drug transactions and violent murders.
Notable music pieces feature praises to leaders of organized crime such as Joaquín "El Chapo" Guzmán. Occasionally, the musicians receive payment from traffickers to compose and perform songs about them, depicting them as courageous rebels.
For a long time, Mexican politicians have tried to suppress the corridos, which some people argue promote violence and the illegal drug industry. However, in certain instances, the songs actually criticize the harsh realities faced by those impacted by the highly militarized "war on drugs" that started in 2006 and has led to a rise in violence throughout Mexico.
According to Miguel Cabañas, an expert in drug trafficking in popular culture, a lot of narcocorridos are actually critiques of the current state of affairs. They often depict the connections between local and national politicians and criminal organizations or offer alternative perspectives on the ongoing drug war that differ from the dominant narrative of a "war on drugs."
The Tijuana government implemented a restriction on narcocorridos on Wednesday, citing a goal of decreasing violence and safeguarding minors from this genre of music.
Montserrat Caballero Ramírez, the mayor, stated that the focus should not solely be on seizing weapons or making arrests, but rather on prioritizing mental health. This starts with being attentive to what we see and hear.
Penalties for violating the prohibition may reach up to £58,000 (equivalent to approximately $70,000) and will be allocated towards initiatives aimed at prevention and recovery from addiction.
The mayor clarified that the ban specifically targets narcocorridos and that artists are still allowed in Tijuana.
Tijuana, which sits across the frontier from San Diego, is regularly among the most violent cities in Mexico and the world. In 2022, there were 105.1 murders for every 100,000 inhabitants.
Several other municipalities and regions have enforced prohibitions previously. Individual performers have also been targeted, ranging from Los Tigres del Norte to Los Tucanes de Tijuana and El Komander.
However, these efforts have not diminished the genre's appeal, serving as evidence of the significant impact of the drug trade on mainstream media.
In contrast, a study discovered that efforts to censor had actually benefited the artists financially.
According to the authors, the penalties and cancelled shows further solidified El Komander's reputation as a rebel and transformed him into a hero among his followers.
In essence, opponents of censorship argue that it unfairly singles out artists instead of addressing the true sources of violence. They believe that this approach reverses the actual cause and effect relationship by placing blame on narcocorridos for drug-related violence, rather than recognizing the violence as the cause of such music.
Restricting music will not alter the political and legal structures that promote corruption. Furthermore, it will not stop young individuals from becoming involved in drug-related actions in settings where it is one of the only avenues for social advancement and income," stated Cabañas. "The root causes of the conflict are rooted in socio-economic factors: banning narcocorridos from society will not eradicate drug cultivation and trafficking."
Source: theguardian.com