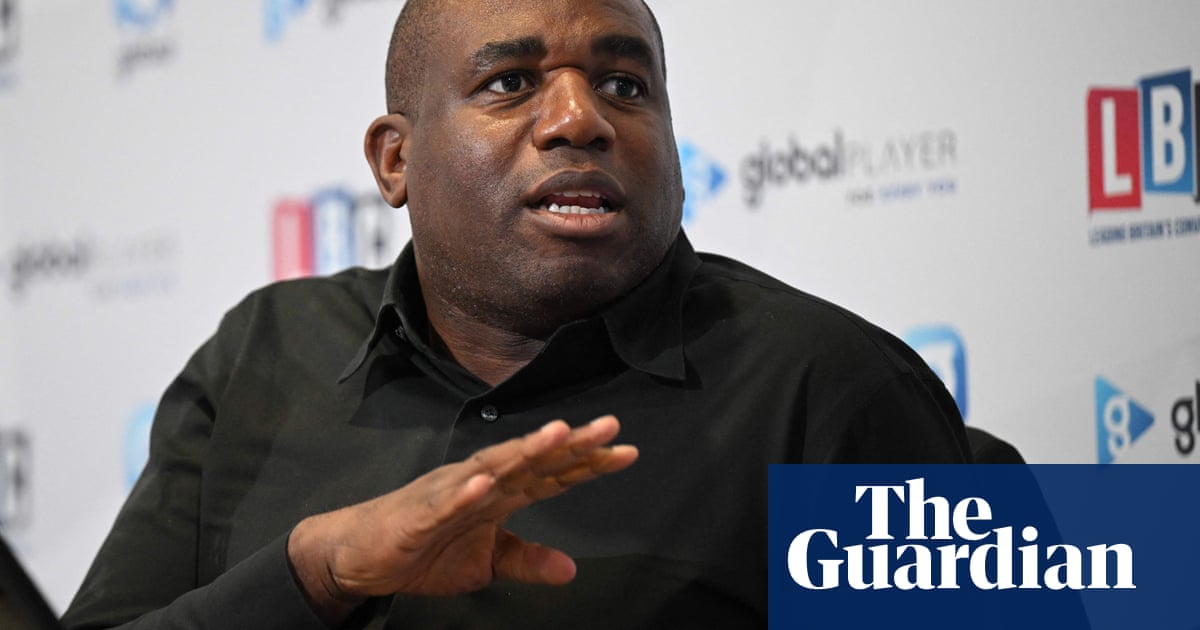 The Labour party has made its strongest condemnation of the Israeli government since the Hamas attacks on October 7th. They have criticized the comments made by right-wing Israeli ministers about the West Bank, stating that their rhetoric about Palestinians is unacceptable and offensive.
David Lammy wrote a letter to the foreign secretary, James Cleverly, highlighting the differences in policy between the government and Labour regarding the situation in the Middle East. In the letter, Lammy asked for an explanation of the actions taken to address the violence carried out by Israeli settlers and government forces in the West Bank.
The UK's shadow foreign secretary urged the government to request that Israel reverses its decision to decrease funding for the Fatah-led Palestinian Authority in the West Bank. He also demanded that individuals who incite hatred or engage in unlawful actions be prohibited from entering the UK.
The Labour party leadership has received strong backlash from within for not urging a ceasefire in Gaza. While the letter maintains their stance, it does signal a shift away from the previous unwavering support for Israel following the Hamas attacks on October 7th.
Lammy expressed shock at the attacks and referenced a report from Yesh Din, a human rights group in Israel, which stated that since October 7th, there have been 144 Palestinian deaths and over 900 people, including adults and children, have been forcefully removed from their homes due to violence from extremist settlers in the West Bank.
He remarked that there has been a concerning increase in radical and extreme language from politicians on the far right. In addition, there have been incidents of violence against Israelis, such as the death of a man who was shot while driving on November 2nd, and there have been reports of several planned terrorist attacks that were prevented.
In September of this year, 184 Palestinians and 26 Israelis lost their lives in the West Bank, marking the highest number of casualties since the UN began keeping records in 2005, according to Lammy. The UN also reported that 769 Palestinians were wounded by live ammunition and 812 structures were demolished.
According to Lammy, beginning on October 7th, there has been a rise in reported cases of settler aggression, including vandalism of homes, cutting off water supplies, theft of livestock, and threatening civilians with guns, directed towards Palestinian communities.
During disputes such as this one, the most devastating hits are the ones that target the wounds of past events. For Palestinians, being forced to leave their homes brings back memories of their most distressing experiences. As the dominant force, Israel has responsibilities under global regulations that it must fulfill.
Lammy expressed serious concern about the recent statement made by Israeli finance minister Bezalel Smotrich, in which he proposed withholding tax revenues from the Palestinian Authority. This action has the potential to harm the PA and create instability in the already volatile West Bank. Additionally, both Mr. Smotrich and national security minister Itamar Ben-Gvir have made unacceptable and offensive remarks about Palestinians.
He stated that the Palestinian Authority is crucial in the West Bank and is a significant ally for the UK. He also emphasized the PA's importance in any future negotiations for a political resolution and the establishment of a two-state solution.
Lammy stated that anyone who opposes the two-state solution must be strongly opposed in order for genuine support for this solution to be recognized rather than just spoken about.
He proceeded to present a list of inquiries, which included requesting that the UK government demand the "Israeli authorities to take measures to stop settler violence, hold perpetrators accountable, and denounce extremist rhetoric."
He inquired with Cleverly if he had encouraged the Israeli government to undo Smotrich's choice of cutting crucial funding to the Palestinian Authority. He also urged the foreign secretary to disclose how he collaborated with Jordan to establish a stronger and improved Palestinian Authority in order to bring stability to the West Bank.
He also requested that ministers declare their decision on imposing UK entry bans for any immigrants who have been found to participate in "serious criminal activity" or promoting hatred.
Source: theguardian.com