20. She's Funny That Way (2014)
This movie, directed by Peter Bogdanovich during his later career, is a playful nod to Ernst Lubitsch. Imogen Poots portrays a kind-hearted prostitute who dreams of making it in show business. During an audition for a famous Broadway director, she realizes that he is the same man she had spent the previous night with in his Manhattan hotel room. The director is played by Owen Wilson, speaking with his trademark friendly and hesitant Texas accent, which can be seen in many of his roles. His character is quite unremarkable and likable, a default mode that he sometimes falls into too effortlessly.
19. The Big Bounce (2004)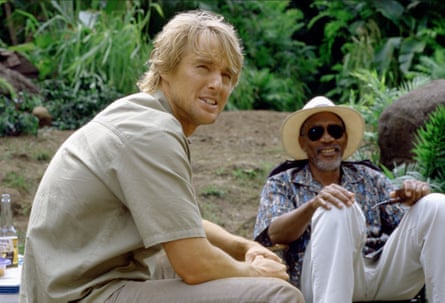 George Armitage, a well-known figure in the genre and a colleague of Roger Corman, was the director of this meandering crime comedy based on Elmore Leonard's book with the same title. The lead role is played by Wilson, taking over from Ryan O'Neal who portrayed the character in the previous 1969 adaptation. Both Wilson and O'Neal are attractive leading men, but their characters can come across as uninteresting. Wilson plays a laid-back beach dweller and con artist who becomes entangled in a series of schemes planned by various dubious individuals, including Morgan Freeman's corrupt judge. In this film, Wilson is simply going through the motions.
18. Meet the Fockers (2004)
Besides Wes Anderson, the only other person associated with Wilson is Ben Stiller. Stiller's talent for dark humor, discomfort, and self-awareness contrasted well with Wilson's cheerful nature. Meet the Fockers is the follow-up to the cringe-inducing comedy Meet the Parents, where Stiller's girlfriend's ex-boyfriend (played by Wilson) makes a brief appearance as a New Age interfaith priest.
17. Shanghai Noon (2000)
As is often the case in Jackie Chan's career, Hollywood condescended to him by insisting on pairing him with a more obvious partner. In this zany parody of a western, the title is a play on words of the well-known film High Noon. The plot follows Chan's character in the year 1881 as he sets out to rescue a princess who has been taken to the lawless wild west. Along the way, he teams up with a laid-back and effortlessly cool outlaw, Roy O'Bannon, portrayed by Wilson. The movie satirizes Butch Cassidy and the Sundance Kid at one point, and Wilson's character has some similarities to Robert Redford – but he may be too playful and comedic to have a career like Redford's.
16. Starsky & Hutch (2004)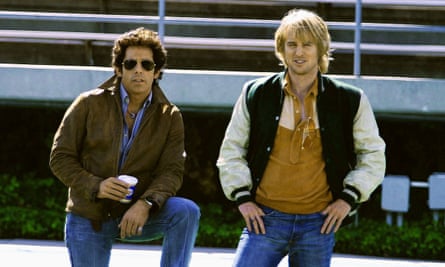 As early as Wes Anderson's short film Bottle Rocket, Wilson was overheard discussing the popular TV show Starsky & Hutch. In the mid-00s, he and Stiller were the top choices for the roles of the two beloved 70s TV heartthrob cops: Wilson played the role of the blond Ken "Hutch" Hutchinson (originally portrayed by David Soul), while Stiller took on the role of David Starsky (originally played by Paul Michael Glaser). Wilson humorously highlights the implied homosexual undertones in his bromance with Starsky, but the actual irony and satire are kept in check in both his performance and the film itself, in favor of a more straightforward action comedy.
15. Behind Enemy Lines (2001)
In a unique instance, Wilson portrays a serious role in an action film based on real-life events. He stars alongside Gene Hackman, who also has a stern appearance and the two will later co-star in The Royal Tenenbaums. Despite the oddity of seeing Wilson in a serious role, he delivers a strong performance as a US navy flight officer who is shot down behind enemy lines during the Bosnian war in the 1990s. The film also features thrilling action sequences. It's interesting to note that Wilson's broken nose, which hints at a potentially violent past, never reflects in his amiable on-screen character.
14. The Darjeeling Limited (2007)
Wilson stars as one of three siblings, alongside Jason Schwartzman and Adrien Brody, embarking on a journey through India to find closure after their father's passing. The trip takes a wild turn when their train becomes lost. Wilson's character is seen with bandages on his face, symbolizing his internal wounds, and at one point he attempts to remove them, but the pain is too much. This scene unintentionally or intentionally alludes to Wilson's own struggles with emotional anguish, as he has previously dealt with depression.
"The Grand Budapest Hotel" released in 2014.
This movie is frequently praised as Wes Anderson's finest work – and it could very well be, even though Wilson's role is not as prominent. He portrays Monsieur Chuck, a concierge and colleague of Ralph Fiennes' Monsieur Gustave, the esteemed concierge and leader of the Grand Budapest Hotel. M Chuck is part of the Society of the Crossed Keys, along with M Ivan, portrayed by Bill Murray. Despite his brief appearance, Wilson contributes to the overall lightheartedness of the film.
12. Inherent Vice (2014)
Wilson has collaborated with Paul Thomas Anderson, but surprisingly, he hasn't joined the regular cast of the director like the other Anderson (Wes). In Anderson's adaptation of Thomas Pynchon's novel, Wilson portrays Coy Harlingen, a minor character who lurks in the complex and somewhat serious web of mystery. He plays a lowlife informant who has disappeared, and his wife (Jena Malone), who is addicted to drugs, hires private detective Doc Sportello (Joaquin Phoenix) to track him down. This film showcases a slightly darker side of Wilson.
11. Bottle Rocket (1996)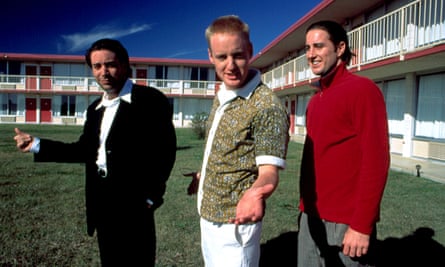 Wilson and his brother Luke both appeared in a beloved and unconventional film from the 90s, during the era of Linklater and Tarantino. The movie was based on a previous short film and did not yet showcase Anderson's distinct style. Wilson, sporting a short haircut similar to that of a US Marine Corps member (which he had considered joining), portrays a young man attempting to free his friend from a mental institution in order to commit a string of robberies. Despite its comedic tone, the film subtly touches on themes of sorrow and suffering.
10. Marley & Me (2008)
Despite its overwhelming emotional content, this romantic drama undeniably holds a significant place in the body of work of its star, Wilson. He portrays John Grogan, a journalist who is married to a character played by his female counterpart in the film industry, Jennifer Aniston. Grogan's career and personal life are revitalized by his columns about his beloved dog, a lovable labrador named Marley who stands by him through all of his struggles. However, when Marley falls ill and passes away, Grogan must come to terms with the loss. Wilson's moving final monologue to Marley at the veterinarian's office required him to tap into his acting abilities like no other film before.
9. You, Me and Dupree (2006)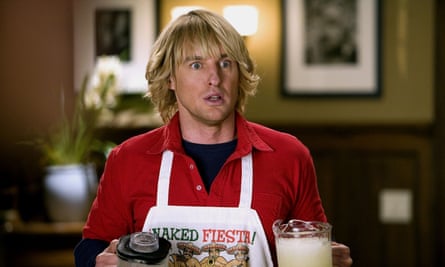 Wilson's wedding comedy is likable and funny, and deserves to be remembered a bit more than it is. He goes into his good-natured wackiness mode in this three's-a-crowd caper, in which he plays a goofy loser called Dupree who gets in between a married couple, a bit like Bill Murray in What About Bob?. Matt Dillon and Kate Hudson play two newlyweds who rashly feel sorry for Dupree, Carl's best man, who has just lost his home and job. They let him crash with them – with awful results.
8. Wedding Crashers (2005)
The sheer absurdity of this comedy, which was very much popular during the frat-pack era of the 2000s, has made it a beloved choice among fans. There are genuine moments of humor throughout the film. Wilson and Vaughn make a great team as they portray two commitment-phobic men who have a despicable scheme: they crash weddings in order to target single women who are feeling vulnerable and believe that the man they meet at a wedding must be their soulmate. As expected, it is the kind-hearted Wilson who ends up falling for someone at one of these weddings, and he perfectly captures both the cynicism and the emotional growth that comes with it.
7. Cars (2006)
Wilson's performance in this Pixar movie is possibly the closest he ever got to playing a typical action-adventure protagonist. While it's not my personal favorite Pixar film, he undoubtedly added his charming personality to it. He portrays Lightning McQueen, a determined and impulsive young car who is determined to win the prestigious Piston Cup on his first try. However, circumstances leave him stranded in the desert, where he learns important lessons in humility from an old car from the 1950s, voiced by Paul Newman. In many ways, Lightning McQueen's optimistic and lively demeanor embodies Wilson's own personality.
6. The Royal Tenenbaums (2001)
In this Wes Anderson film, Wilson plays a distinct but supportive role as a character unrelated to the dysfunctional Tenenbaum family, led by Gene Hackman's arrogant patriarch. As Eli Cash, his neighbor, he wears a Stetson and writes western novels modeled after Larry McMurtry. He is offended when critics do not recognize his genius and even walks out of a TV interview when his early work is mentioned. Eli is also the close friend of Richie Tenenbaum, a troubled tennis player portrayed by Luke Wilson. Their relationship echoes that of Bottle Rocket and becomes complicated when Richie confesses his love for his adopted sister Margot (played by Gwyneth Paltrow), who is dating Eli.
5. Meet the Parents (2000)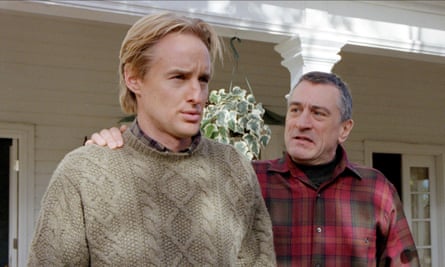 Wilson gives a fantastic performance in this comedy, which is a remake of an independent film from the 90s. The main character, Ben Stiller, portrays a timid man named Gaylord "Greg" Focker who is brought home by his girlfriend Pam (played by Teri Polo) to meet her parents. Her father, played by Robert De Niro, is a former CIA agent who is both intimidating and humorous. Throughout the visit, Greg is constantly embarrassed, especially when he meets Pam's ex-boyfriend Kevin (played by Wilson), a wealthy and confident man who was inspired by Jesus to become a carpenter. Kevin struggles to understand that Greg's job as a nurse is not just a volunteer position, but a legitimate career.
4. Fantastic Mr Fox (2009)
One of Anderson's most audacious and yet inspired moves was this Americanisation of Roald Dahl's story Fantastic Mr Fox as a stop-motion animation in which all the leads were voiced by Americans and all the kids play a baseball-type sport called "whack bat". This is taught by Coach Skip, laconically voiced by Wilson, who, with his descriptions of whack bat's arcane mysteries, beguilingly conveys how strange it all is, and how strange the whole story is, all with a light touch.
3. The Life Aquatic with Steve Zissou (2004)
Wilson plays Ned, a devoted fan of oceanographer Steve Zissou (played by Bill Murray) in Anderson's film. Despite not being considered one of Anderson's best works, Wilson's role is particularly touching as he leaves his job as a pilot to join Steve's crew and even funds their next documentary. It is hinted that Ned may be Steve's son. The film features deadpan humor, but Murray and Wilson's characters have a gripping and emotional death scene while piloting a helicopter.
2. Midnight in Paris (2011)
In Woody Allen's fantasy-comedy, Wilson portrays a classic romantic character who is disillusioned with Hollywood and takes a trip to Paris with his fiancee (Rachel McAdams). Longing for the past, he hops into a carriage that transports him back in time to the era of Hemingway, Fitzgerald, and Picasso. He even has a fling with Picasso's mistress, played by Marion Cotillard. Wilson's performance is perfectly charming and carefree, as he goes along with the events like a buoy on the water.
1. Zoolander (2001)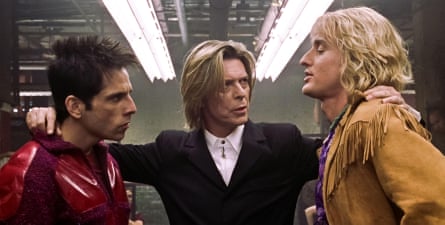 Right now, Wilson's portrayal of the incredibly attractive and fashion-forward male model named Hansel is receiving a lot of attention. In the movie, Hansel competes with Derek Zoolander, played by Ben Stiller, for the title of Male Model of the Year. During the montage scene at the awards show, we see Hansel's successes in the modeling world, which highlights Wilson's own undeniable good looks. In an interview off-camera, Hansel reveals his sensitivity and emotional intelligence by mentioning that Richard Gere and Sting are his heroes. The "walk-off" competition between Hansel and Zoolander, with David Bowie as the judge, is also a memorable moment in the film.
Source: theguardian.com