Crowds of devoted followers eagerly await behind barriers, clutching their phones, hoping to capture a glimpse of some of the most renowned musicians in the world. Some shriek with excitement as cars with tinted windows arrive at the glamorous venues, anticipating the appearance of popular artists such as Shakira, Maluma, Camilo, and Karol G for the upcoming ceremony on Thursday night (November 16). This is the Latin Grammys, the most prestigious event celebrating talent in the Latin music industry – but this year, it's breaking tradition from its usual opulent location in Las Vegas. Instead, the awards are being held in Seville, Spain, marking the first time in its 24-year history that it's taking place outside the United States.
The decision is a consequence of a three-year partnership agreement with the government of Andalucía, which has dedicated €22,748,000 to the event and its accompanying concerts. The leader of the regional government, Juan Manuel Moreno, stated that the Latin Grammys in Seville marks a significant occasion for Spain and Europe.
The decision to move the Latin Grammys has sparked controversy due to ongoing complaints about the ceremony's lack of diversity. Despite featuring music from Spanish and Portuguese-speaking countries, many Latin American musicians feel left out, even with the inclusion of popular artists like Bad Bunny and emerging acts like Peso Pluma. Additionally, there are debates over whether Spanish artists should be considered "Latin" in light of Spain's controversial past as a colonizer.
According to Francisco Solís Monroy, a Chilean critic on the music podcast Clase Básica, the Latin Grammys, hosted in the US, are biased towards a narrow definition of Latin music. He believes that they only recognize music from the Caribbean, Mexico, and a few countries in South America, while ignoring artists from countries like Chile, Ecuador, and Peru. He also notes the overwhelming representation of Spanish artists at the event.
Rosalía, an artist hailing from Barcelona, has recently dominated the awards circuit, earning a grand total of 14 Latin Grammys for her albums "El Mal Querer" in 2018 and "Motomami" in 2022. In 2020, she made history as the first female artist to win the prestigious Latin Grammy album of the year award twice.
Solís Monroy expressed that while they have no disrespect towards Rosalía's success in winning Latin Grammys, it feels somewhat disconnected. They also believe that the decision to hold the ceremony in Seville only adds to this feeling. They suggest that while the ceremony does not necessarily have to take place in Latin America every time, it may have been more appropriate to host it there before moving it to Europe.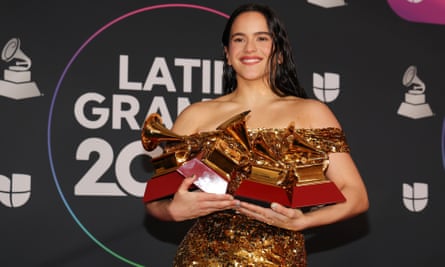 Katelina "La Gata" Eccleston, a music historian of Panamanian-Jamaican heritage, provides a decolonized viewpoint on reggaeton music. While she does not endorse the ceremony being held in Spain, she believes it is logical since Spain heavily invests in the industry. She suggests that instead of criticizing, individuals should focus on fully supporting the artists they want to see thrive in these environments, in order to promote genuine representation at mainstream levels.
The Grammys announced their decision to promote and raise the status of Latin music on a worldwide level. The event will be shown in over 80 countries and is expected to draw in more than five million viewers, mainly from the Americas. The ceremony will be produced by Mexican-American company TelevisaUnivision and Spain's Radio Televisión Española (RTVE), making it the first time the ceremony will be broadcast internationally.
The government of Andalucía anticipates that the partnership will bring in more than $530 million in revenue over the course of three years. This event is projected to contribute €50 million to Seville's economy this year, as part of Spain's goal to promote music tourism. Prior to the pandemic's lockdowns, the country already hosted over 900 music festivals, which supported approximately 300,000 jobs.
Manuel Abud, CEO of the Latin Recording Academy, has justified the decision by stating that it is their duty to actively assist artists in their efforts to reach a global audience. In an interview, he explained, "This is why we are expanding internationally and why we are doing so at this time."
The excitement surrounding the Grammys can be felt in Seville, with crowds filling the streets and artists coming in for Spain's fourth largest city. Puerto Rican musician Gale, who is up for best new artist and set to perform at Thursday night's event, expressed that this European debut offers an opportunity to reach new audiences and is thrilled to be closer to other locations.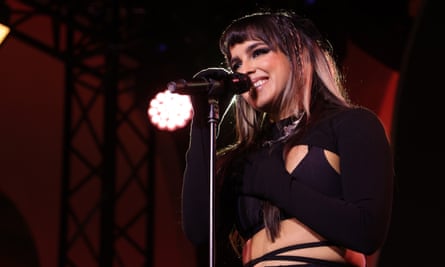 Colombian artist Sebastián Yatra, who is sharing hosting duties for this year's ceremony, expressed that Seville is a city with a vibrant culture and the ideal location for the musical event.
Yatra, who has won two Latin Grammys and been nominated 15 times, expressed his hope that this marks the start of the Latin Grammys being held in various locations. He also acknowledged the current momentum of Latin music.
"I firmly believe that it would be beneficial for Latin American countries, such as Colombia, to have the opportunity to host the ceremony," he stated, considering the significant contributions of Colombia to the Latin Grammys.
In the current year, Camilo, Shakira, and Karol G, all Colombians, are the top nominees with seven each. Additionally, Juanes, also from Colombia, holds the record for the most nominations in the history of the awards with 49.
María José Llergo, a modern flamenco artist, originates from the town Pozoblanco in Andalucía. Her performances blend traditional flamenco with electronic beats, creating a dynamic and rich soundscape rooted in cultural heritage. She strongly advocates for Seville to become the next center for Latin music.
"Flamenco is the classical music of Andalucía, the sound of feet on cobblestones, a reflection of our story, our people," she said, walking through the city's narrow streets, shaded by orange trees. "Andalucía is so welcoming, and if Seville can host it, it is because it has a big heart."
Llergo expressed feeling distant from her aspirations of becoming a musician, believing that such opportunities were only accessible to those on TV or in major cities. She explained, "Living in the countryside, everything seemed out of reach."
On Tuesday night, she helmed a pivotal moment at the festival as she performs a warm-up event in the Setas ("Mushrooms") of Seville, an expansive wooden landmark whose umbrella-like structure was inspired by the city's iconic 16th-century vaulted cathedral. "I've learned to sing crying, I've learned to cry singing," she sang in Spanish, clutching an arm to her chest as she passionately swooped to the floor.
She had high expectations that the Latin Grammys would inspire young individuals in Andalucía, a financially disadvantaged region of Spain, to chase their aspirations. "This serves as a strong motivation for the youth to realize that their dreams are not out of reach, and I find that incredibly uplifting."
Source: theguardian.com