The ex-leader of a street gang in southern California, who was accused of murdering Tupac Shakur in Las Vegas in 1996, has been denied his request to have the attorney who previously spoke on his behalf represent him at his arraignment.
On Wednesday, lawyer Ross Goodman informed the Associated Press that Duane Keith "Keffe D" Davis was unable to fulfill the conditions of a deal that a judge had granted them an additional two weeks to negotiate on October 19. Goodman did not provide a specific explanation for the disagreement.
Davis is scheduled to appear in court for the first time in Nevada on Thursday, and the judge in the Clark County District Court, Tierra Jones, may request a review of Davis's finances to determine if he can cover the cost of a lawyer. If he cannot, Jones may declare him indigent and appoint a lawyer to represent him at no cost to him.
Scott Coffee, a public defender for Clark county, stated that their team is currently assessing Davis's case to determine if they are able to serve as his legal representation. They are also checking for any potential conflicts, such as having previously represented other individuals involved in this case.
Officials at a county special public defender's office, an alternate possible source of court-appointed attorneys, did not respond Wednesday to email inquiries about the Davis case. The judge also could name a defense attorney in private practice to represent Davis, at taxpayer expense.
Edi Faal, Davis's longtime personal lawyer in Los Angeles, did not respond to telephone and email messages about Goodman's comments. He told AP after Davis's first court appearance on 4 October that he was helping Davis find a defense attorney in Nevada, and he confirmed Goodman's involvement two weeks ago.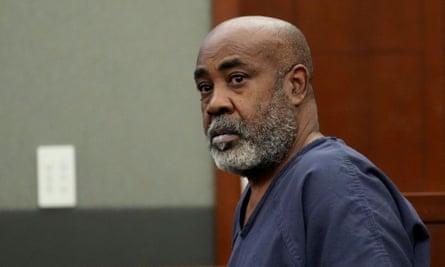 Davis, aged 60, hails from Compton, California. On 29 September, he was apprehended near his residence in suburban Las Vegas, coinciding with the day an indictment was issued against him for organizing the car-to-car attack that resulted in the death of Shakur and injury of rap music mogul Marion "Suge" Knight. Davis plans to enter a plea of not guilty against the murder charge, which carries a potential life sentence.
At 25 years old, Shakur passed away. Knight was injured but lived. He is currently 58 years old and is serving a 28-year jail term for killing a businessman in Compton in January 2015. Knight has not replied to AP's inquiries regarding Davis' arrest.
On October 19, Goodman stated that he observed clear defenses in the murder trial. These include the fact that the authorities do not possess the firearm or vehicle allegedly involved in the shooting, and there are no witnesses from 27 years ago.
The grand jury was informed that the shooting occurred after a fight at a casino on the Las Vegas strip involving Shakur and Davis's nephew, Orlando "Baby Lane" Anderson.
Anderson claimed he was not involved in Shakur's death and passed away in a shooting in Compton in May 1998 at the age of 23. The two other individuals who were in the car with Davis and Anderson have also since passed away.
In recent times, Davis has openly discussed his involvement in the killing of Shakur, both in interviews and in a memoir published in 2019 that detailed his experiences as a leader of a Crips faction in Compton.
Prosecutor Marc DiGiacomo told the grand jury that Davis admitted in his book that he had provided the gun, had been in the car "and that he was the on-ground, on-site commander of the effort to kill Tupac Shakur and Suge Knight".
Source: theguardian.com