B
Ayra Starr, a 21-year-old artist from Nigeria, represents the changing landscape of African music where women are making their mark in a previously male-dominated industry and African pop has gained global recognition. Her single Rush spent 13 weeks in the UK Top 40 earlier this year and she received a Grammy nomination for best African music performance. She kicks off her first show since the nomination with Cast, the opening track from her debut album. Dressed in a stylish light-pink two-piece with a flowing asymmetric tulle skirt, Starr graces the stage.
Starr and her five-piece band begin playing a powerful version of Fashion Killa. Despite the challenges of live performances, Starr's impressive vocal range remains consistent with her studio recordings. This sets her apart from other Nigerian artists who have disappointed fans with lackluster concerts. Starr's strong connection with her band and dancers highlights her dedication to perfecting her skills.
She may be older, but her collection of music is extensive and diverse, creating a space where different energies and vibes can coexist effortlessly. After a heartfelt performance of her first song Away, Starr returns on a high balcony and addresses the audience, saying: "I know this is an Afrobeats concert, but we can also take some time for meditation and relaxation." Accompanied only by a piano, she sings Crazy and the audience listens intently, waiting for the perfect moments to cheer.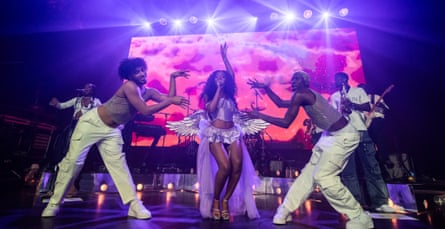 Special guests on stage include Darkoo, a rapper, and Leigh-Anne Pinnock, a former member of Little Mix. Starr performs the energetic song "Overloading" with Magixx and Crayon, two vocalists from Nigeria, while the audience lights up the concert hall with their phone flashes. However, the long duration of one hour and 20 minutes for her debut tour tests the patience of some attendees, resulting in some restlessness towards the end. This takes away from the impact of her popular songs such as "Bloody Samaritan," "Rush," and "Sabi." The finale, a karaoke-style performance of Whitney Houston's "I Will Always Love You" over the track, feels cheesy. Despite this, Starr's talent and vocal range shine brilliantly throughout the show, making it a truly mesmerizing experience.
Ayra Starr is on tour in Europe until 30 November
Source: theguardian.com