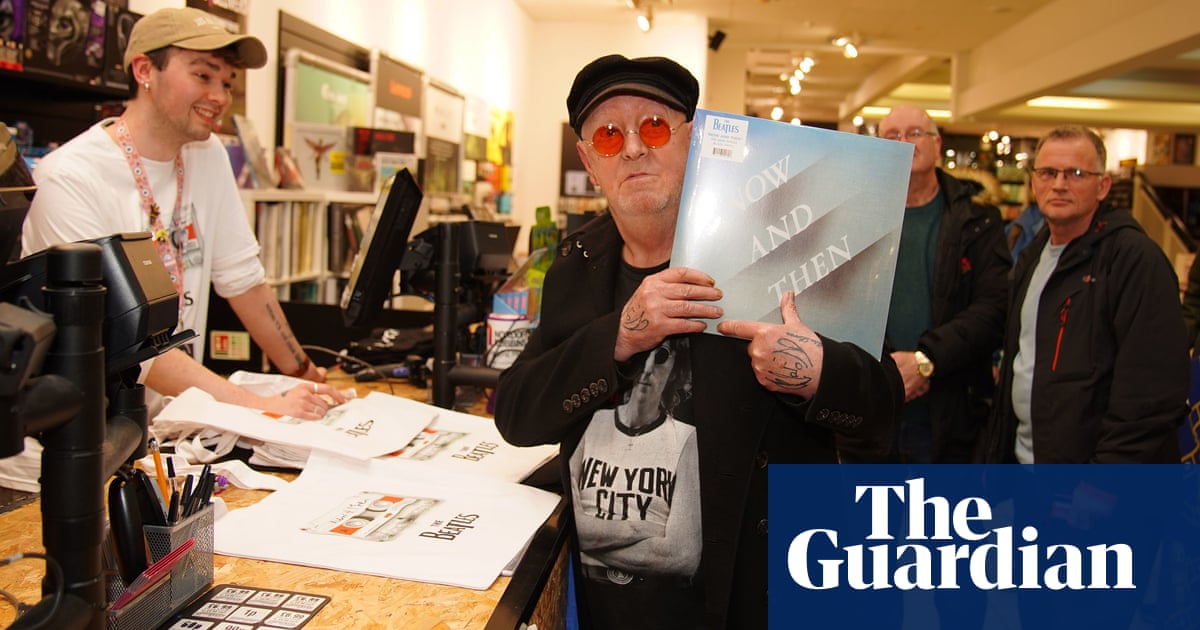 In the early hours of Friday morning, fans crowded into a record shop in Liverpool to purchase a new Beatles single that was released at midnight. Surprisingly, the first person in line at HMV to buy the single, titled "Now and Then," was John Lennon himself, using his real name and showing his passport as proof. "I arrived at 8am on Thursday," he explains, sporting round sunglasses and a "New York City" T-shirt just like his famous namesake. "I was determined to be first."
Brian Jackson, 62, the owner of Liverpool's record and memorabilia store Allkinds, has been a fan of The Beatles since he was four years old. He fondly remembers his family playing their records on a Dansette and his love for the band has never wavered. Many fans are aware of the significance of this day. Ved Desai, a 19-year-old student from Dubai, expressed his desire to pass down the memory of purchasing a Beatles record on its release day to his future children and grandchildren. Lizzie Hillesdon, also known as singer Pixey, finds the new single reminiscent of The Beatles' White Album. Further back in the line, 22-year-old student Jackie Oien heard the song "Now and Then" for the first time at a listening party in the famous Cavern club just hours before. She recalls that some attendees were even moved to tears, making it an emotional day for the city of Liverpool.
The song originates from a demo John Lennon recorded at home in New York's Dakota building two years before he was murdered there in 1980. Lennon's widow Yoko Ono handed the tape – along with demos of Real Love and Free As a Bird – to the remaining Beatles in 1994, but while completed versions of those songs reached No 2 and No 4 in 1995 and 1996 respectively, technical problems meant Now and Then was abandoned. Then George Harrison – who frustratedly declared the song "fucking rubbish" – died in 2001.
However, the AI utilized by Peter Jackson in the 2021 Beatles documentary Get Back has made it possible to isolate Lennon's vocals, allowing the song to be completed by Paul McCartney and Ringo Starr. Along with incorporating Harrison's 1995 guitar recordings with approval from his wife, Olivia, McCartney also performs a slide guitar solo reminiscent of his late bandmate. Giles Martin, son of Beatles producer Sir George, has also created a strings arrangement that captures the sound of the 1960s, just as his father would have.
Dr. Holly Tessler, who leads a master's program on the Beatles at the University of Liverpool, believes that the song has a sound reminiscent of John Lennon's final albums. She also suggests that it may have been a song written by John that the rest of the Beatles have enhanced. Some have argued that it does not fit the traditional Beatles style, but with all four members contributing to the vocals and instruments, it can still be considered a Beatles song.
A documentary lasting 12 minutes was broadcasted the day before the release of the film. It featured both old footage and recent footage of the surviving members of the Beatles working on their final song, "Now and Then," in 1995. Director Oliver Murray shared that when Paul told him, "This is definitely the last Beatles song," it was a significant moment for him. He also added, "It's the end of the catalogue, but the legacy will continue." While this event holds great historical importance, there is also a sentimental aspect to the film, especially when John Lennon's isolated voice is heard, prompting Ringo Starr to comment, "It felt like he was back in the room with us."
Murray stated that the experience was highly emotional for Paul and Ringo. Paul was able to reconnect with his friend through music once again. The four of them shared a strong bond, and technology allowed them to revive it. Paul has shared that John's final words to him were "Think of me now and then, old friend." The song carries a lovely sense of poignancy that seems fitting in this situation.
Tessler believes that the somber tone of the song reflects the feelings and thoughts of songwriter Lennon during that period of his life.
"He had recently reunited with Yoko, and upon listening to the lyrics, it's clear that the song is about their relationship. However, there are a few lines in the second verse that could also be interpreted as referencing his past relationship with Paul McCartney. This adds another level of emotional depth to the song, as it begs the question – could they have reconciled?"
"Now it's the work of two 80-something men in their twilight years working on this song with two comrades, one of whom was murdered and one [Harrison] who died a horrible death from cancer. It gives everybody an opportunity to say goodbye to them properly, without all the acrimony of the breakup in 1970. It brings the Beatles as a group to a much more gentle, lovely and very poignant place."
While waiting in line at HMV, Xander Steel, an 18-year-old student from the University of Liverpool, expressed his agreement by saying, "I have already heard the song 10 times and it's a great way to say goodbye."
Source: theguardian.com