C
Was there ever a more unfavorable moment for French soccer to damage its reputation even more? While the league is attempting to negotiate TV deals with networks, the most detrimental event that could occur would be cancelation of the weekend's top match – the Clash of the Olympians between Marseille and Lyon – due to violent incidents both outside and inside the Vélodrome stadium.
After a five-year hiatus, Lyon supporters were finally able to attend a game at the Vélodrome. It has become a regular occurrence for away fans to be prohibited from attending, making it a special occasion when they are granted permission to travel. However, the 600 Lyon fans who made the trip to Marseille on Sunday were hoping to witness their team's first victory of a disappointing season. Unfortunately, events outside the stadium overshadowed the day.
The team bus of Lyon was attacked by Marseille supporters, causing the window near the head coach, Fabio Grosso, to break. The owner of Lyon, John Textor, reported that the manager was also hit by a beer bottle, resulting in a large cut above his eye. Textor added that Grosso was experiencing dizziness and was barely able to communicate after the incident. "He had fragments of glass in his face," stated the American owner. "I am extremely upset – our players and coach were ready for tonight's game and the fans wanted to see it played."
Marseille's president, Pablo Longoria, denounced the attack as "unacceptable," but it was not entirely unexpected. Just five weeks prior, Marcelino had resigned from his position as manager of Marseille, citing the "intimidation, insults, and slander" from the team's own fans. The Spanish coach has continued to stand by his criticism, stating earlier this month, "My brief experience with Marseille has convinced me that it is impossible to implement a project at this club." He added, "Clubs should be moving forward, not backward, and it is clear that Marseille has been declining rather than progressing, as their recent results have shown."
In September, a private meeting between fans and staff occurred which resulted in Longoria temporarily stepping away from his position. This incident highlighted the toxic behavior of certain sections of Marseille's fanbase. Unfortunately, this behavior was on full display once again on Sunday night and was broadcasted internationally.
The pictures within the Vélodrome were equally distasteful. Fans from Lyon, along with their team, were subjected to thrown objects as they made their way to the stadium. Once inside, they committed their own offenses by making Nazi salutes and using racial slurs towards Marseille fans. Lyon has since expressed strong disapproval towards the reprehensible racist actions of certain individuals in the away section of the stadium.
"Ending one of the most shameful periods in French football, there were also reports of homophobic chants echoing throughout the Vélodrome. This problem has been increasingly present in French football in recent weeks. During their loss to PSG at the Parc des Princes last month, Marseille's players were targeted with homophobic chants. France's sports minister, Amélie Oudéa-Castéra, spoke out against the PSG fans, stating: "It is unacceptable to ignore such hateful and homophobic chants in our stadiums."
Rennes faced consequences for using homophobic language during their match against fellow Breton team Nantes. The targeted player was Matthis Abline, a 20-year-old player who had been loaned to Nantes. As he was unable to play against his original team, he was not on the field at the time of the incident.
Although there has been an increase in these chants, the LFP, the organization responsible for overseeing the top professional leagues in France, is allegedly considering ending its yearly campaign promoting LGBTQ rights, which has been a key component of Ligue 1's efforts against homophobia in recent times. The LFP has stated that a decision will be made regarding the campaign in the coming month. Getting rid of it would be completely unjustifiable, especially at this time.
Instances of violence, racism, and homophobia in French football are not difficult to come by. This month alone has seen multiple incidents, including a firecracker thrown by Montpellier fans at Clermont keeper Mory Diaw, which caused the match to be abandoned. Homophobic chants also tainted Rennes' win over Nantes, and an investigation has been launched by the LFP into racist chants during a National 1 match between Nancy and Red Star. Finding solutions to these ongoing problems remains a challenge.
The outcome of all three events on Sunday, now in the public eye, could severely harm the reputation of French football. The image of Grosso's bloody face gracing the front page of L'Équipe will not increase the value of broadcasting rights, but rather have the opposite effect. The shadow of the disastrous Mediapro deal still looms over French football. Despite launching a bidding process earlier this month, the LFP did not receive any offers. For the first time ever, Canal+ did not place a bid for the broadcasting rights of the French top division. This is not surprising as they are currently involved in a legal dispute with the LFP that originated from Mediapro's withdrawal in 2020.
The estimated revenue for the LFP in the next five years was predicted to be around €800 million, but that outcome seems doubtful at this point. The governing body is currently in direct negotiations with potential broadcasters. Additionally, the LFP is actively seeking bids for the international media rights, with the goal of generating €200 million per year. However, securing such a lucrative deal may be challenging given the recent cancellation of this weekend's major event.
The events at the Vélodrome were unsightly and intolerable, not just to those who witnessed them with astonishment, but also to international broadcasters, whose backing and financial contributions are crucial to the advancement of French soccer.
Talking points

Kylian Mbappé netted two goals against Brest, leading PSG to a close 3-2 win. However, his actions towards the Brest supporters took center stage after the game. The French team leader made two gestures towards the home fans at Stade Francis Le Blé: first, after scoring the winning goal in the 89th minute, and then again when he was substituted just two minutes later. His response was in reaction to chants aimed at his teammate Achraf Hakimi, who is currently under police investigation for a rape allegation made against him earlier this year, which he has denied.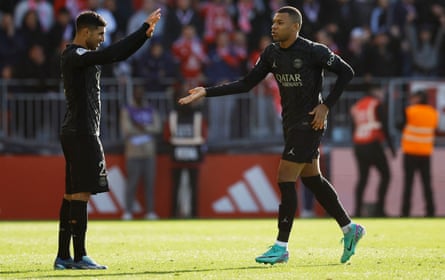 Brest manager Éric Roy expressed surprise at his reaction, finding it absurd. He believed that he should have been above such behavior. Mbappé's own manager, Luis Enrique, also disapproved of the incident, stating that he does not approve of such actions. Brest midfielder Hugo Magnetti accused the PSG forward of behaving in an uncouth manner. Sarcastically, Mbappé responded on social media, saying that he should have joined in with the insults towards his teammate. This incident took the spotlight away from another outstanding display by Mbappé, who has been in top form since returning from international duty.
Reworded: Nice has taken the lead in Ligue 1, narrowly defeating Clermont Foot and remaining the only undefeated team in the top division of French football. However, Monaco faced a setback against Lille on Sunday. Adi Hütter's team is currently facing an injury crisis, with several defenders including Vanderson, Caio Henrique, Mohamed Salisu, Guillermo Maripán and Soungoutou Magassa out of action. Despite struggling against Metz last week, Monaco was unable to overcome Lille. This 2-0 loss puts them in fourth place, trailing third-placed Monaco by two points and league leaders Nice by four points. Manager Paulo Fonseca had expressed frustration at the club's lack of transfer activity during the summer, but it seems that he has now turned things around.
| Pos | Team | P | GD | Pts |
| --- | --- | --- | --- | --- |
| 1 | Nice | 10 | 7 | 22 |
| 2 | PSG | 10 | 14 | 21 |
| 3 | Monaco | 10 | 9 | 20 |
| 4 | Lille | 10 | 4 | 18 |
| 5 | Reims | 10 | 4 | 17 |
| 6 | Brest | 10 | 0 | 15 |
| 7 | Nantes | 10 | -3 | 14 |
| 8 | Rennes | 10 | 3 | 12 |
| 9 | Marseille | 9 | 0 | 12 |
| 10 | Lens | 10 | -1 | 12 |
| 11 | Montpellier | 9 | 4 | 11 |
| 12 | Toulouse | 10 | -2 | 11 |
| 13 | Le Havre | 10 | -2 | 11 |
| 14 | Strasbourg | 10 | -6 | 11 |
| 15 | Lorient | 10 | -5 | 10 |
| 16 | Metz | 10 | -8 | 9 |
| 17 | Clermont Foot | 9 | -7 | 5 |
| 18 | Lyon | 9 | -11 | 3 |
Source: theguardian.com