In the last game where Emiliano Martínez accidentally scored an own goal in the final minutes, Aston Villa was unfortunate to lose to Arsenal. However, since then, Unai Emery's team has been incredibly successful at Villa Park, winning all 12 Premier League matches and scoring 34 goals. The only mishap in this match was when the ball rebounded off the woodwork and hit Martínez's head, resulting in a goal for Villa. Despite this, Villa had a comfortable afternoon and easily maintained their fifth place position without much effort.
After Villa took the lead with John McGinn scoring his fourth goal of the season in the 17th minute, the match turned into a one-sided training game with one team attacking and the other defending. It was clear that there was a significant gap between these two teams, who were four divisions apart just nine years ago. Luton fans even joked that Villa would never sing about winning the Conference league.
In their upcoming four league matches, Villa will be playing against Nottingham Forest, Fulham and Bournemouth, with Europa Conference home games and a visit to Tottenham in between. Following these matches, they will host Manchester City. This prompts the question: are they truly a top team? Can Villa stand up to the best? Luton's manager and a former Villa player, Rob Edwards, admiringly stated, "Ask me after we've faced Man City. They seem to be aiming to compete at that level [top four]."
After a successful streak of earning five points in five games, Edwards was content with Luton's efforts to minimize the damage in the first half. However, he acknowledged the significant difference between the two teams, with Villa being a strong and confident team led by a great manager. The 3-0 score after an hour was a challenging moment, but Edwards expressed pride in his team's strong finish despite the difficult afternoon.
Emery's team have taken 71 points from 35 league matches since he took over a year and a week ago. "We are winning games because we are very focused," the Villa manager said but pinpointed when he expects to judge his team's improvement. "We lost to Newcastle 5-1 and Liverpool 3-0 and they were better than us," he said.
This is the truth when we face the best teams. We aim to lessen the gap between us and them. After our defeats against Newcastle and Liverpool, I expressed to the players my desire to narrow the distance in those matches when we play at home. Our performance in those matches will determine if it is achievable or not.
Luton eventually switched to their 5-4-1 formation, which enabled Villa to alternate between a tight 4-4-2 when not in control of the ball and the successful 3-4-3 tactic that has proven effective against stronger teams this season. Nicolò Zaniolo missed a close-range volley after receiving a pass from Ollie Watkins, and Thomas Kaminski made an impressive double save from the English forward after he appeared poised to score from Matty Cash's excellent low cross into the six-yard box.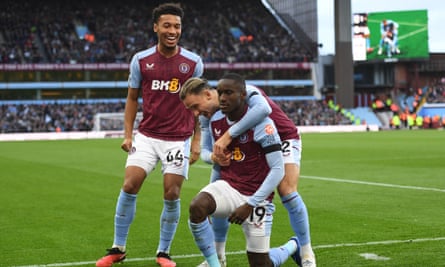 McGinn scored after a cleverly executed set-piece play. Douglas Luiz passed the ball back to the penalty spot, where Moussa Diaby deceived the opponents and McGinn prepared himself to strike a powerful right-footed shot.
Emery made a strategic substitution during half-time, bringing on Leon Bailey to provide more width for Villa's offense. Just four minutes later, Bailey, who had already scored in their previous Europa Conference match, assisted Diaby in scoring a goal with a powerful left-footed half-volley, thanks to a cross from Lucas Digne.
Boubacar Kamara, previously playing as a hybrid holding midfielder and third centre-back, made a skillful pass down the channel for Diaby. The ball was aimed towards Watkins, but Tom Lockyer's intervention resulted in an own goal.
As Luton attempted to string together some passes in their own half, Villa supporters began chanting "We want our ball back." The hosts were so at ease that maintaining focus for the entire 90 minutes proved to be too difficult. In a moment of casual play, Luton substitute Andros Townsend crossed the ball towards Elijah Adebayo, but Villa's Konsa unintentionally redirected it towards goalkeeper Martínez, resulting in an own goal as the ball bounced off the crossbar and into the net. However, with 20 goals scored in five consecutive home victories to start the season, it's understandable that such nonchalance would occur.
Source: theguardian.com