Firefighters in Queensland are looking for a change in wind direction on Thursday to assist in containing a dangerous and uncontrolled bushfire. This fire has already devastated 11,000 hectares of land and is currently threatening the town of Tara.
Around 350 individuals had evacuated to designated shelters due to the Tara fire as of Wednesday afternoon. At 6:45pm, officials advised certain residents in the area to evacuate immediately as their safety was at risk.
The fire caused the loss of one life and the destruction of at least five homes. However, the number of affected homes is expected to increase once authorities can reach the impacted areas. Several homes are still in danger as the fire continues approximately 15km north of town as of 3pm on Wednesday.
Warren Buckley, an inspector for the Queensland Fire and Emergency Services, announced on Wednesday that various teams from the southeastern region of the state were joining forces with Western Downs crews to contain the fire.
Join Guardian Australia's email newsletters for a daily recap of news in the morning and afternoon, completely free of charge.
The individual stated that their efforts were impeded by high temperatures of 42 degrees Celsius and low humidity of approximately 15%. The night-time did not provide much relief.
Buckley stated that the fires are not subsiding during the night due to the current weather conditions.
Overnight, they are continuing to maintain their intensity and becoming unpredictable. Therefore, there will be last-minute communication and we urge individuals to pay attention to those messages and take necessary measures.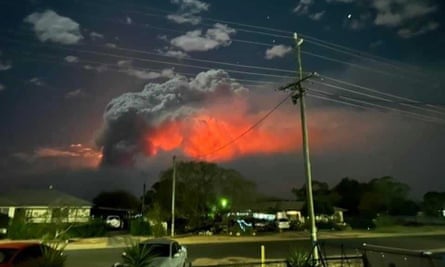 Buckley stated that they had implemented a strategy to safeguard the town of Tara, which has 2,000 residents. This includes creating fire breaks and utilizing a large air tanker from Bundaberg. The northern region of the town is still under emergency evacuation orders, but those residing in the town itself are not being asked to evacuate.
The firefighters were anticipating a change in wind direction during the night, which would move the fire northward away from the town, according to his statement.
"I will be direct, this is a perilous fire," Buckley stated. "And individuals must pay attention to all of the cautions."
The acting superintendent of the Queensland Police Service, Scott Stahlhut, reported that numerous evacuees were moved from the Tara evacuation centers to improved facilities in Dalby earlier today.
According to him, the main factor is the amount of space available. He mentioned that Tara is a small community and it takes a lot of resources to handle evacuation centers.
Stahlhut stated that it was premature to determine if the fire was intentionally started.
Buckley cautioned that the fire season had just started.
The QFES was in discussions with other states to secure additional support, and had dispatched six aircraft to Tara by itself.
"He stated that this situation will continue for an extended period. Our current plan is for it to extend beyond Christmas and into the beginning of next year. It will be a lengthy campaign until we receive precipitation. We ask for your patience and understanding, as we are unable to have a fire truck stationed at every intersection. Please take precautions."
Millmerran homes evacuated
50 more people have left their homes in Millmerran due to evacuation.
Rochelle Hinks, the coordinator of a nearby clothing donation event for those affected by fires, expressed her gratitude for the immense support from the community.
On Wednesday, a group of six volunteers organized donated clothing for families impacted by the fires in a shed located behind a caravan park in Millmerran.
"Today, we have had several families visit us with young children who have lost their homes. It is difficult to witness, but even more challenging for them."
A survivor shared that the people of Tara generously provided resources such as fuel for escaping the fire and land for agisting animals.
Darrel Cross expressed how grateful he and his team were for the generosity and kindness shown by the community of Tara.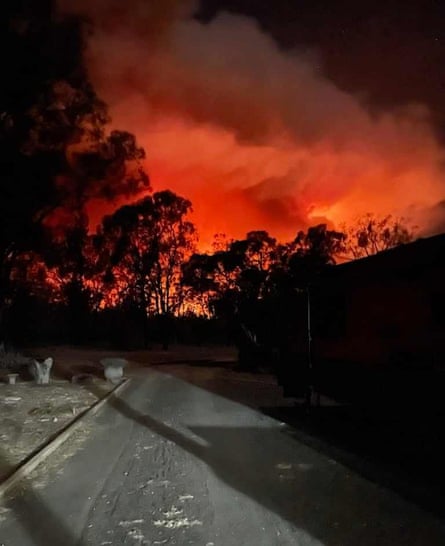 The Tara community has been hit by three tragedies in the last year, including a bushfire in February and a devastating police shooting at Wieambilla last year.
"The community will persevere," stated Paul McVeigh, the mayor of Western Downs.
He expressed that this will have a direct and lasting effect on those families, and they may never fully recover from it.
"However, we are a resilient community."
"The emphasis is definitely on what lies ahead."
According to McVeigh, it could take "numerous months" to find new homes for the numerous individuals who may be without housing.
"The top priority is to quickly provide shelter for individuals," he stated.
The second concern is how to successfully bring them back to their homes and provide housing on their properties. This is not a simple solution.
The premier of Queensland, Annastacia Palaszczuk, issued a warning on Wednesday that bushfire conditions are likely to stay challenging until the weekend. Central and southern interior areas of the state can expect high to extreme fire danger until Friday.
"Tomorrow morning, there is a high probability of rapid, wind-propelled fires," she stated.
At approximately 6:30pm, authorities discovered a deceased individual following a bushfire in the vicinity of Tara.
According to a spokesperson from the Queensland police, the identity of the remains will be confirmed through forensic examination. The police suspect that the remains may belong to a male adult who has been reported missing.
The state of New South Wales is at a higher risk for fire danger.
As of Wednesday afternoon, there were 72 uncontrolled bush or grass fires in New South Wales and over 900 personnel from the Rural Fire Service were mobilized to combat them.
A significant risk of fire was predicted for many areas of Australia in the following week, as temperatures in various regions are projected to exceed the usual October averages.
According to Emilie Koek, the operational officer for RFS, anticipated thunderstorms may ignite additional fires and unpredictable winds will present difficulties for firefighters.
She advised that the community should promptly notify authorities of unattended fires in order to facilitate a quick response from fire crews and prevent further spread.
Koek stated that there will continue to be a high risk of fire in the upcoming days.
"Conditions may potentially improve over the weekend, but we will need to monitor the forecast to be sure."
Authorities are still looking into multiple bushfires in the mid-north coast of New South Wales, suspected to be intentionally set.
Source: theguardian.com