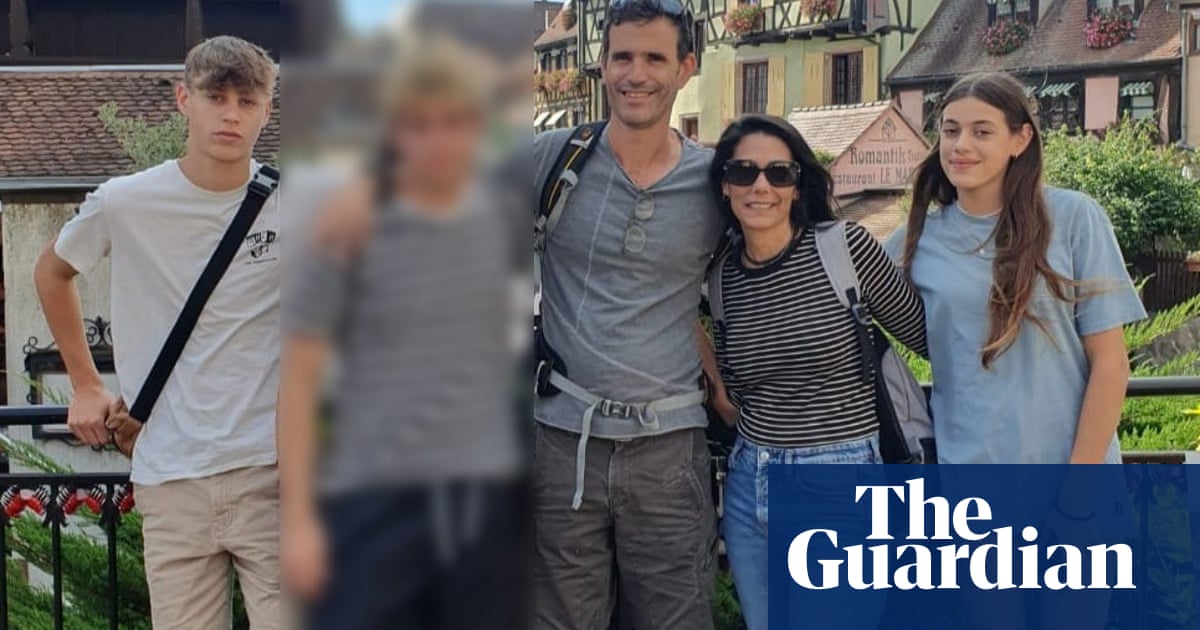 A lawyer from Britain and Israel remains optimistic about reuniting with his family who were taken hostage by Hamas, despite being informed that his sister had been killed by the gunmen.
Ahal Besorai said his sister Yonat Or, 50, her husband, Dror, 50, and two of their three children, who are 15 and 13, were seen being dragged out of the safe room of their burning home in Be'eri kibbutz by Hamas militants on 7 October.
Besorai, 60, who lived in London for 25 years, spent hours trawling through Hamas propaganda videos online in the hope of spotting his family alive after Yonat's phone was traced to Gaza. But he said he was told on Friday that his sister's body had been identified among the 120 people murdered in the kibbutz. The rest of the family remains missing.
He expressed that it was truly heartbreaking and there are no adequate words to describe how a wonderful individual could be brutally killed by these terrorists.
Besorai is holding onto hope that he will see his brother-in-law, nephew Noam, and niece Alma again, despite his grief. He believes that hope is ingrained in human nature and as long as his loved ones are alive and their bodies are not found, there is still a chance for a reunion.
I remain optimistic that the IDF may intervene and retrieve them. There is a possibility that Hamas could face pressure from Qatar or other Middle Eastern nations to release the innocent civilians, including infants, young children, women, and elderly individuals.
Besorai, who grew up in the kibbutz before moving to the UK in 1991 to study law at Cambridge University, spoke to his sister as she cowered in a safe room as Hamas gunmen rampaged outside. He recalled: "She said: 'I cannot talk, terrorists are around, they are shooting', and she hung up the phone."
Besorai's 89-year-old father and another sister, 58, who live in the same kibbutz, sheltered in their own safe rooms before being rescued hours later. A nephew, Yonat's eldest son, aged 17, escaped the attack as he was volunteering with the Israeli army.
"He is incredibly devastated," Besorai expressed. "I don't believe he has fully accepted it yet, it takes time. With no grave, perhaps there is a glimmer of hope that this is just a nightmare and we will eventually wake up from it. Currently, he is an orphan with his mother passing away and his two siblings and father likely being held captive in Gaza. It's a very bleak future ahead."
The family intends to lay Yonat to rest this weekend as they hope for the survival of the remaining individuals. "We postponed the burial in order to avoid having four funerals. That would have been unbearable for us. We are waiting to hear if the others are among the unidentified bodies," he explained.
People assume I am always strong, but I have moments of weakness. I feel like crying and being sad. I am putting on a brave front for my dad and others, but it's not always simple.
In 2016, Besorai relocated to the Philippines where he honored his sister's memory. She had a thriving vintage furniture business on the kibbutz and was known for her entrepreneurial drive, spiritual nature, kindness, and dedication to her three children. Besorai fondly described her as a one-of-a-kind person.
Besorai expressed his desire for Hamas to be eradicated, while also acknowledging that he has been profoundly affected by the atrocities. He reflected on simpler times as a teenager, wishing for peace while stargazing on the kibbutz lawn, without any material desires.
"We strongly value peace, but now we are faced with a difficult situation – one that is hard to even describe. Some call it Nazi, some call it Isis, but I believe it is even more severe. We must take action."
Source: theguardian.com