I
In 1971, Richard Roundtree made a memorable entrance in the world of cinema. His first film, Shaft, begins with Roundtree emerging from the subway onto New York's 42nd street on a chilly morning. He is impeccably dressed with a neat afro, mustache, and sideburns, wearing a stylish suit, polo neck, and long leather coat. As Isaac Hayes' funky theme song starts playing, cameras follow Roundtree from a distance and up close, capturing his confident stride. He moves through the busy streets as if he owns them, taking in the surroundings and even disrupting traffic and interacting with local characters. It is as if Roundtree was already a fully developed character.
It is challenging to fully comprehend the impact that Shaft had in 1971, especially from a modern perspective. Roundtree, who passed away on Tuesday at the age of 81, played a significant role in this impact. He was not just known as "the first Black action hero," but he also introduced a new form of Black masculinity to mainstream cinema. Prior to this, Black actors such as Sidney Poitier were often portrayed as civil, principled, and non-sexual characters or offensive caricatures. However, Roundtree's character of Shaft was depicted as heroic, sexual, witty, and unapologetically proud of his Black identity. While he fit the classic mold of a tough private detective, he did not imitate white characters and had no admiration for white individuals or anyone else. One memorable line is when he visits the office of the white detective, Lt Androzzi, and is offered a chair. Shaft's response is blunt: "I don't like your chair."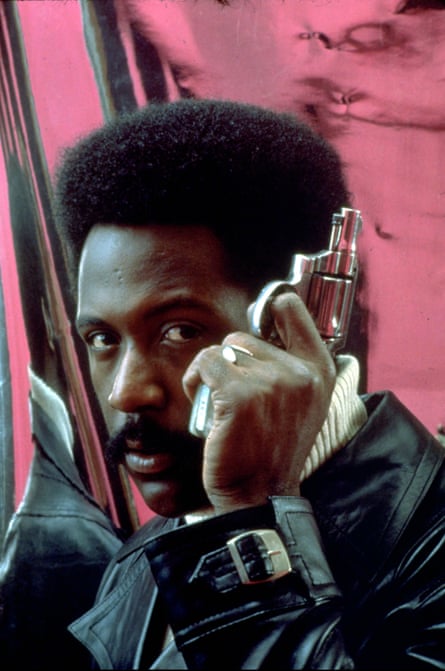 The main character, Shaft, is portrayed as a handsome and well-dressed man living in a trendy apartment in Greenwich Village. He is also known as a private investigator and a ladies' man, as described in the theme song. However, the film does not ignore the social issues of the time. The scenes filmed on location now serve as a documentary, showcasing the gritty streets, rundown bars, and dilapidated buildings. When Shaft is asked if he has any problems, he responds with "Yes, I have two: I was born Black and I was born poor."
Shaft emerged during the latter stages of the Black power movement, though it was not an aggressive portrayal. Director Gordon Parks, a renowned photojournalist, was well-versed in the environment. He had previously photographed members of the Black Panther party for Life magazine. They even invited Parks to join their cause, but he believed that his camera was his most powerful tool. As Roundtree's Shaft navigates the tumultuous and divided New York City of the 1970s, he bridges the gap between different factions. He interacts with Black militants, referred to as the "Lumumbas," but he is not swayed by their ideals. Instead, he is focused on preventing a potential race war as he moves between the Harlem underworld, the Italian mafia, and the white police force. Even in his personal relationships, he engages with both Black and white women. He truly is a charismatic and desirable figure to all women. The presence of a Black character at the forefront of the action, calling the shots and achieving victory (while also engaging in an interracial relationship) was truly groundbreaking.
Roundtree recalled his initial encounter with Gordon Parks, where Parks presented him with a fashion advertisement from a magazine and stated, "We need someone like this." Interestingly, the model featured in the ad was Roundtree himself. Despite being a lifelong resident of New York, Roundtree was discovered by a modeling agent and had already been a member of the renowned Negro Ensemble Company for two years prior to being cast in the role. He often acknowledged Parks for developing the iconic Shaft character, and even arranged for Roundtree to be fitted by his personal tailor. However, it was Roundtree's natural charm, physicality, and effortless presence in front of the camera that truly brought the character to life.
He never let go of his role in Shaft. Roundtree became a true star with Shaft, paving the way for a new era of Black-centered cinema (although he disliked the term "Blaxploitation"). Even though he never found a similar role, he continued to work consistently for the next 50 years. He appeared in popular shows like Roots and movies like Earthquake and Inchon, alongside notable actors such as Laurence Olivier, Jacqueline Bisset, and Toshirô Mifune. He also had smaller roles in various TV shows like Magnum PI, The Fresh Prince of Bel-Air, and Desperate Housewives. Despite this, he reprised the Shaft role multiple times in sequels and reboots, including a short-lived TV series. He even passed the torch to younger actors in the 2000 and 2019 reboots, but no one could match Roundtree's coolness in his iconic leather trenchcoat.
Reworded: Even when not on screen, Roundtree displayed a persona reminiscent of Shaft, with flashy attire and extravagant jewelry. However, despite this image, he remained humble and grateful for his achievements. He had accepted being predominantly recognized for one role. In an interview, he mentioned his father advising him to stop complaining and reminded him that many people pass away without leaving a mark. Roundtree will always be remembered for making a lasting impact on culture.
Source: theguardian.com