It is a surreal Monday morning at Wolves' training ground. The sight of the South Korea icon Park Ji-sung and Patrice Evra – best friends since their days at Manchester United – serving drinks and Korean delicacies from a coffee truck plastered with prints of Hwang Hee-chan is enough to trigger a few double takes. "If the coffee is not good, he is the person you blame … I'm just mixing the water," Evra says, pointing at Park and breaking into that booming, infectious laugh.
During the day, members of the first team and staff at the club take turns to order food. Choco pies and rice cookies from Taegeukdang, the oldest bakery in Seoul, are a popular choice. They also enjoy coffee served in cups with a sticker of Hwang celebrating a goal for Wolves, which has become a common sight this season. Fábio Silva is the first teammate to try the coffee, with José Sa, Hwang's closest friend at the club, not far behind.
Why the coffee truck? In South Korea, celebrities sending coffee trucks brimming with sweet treats to friends as a show of support has become a trend and a slice of that culture is on show at Compton Park, where Park and Evra are on location for the latest episode of the YouTube channel Shoot for Love, which is hugely popular in South Korea. Shoot for Love's English channel was launched just over a year ago to cater for a global audience and has amassed 1.7m subscribers, surpassing the number signed up to the Asian version.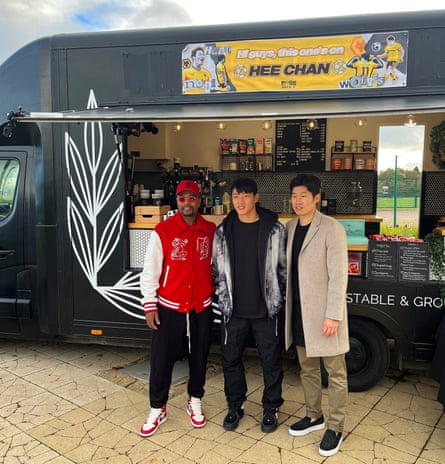 A crew of 30 cameramen, many dressed in Wolves team gear such as shirts, scarves, and bucket hats, captures footage of Hwang on the field, playing foot tennis in the gym, and later participating in clay pigeon shooting. This glimpse into Hwang's widespread popularity also highlights the excitement surrounding Saturday's game between Wolves and Tottenham, dubbed "the Korean derby". Despite its early start time in the UK, the match will be prime time viewing in major cities like Busan. Millions will watch from home or gather at chimaeks (restaurants serving chicken and beer) and sool-jips (gastropubs).
Hwang and Son Heung-min, the captain of Tottenham and South Korea, have faced each other before, but never in a situation like this. Two years ago, during a Carabao Cup match which Tottenham won on penalties, they exchanged shirts. This happened a few weeks after Hwang arrived in England on loan from RB Leipzig. However, last season when they met in the Premier League, Hwang was a substitute. Now, both players are key members of their respective clubs and are among the top goalscorers in the Premier League (Son with eight goals and Hwang with six). According to journalist Gun Lee from the Korean newspaper Sports Chosun, this could be the most significant match between Korean players since Park Ji-sung and Lee Young-pyo faced each other for Manchester United and Tottenham in 2007.
According to Kim Dong-jun, also known as Jamm from Shoot for Love, Son and Hwang are both popular and talented players. Son, compared to David Beckham, represents 20 different brands in Korea, ranging from banks to energy drinks. Park adds that they are highly visible in Korean media and advertisements. It is not often that Korean players face each other in the Premier League, making this match highly anticipated as both players are in top form.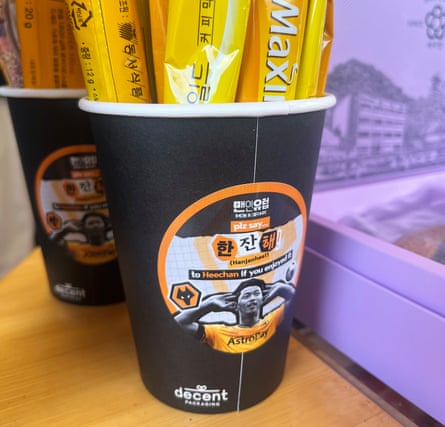 In recent years, on days when Spurs had Sunday league matches due to their Europa League and Europa Conference League schedule, Son would practice in the afternoon on Saturdays and then check to see how Hwang did for Wolves. Son stated last year that checking on Hwang's performance is the first thing he does. Both players are aware of the significance of this match. Hwang explained, "For Korean people, this is possibly the most important game and a very special one for us – we are aware of that, both myself and Son." Hwang also mentioned their close friendship and their determination to give their best for their country and put on a good show for everyone in Korea.
Hwang grew up in Bucheon, a city near Seoul, and joined Red Bull Salzburg at the age of 18 after playing for Pohang Steelers during his childhood. He had the opportunity to play with Erling Haaland during his time at Salzburg. In September, before Wolves beat Manchester City, Pep Guardiola referred to him as "the Korean guy," which Hwang took as a compliment. He invited South Korean families to the game and even bought them tickets and replica shirts. After the game, he stayed to sign autographs and take photos with fans. This season, the 27-year-old has been thriving under the guidance of head coach Gary O'Neil, who has given him more responsibility. While some key players left Wolves in the summer, such as former captain Rúben Neves, Hwang and Pedro Neto have stepped up and become key players for the team.
Matt Hobbs, the sporting director for Wolves, believes that Hee-chan is a symbol of the squad's journey. He has gone from being undervalued by past coaches to Gary instilling confidence in him and providing support. Hobbs told Gary that Hwang simply needs to feel appreciated and essential, as he has often played a supporting role throughout his career. For instance, when he played alongside Haaland at Salzburg, he was like Robin to Haaland's Batman.
What lies beneath his striking appearance? Hwang, a clever individual who consistently enhances his English skills through frequent lessons, attributes his success to O'Neil's thorough and concise coaching style. Hwang has managed to avoid injuries after experiencing some inconsistent seasons. "O'Neil and I have a strong understanding," Hwang explains. "He devises new strategies for each opponent every week, making it easy for me to grasp as a player."
Park, who was a player at Manchester United for seven years, expresses the invaluable support Hwang receives from his home country. According to Park, playing in Europe can feel distant from our own country. It can be quite isolating at times. However, the reaction and support from fans can bring energy and motivation. Park believes that it is important to survive and make the fans happy as he is grateful for their attitude and support.
Hwang and Son, known as the Bull, are major assets for their respective clubs. One Korean wholesaler recently placed an order for 1,500 Wolves jerseys with Hwang's name and number 11 on the back. In the past month, approximately 50% of the views on Wolves' YouTube channel have come from South Korea, far surpassing the 7% from the UK. Whenever Hwang scores a goal, there is a significant increase in interest for highlights and match footage.
People have a strong desire to feel connected to celebrities. A video of Hwang's family having dinner with the Wolves' under-17 team in Incheon has gained almost 500,000 views. Another video of Hwang scoring on his debut at Watford has reached 1.4 million views. Sungmo Lee, a journalist from South Korea, believes that Hwang has the potential to become the next big star in the country and lead the forward line after Son's retirement.
Hwang sees Son as a role model and became a hero when he scored the crucial goal that advanced South Korea to the World Cup's round of 16 in Qatar last year. This season, Hwang has already matched the number of league goals scored by any Wolves player in the previous season. Hobbs mentions that the Wolves strikers are given the freedom to take chances under O'Neil's leadership. They are encouraged to play their natural game and are told not to worry if things don't go as planned.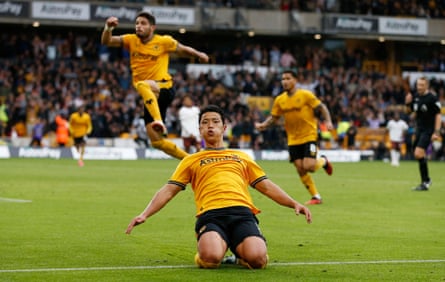 After competing in matches, Hwang frequently dedicates his time to community service in order to meet the requirements for his exemption from mandatory military service in South Korea. This exemption was granted after he and Son won gold at the 2018 Asian Games. Hwang was also obligated to complete three weeks of basic military training in July 2022, but is now required to complete 544 hours of voluntary work within a 34-month timeframe, which will end next summer. In addition to coaching Korean schoolchildren in London following a recent win against Bournemouth, Hwang also fulfills his hours by mentoring in online seminars.
Hwang has not lost touch with his roots, as evidenced by his visits to play football in Korea's Sunday League when he returns to his home country. According to Jeremy Park, the communications manager for Shoot for Love, Hwang's appearances on the field with amateur players often go viral. While Son is seen as a revered figure in Korea, Hwang's popularity is also rapidly growing.
Source: theguardian.com