Throughout the majority of this season, Carlos Alcaraz was the sole competitor who was able to challenge Novak Djokovic on an equal level in the most prestigious tournaments worldwide. Despite the thrilling matches they have produced together and Alcaraz's impressive year, Djokovic remains unmatched in the end.
On Saturday night in Turin, the top-ranked player in the world once again proved his unparalleled talent by delivering an impressive performance, easily defeating Alcaraz 6-3, 6-2 to advance to his ninth ATP Finals final. Should he emerge victorious, it will mark his seventh championship win.
The final important match of the ATP season will be determined by a rematch between Djokovic and Sinner, who was victorious in the group rounds. Sinner, who has been playing exceptionally well, defeated Medvedev 6-3, 6-7 (4), 6-1 to reach the most significant final of his short career.
In a typical knockout competition, the top two competitors would not compete against each other in the semi-final round. Their advancement to this stage was a result of Djokovic narrowly avoiding elimination during the group stages and ultimately qualifying in second place behind Sinner.
As has been so often the case in Djokovic's career, though, when it truly mattered, he was right there. The opening set between the two best players in the world was played at a rapid, breathless pace with both striking the ball cleanly and attacking without hesitation.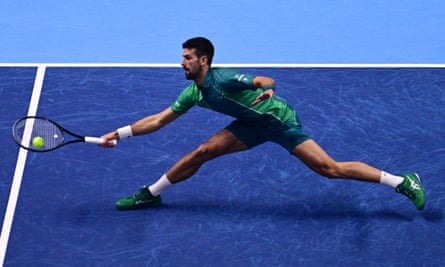 Djokovic displayed a superior level of play compared to Alcaraz. While Alcaraz was serving at 3-4, Djokovic effectively countered his initial attack. As the rallies continued, he consistently aimed for Alcaraz's backhand until it faltered. Once he secured the break, Djokovic impressively closed out the set with his serving skills.
Alcaraz fought back fiercely after falling behind a set and a break, determined not to let defeat come too easily. He gave it his all in Djokovic's service game at 2-3, using his powerful forehands to earn himself a chance for a double break point. However, Djokovic was not to be outdone and raised his game to an even higher level. He saved the second break point with an impressive forehand winner after a lengthy 23-shot rally, ultimately securing an incredible hold. With Alcaraz's confidence crushed, Djokovic swiftly sealed the win.
At the conclusion, Djokovic's jubilation was subdued as the win spoke volumes. This has been a remarkable year for Alcaraz, with him solidifying his initial success and holding onto his position at No 2. At just 20 years old, he continues to be a formidable contender for the top spot. However, for the time being, after all this time, Djokovic remains superior.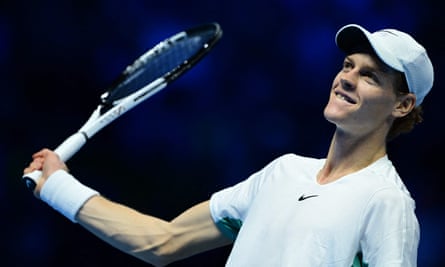 In most other cases this year, if Alcaraz was not participating and Djokovic was performing at a top-notch level, the 36-year-old would be the clear frontrunner to win. However, the dominant player of this tournament has been waiting for him in the final.
Sinner arrived in Turin after an incredible autumn run that earned him two titles and a rise to a career-high ranking of world No 4. In front of a home crowd, the 22-year-old has only built more momentum as he plotted his path to the final with an unbeaten 4-0 record. Sinner has not only paired his blistering, perfectly timed groundstrokes with an increasingly three-dimensional game, but he has also found the mental toughness and decisiveness that has sometimes evaded him.
Defeating Djokovic in a major tournament is considered a pinnacle accomplishment in the career of a modern male tennis player. However, Sinner has taken on an even more difficult challenge.
After defeating Djokovic in a close match with a score of 7-5, 6-7 (5), 7-6 (2), Sinner secured his spot in the semi-finals by defeating Holger Rune in three sets on Thursday night. This victory puts him in a unique position to achieve his dream of winning the tournament, as he would become the first player ever to defeat Djokovic twice in singles during the same event.
Source: theguardian.com