Northern Ireland finished their disappointing qualifying run for Euro 2024 on a positive note by defeating Group H champions, Denmark, 2-0.
In the second half, Northern Ireland's Isaac Price and Dion Charles scored goals that brought excitement back to Windsor Park. This victory, their third of the year, was especially significant as it was their first against a team other than San Marino. While the match was essentially meaningless, it was a much-needed triumph for Michael O'Neill following a challenging period.
Two impressive goals were scored against a formidable Denmark team. In the 60th minute, Jamal Lewis evaded his opponent and sprinted down the left side, passing the ball to Dion Charles who then passed it to Shea Charles. The player from Southampton then noticed midfielder Price making a run and passed the ball to him, resulting in a goal that beat Kasper Schmeichel at his near post.
With only nine minutes remaining, Conor McMenamin, who had just entered the game as a substitute, charged down the left side and got past Crystal Palace's Joachim Andersen. He then sent a grounded pass towards the goal for Dion Charles to effortlessly score. It was also a successful evening for goalkeeper Conor Hazard, as he made several key saves to maintain a shutout.
O'Neill reflected on the impact of the game on the young players, stating that they were faced with challenges throughout the campaign. He believes that this match will serve as a valuable learning experience for them. Despite the positive result against a strong opponent, O'Neill cautions that it is only one step in the right direction and more progress must be made.
Finland are heading for the playoffs and ended their Group H campaign with a 2-1 victory in San Marino. Pyry Soiri scored twice for the visitors before Filippo Berardi's stoppage-time penalty – the minnows' third goal in their last three qualifiers.
in
The Czech Republic and Slovenia have successfully secured their spots in…
The Czech Republic defeated a 10-man Moldova 3-0 in order to secure their spot in Euro 2024. However, their manager, Jaroslav Silhavy, announced his resignation shortly after the game.
Moldova was determined to win in Olomouc in order to secure automatic qualification from their opponents. They had a strong start, but were unable to create many scoring opportunities. After 14 minutes, Tomas Chory assisted the first goal by finding David Doudera who was making a run down the left side. The defender managed to get past the defense and score past Dorian Railean who was charging towards him.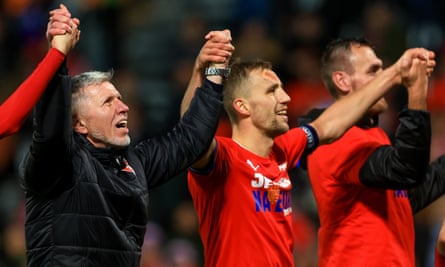 Moldova's chances of a comeback were dealt a blow when Vladislav Baboglo received his second yellow card in the early part of the second half. In the 72nd minute, Chory scored a strong header from a corner taken by Vasil Kusej. Tomas Soucek sealed the victory with a goal just before the final whistle, adding to the surprise of Silhavy's sudden departure.
"After reaching the finals and experiencing joy, our staff team has collectively decided not to move forward," stated Silhavy during a post-match interview. On Sunday, the coach had dismissed three players, including West Ham's Vladimir Coufal, from the training camp for violating team rules by visiting a nightclub.
Silhavy, who had his contract shortened to the end of November with an option to extend if the team qualified during the qualifying campaign, stated, "I cannot reveal my success or failure. The pressure was immense and at times, incomprehensible. We have dedicated five years to this team and there is no reason for us to feel ashamed."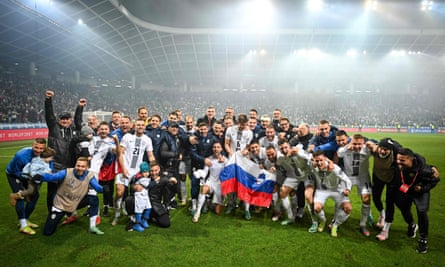 The Czechs booked their eighth successive Euros appearance by finishing second in Group E to Albania, who were held to a goalless draw by the Faroe Islands. Elsewhere, Benjamin Verbic's late winner earned Slovenia their first Euros finals berth since 2000 and ensured Kazakhstan must settle for a playoff place.
Kazakhstan had to secure a victory in Ljubljana in order to qualify for their first ever men's major tournament. However, they fell behind in the first half when RB Leipzig player Benjamin Sesko scored a penalty. Ramazan Orazov equalized shortly after the second half began, scoring his first international goal by redirecting Maksim Samorodov's low cross.
Slovenia maintained their position, with Jaka Bijol's attempt being stopped on the goal line by Islambek Kuat. In the 86th minute, Verbic expertly placed his shot into the corner, resulting in exuberant celebrations.
Source: theguardian.com