Jessica Pegula shocked the top-ranked player, Aryna Sabalenka, with a 6-4, 6-3 win in her second match at the WTA Finals in Cancun. This victory secured her spot in the semi-finals. In the other group stage match, Elena Rybakina narrowly defeated Maria Sakkari 6-0, 6-7(4-7), 7-6(7-2) in a tight evening match.
Pegula, who had a poor 1-4 record against Sabalenka's strong serves, was able to handle them well and keep the rallies going, preventing the Belarusian from making a comeback.
Sabalenka, who previously expressed concerns about playing on the newly built Estadio Paradisus, did not appear fully at ease facing Pegula. She made 29 unforced errors on a sunny day in the seaside Mexican town.
The number one seed made a comeback in the first set after falling behind 5-2. She landed a powerful forehand winner to break Pegula and then held her serve, bringing her within one game of the American.
However, Pegula maintained her composure and claimed the initial set following a tense exchange that concluded with Sabalenka hitting a backhand into the net on set point. Pegula swiftly gained a 4-0 advantage in the second set, but Sabalenka fought back and managed to break Pegula's serve, narrowing the lead to 5-3.
Pegula needed seven match points in the long final game of the match to ultimately secure the victory. The decisive moment came when Sabalenka made a mistake on a backhand shot, giving Pegula her fifth consecutive win against a top-10 player.
Following the match, Pegula refuted the idea that her playing style lacks the same level of power as players like Sabalenka.
"I have a strong shot," she informed the Tennis Channel. "Some commentators don't seem to recognize that. I'm not sure why they say that. Perhaps because it doesn't appear that way? I hit with a flatter trajectory, not as heavy as Aryna, but still with power."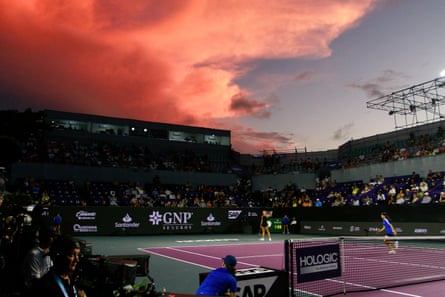 Pegula's consecutive victory in the second round of the group stage secured her spot in the semi-finals later that evening. Meanwhile, fourth-seeded Rybakina fended off a late comeback from Sakkari to claim her first win in the tournament.
Rybakina easily defeated her opponent from Greece with a score of 6-0 in the first set. However, Sakkari made a comeback and forced tiebreakers in the following sets, despite Rybakina's strong performance in the third set where she was leading 4-2.
Sakkari broke Rybakina's serve for the first time and got the set to 6-6, but the latter remained calm to clinically clinch the tiebreaker and won the hard-fought clash that lasted two hours and 26 minutes.
"I initially sensed that Maria needed some time to adjust to my speed," Rybakina stated in a post-match interview regarding the one-sided first set. "As we are all aware, the surface is not ideal. We are all facing difficulties."
On Thursday, the fourth-ranked Kazakh player will compete against Sabalenka for a chance to advance to the semifinals. Pegula, who has already secured a spot in the semifinals, will play against Sakkari in their last group stage match.
Source: theguardian.com