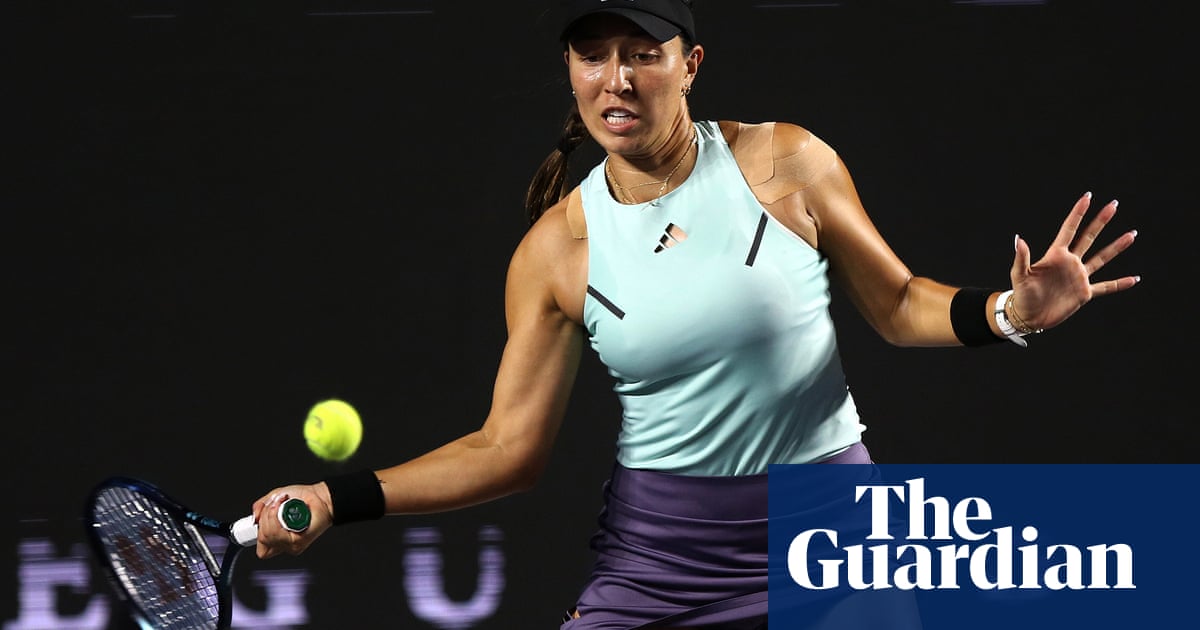 The WTA Finals of this year have experienced a revolt from dissatisfied top players, a dubious court surface with many awkward bounces, and terrible conditions during hurricane season in Cancún, Mexico with unpredictable strong winds and frequent rain showers.
Despite all the challenges and disorder, Jessica Pegula has remained a model of consistent composure. In a match on Saturday, she emerged victorious with a 6-2, 6-1 score against Coco Gauff, the third-ranked player, in a showdown between the top two American players and the world's top doubles team, securing her spot in the most significant final of her thriving career.
Pegula has maintained her undefeated record this week and has become only the third player in the past two decades to advance to the final round of the WTA Finals without losing a single set.
In the championship match, Pegula will compete against either Aryna Sabalenka, the top-ranked player in the world, or Iga Świątek, the second seed. The semi-final match between Sabalenka and Świątek, which will determine their year-end ranking, was interrupted by rain with a score of 2-1 in the first set. They will resume play on Sunday to complete the match.
Pegula's debut at the WTA Finals last year was disappointing, with a 0-6 record in both singles and doubles matches. She only managed to win one set in singles. However, this year, the 29-year-old is determined to showcase her skills and compete against the top players in a more impressive manner.
In the initial rounds, Pegula easily defeated difficult opponents, including Elena Rybakina, Sabalenka, and Maria Sakkari, to advance to the semi-finals without losing a single set.
As a duo who have played together for a considerable amount of time, Pegula and Gauff posed an interesting competition on paper. However, due to the strong winds and frequent interruptions from rain, the outcome of this match was expected to be determined by how well each player adapted to the conditions. Gauff's difficulty in finding her rhythm throughout the week, despite making it to the semi-finals, made Pegula the obvious front-runner.
While Pegula's style may not be as flashy or dynamic as other high-ranking players, it is sturdy and consistent. She displays a clean and efficient technique in her groundstrokes, complemented by controlled and strategic aggressive play on the court.
Pegula played exceptionally well despite the terrible weather conditions, consistently hitting deep shots from both her forehand and backhand and not giving Gauff any easy opportunities. However, Gauff struggled to find her rhythm and her forehand suffered from the windy conditions.
Pegula stated that she is often praised for her strong technical skills, so she believes that there are not many potential errors. Any mistakes would most likely be mental or related to her footwork, but she has been working on improving those areas.
Pegula's latest triumph is a testament to her consistent growth as a player, as she has once again excelled in her career. This year, she boasts an impressive record of 59 wins and only 17 losses, a significant improvement of 17 victories from the previous year. Furthermore, she has now reached a milestone of 100 wins in both singles and doubles, solidifying her position as the top-ranked player in the world.
Pegula, who developed later in her career and primarily competed on the ITF circuit, exemplifies the importance of determination, positive mindset, and perseverance.
Gauff experienced a disappointing loss that marked the end of an amazing season. Despite a challenging summer, she persevered and achieved her ultimate goal of winning her first grand slam title at the US Open.
During the off-season, there will be a chance for her and her new coach, Brad Gilbert, to focus on making technical improvements to her game, specifically her forehand. This presents a new opportunity for them.
However, she has not completed her match yet. Within the next day, despite the numerous rain delays and Pegula's upcoming singles final, Gauff and Pegula will come back to finish their round robin doubles match against Laura Siegemund and Vera Zvonareva. The match was originally scheduled for Friday but was postponed due to rain.
Source: theguardian.com