As a manager in the Premier League, José Mourinho displayed a range of personalities, often shifting from lively to irritable like a chameleon.
If Chelsea's 2015 Premier League title win had all the hallmarks of a Tom Wambsgans redemption arc, his 2004 to 2007 incarnation was defined by his Logan Roy lead character energy. Every game felt tinged with Mourinho razzmatazz – good or bad. No wonder, then, when Chelsea lost to neighbors Fulham for the first time in 27 years on 20 March 2006, Mourinho preserved his role as chief headline maker.
The match, which ended in a 1-0 victory, was quite unconventional. In the final minutes, William Gallas was given a red card and made a relatively mild gesture of disapproval towards Fulham supporters. This led to some home fans storming onto the field, causing a response from the opposing section and the intervention of police on the field.
However, Mourinho's substitutions stole the spotlight. In the 26th minute, he replaced Joe Cole and Shaun Wright-Phillips with Damian Duff and Didier Drogba – both of whom seemed hesitant as they reluctantly offered a hand to their angry teammates. Mourinho didn't stop there. During halftime, Robert Huth was substituted for fellow center-back Ricardo Carvalho.
This was a bold move, even for Mourinho. He was taking a risk, considering the possibility of his team being down a player if someone got hurt. He was risking the unity and contentment of his squad, revealing that there were players he didn't have complete faith in.
The stigma surrounding early substitutions remains unchanged over time. When Erik ten Hag replaced Sofyan Amrabat during the Manchester derby on Sunday, many immediately criticized the move as a lack of trust in players and a loss of identity, rather than acknowledging it as a tactical decision that didn't work out.
When coaches refer to changes as strategic, some may doubt their effectiveness. While tactics may play a role, what is the true motive? It could be that equipping reporters with lie detector abilities or allowing them to act like morning talkshow hosts is the next step in elevating soccer as a form of entertainment.
This season, there have been a total of 47 substitutions made during half-time in Premier League matches as of week 10. This is an increase of 17 from the previous season's 30. Most of these substitutions are considered tactical, but what exactly does that entail?
Substitutions are not bringing about a significant amount of tactical changes. They are frequently direct replacements. Out of 47 substitutions, only four have been made by teams that were winning at the time. There have also been substitutions made due to red cards, like Ashley Young's expulsion in the 37th minute of the recent Merseyside derby.
The implementation of five substitutions has greatly contributed to the rise. It should be mentioned that substitutions made during half-time do not count towards the total number, allowing managers to make up to three more substitutions during a match as long as they do not exceed a total of five.
It is common for changes to occur around the hour mark, which is seen as the traditional time when a manager has more freedom to make decisions. Players have received a pep talk during half-time and instructions have been reiterated. They are given 15 minutes to demonstrate their understanding.
The idea of using fresh players in soccer has been around for a long time. However, the intense demands on players nowadays has led to teams bringing in substitutes earlier. Chris Wilder once dismissed the notion of mental and physical strain on players when discussing the addition of two more substitutes. He believed that this would not benefit his team, Sheffield United, compared to larger clubs. These bigger clubs had more players and better options, according to the theory. Instead, Wilder preferred to minimize the chance of mistakes by sticking with his original starting lineup with a few adjustments. He did not have access to players like Jérémy Doku, Mateo Kovacic, Julián Álvarez, Jack Grealish, and Matheus Nunes, who have been available to Pep Guardiola this season.
However, the distribution of substitutions is not as significant as Wilder had predicted. In the current season, there is almost an equal number of players being swapped between top and bottom half clubs during halftime. Brighton is currently in the lead with six, while Burnley, Wolves, and Arsenal have all made five substitutions.
Soccer continues to prioritize the concept of ranking players based on their skill level. A player in the Premier League may already be labeled as inadequate even before playing a single game, simply due to not being perceived as skilled as their predecessor.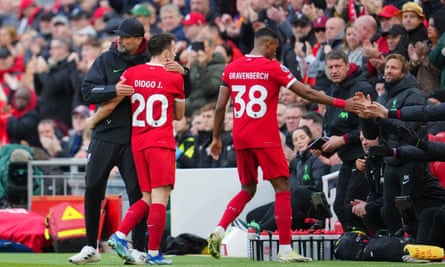 We are far from implementing a more transatlantic strategy for this issue. Leagues such as the NFL and NBA have an inclusive approach to team usage, where ideas like substitution patterns and complete unit changes are more widely accepted.
There is a possibility that it is more logical for teams at the bottom of the league to utilize the half-time substitution strategy even more. When facing strong opponents like those at Etihad or Emirates, where they have little possession and are constantly being moved around and required to make quick sprints and recovery runs, does it truly matter who is playing in a specific position, such as right wing-back? Perhaps what is most important is having players with strong endurance and energy. It may be better to have someone who is fully focused rather than someone who is more skilled with ball control.
During their 3-0 defeat against Liverpool at Anfield last Sunday, Nottingham Forest applied 160 additional ball pressures. This match saw Liverpool with 72.6% of the possession. Nottingham Forest serves as an intriguing illustration of a team expanding their roster for this specific reason. Manager Steve Cooper appears to desire diverse choices and is open to rotating players frequently to maintain their energy levels.
In leagues outside of the Premier League, we are observing a trend of English teams rotating players and making changes during games regardless of the score. This is part of their strategy to manage their players and succeed in a busy schedule of fixtures.
The focus of the game often revolves around successfully navigating the next five minutes, which are crucial moments for surviving attacks, maintaining team structure, and advancing the play. While we have traditionally stuck to the ideology of two 45-minute halves, is it unreasonable to consider a different approach that involves varying personnel for each period? Could the future of the game involve a plan and strategy for three sections, with a break at the 30- and 60-minute marks? This could potentially address concerns about player wellbeing and tiredness. While some may argue that this diminishes the competitive aspect, this is not an issue in other team sports globally.
Soccer players are crucial for driving cultural change. Mourinho serves as an extreme illustration of this. The players themselves are delicate assets. They tend to interpret being substituted before the 89th minute as a form of hidden disapproval or a belief that they are inadequate. It is a common sight for broadcasts to show a player who has just been taken out, subtly shaking their head to signal that they could have continued playing.
The world of football often overlooks the fact that the players who start a game have a significant impact on its result. Starting a game goes beyond simply being assigned a role at the beginning instead of in the middle or end.
We are gradually moving towards the idea of implementing a triple half-time change as a strategic plan to have players run for 90 minutes in just 45. This is a tactic that is poised to develop in a field that is eager for the next small advantage.
Perhaps in the future, we will reflect on Mourinho's time at Fulham and recognize him as a forward-thinking and unconventional leader. Or, it could simply be that he was frustrated and took action.
The replacements have been modified since that time, but generally still adhere to an outdated belief system.
Source: theguardian.com