Chelsea bounced back from their disappointing performance in Europe earlier this week with a convincing win against Liverpool in the WSL. Lauren James shone with a hat-trick, while Aggie Beever-Jones and Sjoeke Nüsken also found the back of the net, securing their sixth victory of the season. The only negative moment was Jess Carter's own goal, but the Stamford Bridge fans were still pleased with the overall result.
After playing three consecutive away games and tying 2-2 against Real Madrid on Wednesday, Chelsea was back in the comfort of their home. Emma Hayes expressed her satisfaction with her team's performance, but also stressed the importance of prioritizing player well-being.
She expressed her appreciation for the team's strong effort, despite the lack of sleep and being in hotels since the previous weekend. She also mentioned her goal of creating a cohesive team that can easily transition between games.
I prioritize sleep as a key factor in the recovery process, as it allows your brain to rejuvenate. Despite becoming accustomed to it, we still have three games in six days.
I will definitely criticize TV and the league today because I believe that people do not fully comprehend the difficulty of our situation. Despite being the only English team in Europe, our association does not provide support for our team.
The focus is on the well-being of the players, not on Chelsea. Ideally, those responsible for making decisions should involve former players or athletes in order to fully understand that it is not as simple as it may seem.
Due to the hectic schedule of the champions, Hayes made substitutions. Zecira Musovic, Sophie Ingle, Maren Mjelde, Ève Périsset, James and Beever-Jones were brought in to bring new vitality to the game.
Ingle had a significant milestone as she set a new record for appearances in the WSL, with her 184th appearance at the age of 32 during her second stint with Chelsea.
Liverpool have proved stern opposition for many this season, earning high praise. Matt Beard made two changes from the team that had earned a draw with Tottenham last weekend, with Emma Koivisto and Shanice van de Sanden coming in.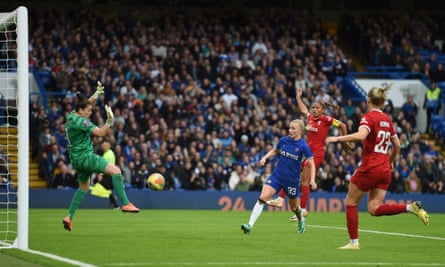 The hosts took the lead, with James leading the charge and guiding her team through the game. Her seamless connection with Niamh Charles was impressive and she nearly scored with a well-placed shot, causing Rachael Laws to make an excellent save.
In just 11 minutes, she sparked the breakthrough. Ingle successfully passed the ball to James on the left with precision. With a single skillful move, she easily got past Gemma Bonner and scored.
Liverpool displayed their resilience, hitting back straight away. Van de Sanden broke, shaking off a weak challenge, before her low cross clipped the recovering Carter to level the score.
Chelsea did not stay behind for a long time, as they followed the established processes instilled by Hayes. They showed patience in their approach until they eventually succeeded.
James played a crucial role once again when she intercepted Sam Kerr's pass and delivered a high cross for Beever-Jones to score with a header. This was a significant moment for the 20-year-old, who has progressed through the academy and has been making an impact this season, scoring four goals in her last four league games.
After the break, Chelsea showed no signs of slowing down. James scored two more goals, solidifying his performance as the player of the match. The first goal was a typical powerful shot, while the second was a quick and intuitive finish from a cross by Johanna Rytting Kaneryd. Nüsken also contributed to the scoring, assisted by Rytting Kaneryd.
The team showed strong determination in the final moments, maintaining their unbeaten streak of 30 matches at home in the WSL. They temporarily pulled ahead by six points while their competitors play on Sunday.
Source: theguardian.com