At the beginning of the current international break, Wales was in a favorable situation where they had regained control over their automatic qualification. They were aware that winning against Armenia and Turkey would secure their spot at Euro 2024. However, was there a hidden obstacle? Would their upcoming matches against Armenia and Turkey, both already qualified, prove to be challenging?
Unfortunately, it seems that Wales has a tough opponent in Armenia, a country ranked 95th in the world. In this match, Wales had to settle for a disappointing tie, almost guaranteeing their spot in the playoffs. Despite falling behind early, Wales managed to equalize, but they were fortunate not to be punished by Lucas Zelarayan, who scored the first goal. In the end, Wales was just barely able to hold on for the draw.
Armenia had a great opportunity to secure a win when Zelarayan missed his follow-up shot after Vahan Bichakhchyan's attempt hit the goalpost, leaving goalkeeper Danny Ward unable to save it. The difference in Wales's feelings was evident after just five minutes, when Zelarayan scored and put Armenia in the lead, compared to their disappointment two minutes into the first half when Wales equalized with an own goal by Nair Tiknizyan.
1,200 fans from Wales traveled to support the team. However, some had more complicated trips, including layovers in Cyprus, Greece, and Moldova. Coach Rob Page mentioned that some of the supporters enjoyed exploring the bar at the team's hotel, which is located near Victory Park where a statue of Mother Armenia stands. When they arrived, the Welsh fans were eager to make their presence known. Unfortunately, 32 fans were arrested by police for causing disturbances the night before the game.
The equalizer from Wales came at the right time. Roberts threw a long pass to the front post and, under pressure from Joe Rodon, Armenia's full-back Tiknizyan accidentally headed the ball into his own goal, past goalkeeper Ognjen Chancharevich. This goal brought Wales back into the game after Zelarayan's strong early shot.
Zelarayan netted two goals as Wales was upset by Armenia 4-2 in Cardiff back in June. He maintained his impressive performance, dribbling into the box and slotting the ball into the bottom corner past Ward after Joe Rodon was unable to clear a corner early on.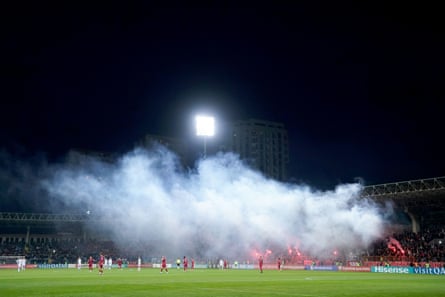 The fans in the stadium always reacted, and all of a sudden, a line of flares illuminated the section across from the team benches. The background noise? A few smoke bombs, which created a hazy atmosphere around the players. Page, with his arms crossed at the edge of his designated area, looked isolated.
Wales received a sudden shock and shortly after, David Brooks attempted a shot that went over. Neco Williams also had a shot that was redirected wide, and Armenia managed to avoid conceding a goal from the resulting corner. Wales executed a few well-coordinated plays, particularly when Brooks passed to Williams, and Harry Wilson's shot was saved by Chancharevich as it headed towards the goalpost.
Brennan Johnson, a forward for Tottenham, was substituted in for the second half and Wales brought in Dan James to add some speed when Wilson was replaced in the middle of the half. However, neither player had much impact on the game. Page's decision to make these changes cannot be faulted as he was trying to push for a win.
After 78 minutes, Nathan Broadhead, a striker from Ipswich, substituted Roberts, who was playing as a wing-back. However, Wales had to endure some tense situations and earning a point was likely a kind gesture.
Source: theguardian.com