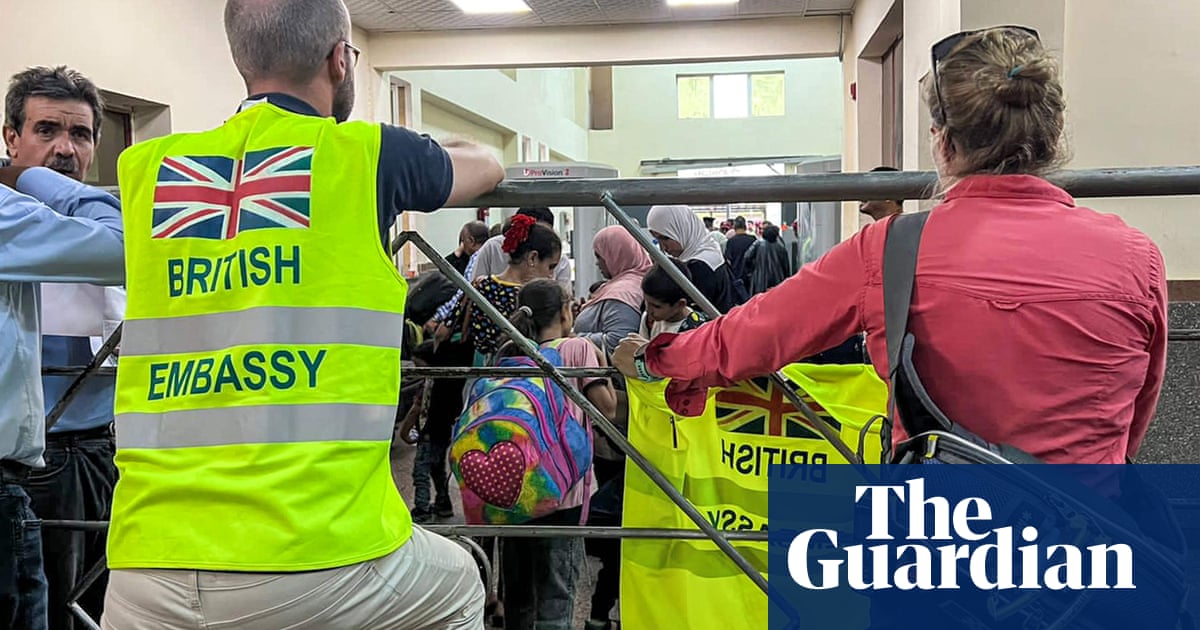 The initial individuals from a group of approximately 100 British citizens scheduled to depart from Gaza on Friday have successfully entered Egypt. There are worries about the possibility of individuals in the northern part of Palestine reaching the southern Rafah crossing.
As of Friday, there were 127 individuals from the UK who were scheduled to be relocated to Egypt. This comes after the crossing opened on Wednesday, over three weeks after the start of the ongoing conflict that has resulted in the deaths of thousands of both Palestinians and Israelis. Among those who were able to depart from Gaza were the parents-in-law of Scotland's first minister, Humza Yousaf. Yousaf described the past four weeks as a "nightmare" for his wife Nadia El-Nakla's family.
"We are delighted to announce that Nadia's parents successfully departed Gaza this morning via the Rafah crossing," stated Yousaf. "While we are relieved on a personal level, we are saddened by the ongoing hardships faced by the people of Gaza. We will continue to advocate for an end to the violence and suffering of innocent individuals in Gaza."
The British Foreign Office announced that the Rafah crossing will be open for designated time intervals in order to facilitate the departure of certain groups of foreign citizens and individuals with severe injuries.
British citizens who were among the initial group to enter Egypt on Thursday reported that the Rafah border crossing was in a state of disarray. They also expressed feeling neglected by their government.
Hundreds of British citizens are currently stuck in Gaza, along with approximately 7,000 other foreign nationals who have been identified by their embassies and registered with the Egyptian government.
According to The Guardian, there have been rare instances in which people who are not on the designated lists have been able to enter Egypt with proper documentation.
According to Faras Abuwarda, at 2am on Friday he noticed that his wife, five children, and cousins were included in a list of 127 UK evacuees, along with others from Italy, Germany, Indonesia, the US, and Mexico. However, Abuwarda's family in Jabalia, located in northern Gaza, are still unsure of how they will make the journey south in order to cross.
Abuwarda, who had traveled from London to Cairo to help his family for the second time since the conflict started, expressed his happiness for them. However, he also had a concern that they would not be able to make the journey, as he had found out the day before that there were no available taxis or private cars to take them to the southern region.
For over three weeks, the family has been stuck in Jabalia, which has been heavily bombed in the past few days. This includes Israeli attacks in the area that have resulted in the death of over 195 individuals.
Abuwarda stated that due to restrictions on travel, he reached out to the Foreign Office and aid groups for help with transportation. He was informed by the Foreign Office that they were unable to provide any assistance or protection, and that the Israeli government would not permit his family to use his cousin's car for travel to the south.
On Friday evening, they were still in a state of anticipation.
Abuwarda, 47, reported that the Israeli government has declared that only vehicles owned by the International Red Cross, United Nations, or Doctors Without Borders are permitted to travel between the north and south regions.
This morning, the most recent communication from the Foreign Office stated that we are not able to assist you and that we do not offer any aid in the form of transportation from the north to the south. However, we will provide assistance once you reach Egypt.
"This is completely pointless. I do not require assistance in Egypt as I am already here and can assist my family upon their arrival. I am appalled by the government's lack of support."
In October, Abuwarda embarked on a journey to Egypt with the intention of reuniting with his family at the border. He was worried about how his wife and five children, two of whom have autism, would make the trip south. However, he was unable to reach his destination as he was halted by Egyptian officials at Arisha.
"I plan to visit once my family reaches the border," he stated on Friday. "We feel alone and neglected without any assistance. Sadly, we used to take pride in being British, but that is no longer the case."
Source: theguardian.com