Expectant mothers in the Democratic Republic of the Congo will receive complimentary medical services as part of a initiative to decrease the nation's significant rates of maternal and infant mortality.
By the end of this year, women in 13 out of 26 regions in the country will have the right to receive free services during their pregnancy and for one month after giving birth. As part of this program, newborn babies will also be entitled to free healthcare for the first 28 days. The government intends to expand this initiative to the remaining regions in the DRC, but no specific timeline has been set yet.
Unfortunately, healthcare professionals have expressed worry about the ability of hospitals and medical facilities to handle a potential surge in demand for services. Several have informed the Guardian that there is a shortage of personnel, resources, and equipment to effectively implement the $113 million (£93 million) program, which has backing from the World Bank.
The implementation of the program coincides with countrywide protests by nurses, midwives, technicians, and hospital administrative employees, who are demanding increased wages and improved working conditions.
The Democratic Republic of Congo has a significantly high rate of maternal and neonatal deaths compared to other countries. According to the latest data, there are 547 maternal deaths for every 100,000 live births, and 27 neonatal deaths for every 1,000 live births. These numbers are far from the United Nation's goal of decreasing maternal deaths to less than 70 per 100,000 and neonatal deaths to less than 12 per 1,000 by the year 2030.
The program announced by Minister of Public Health Roger Kamba Mulamba aims to liberate women from what he calls a "prison sentence".
He stated that modern mothers can receive medical treatment during pregnancy without worry. Infants are no longer at risk of death due to lack of antibiotics. Additionally, mothers no longer face mortality due to being unable to pay for a caesarean section.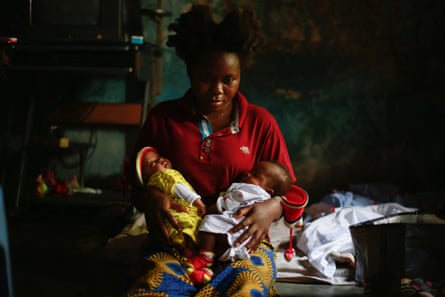 General examinations in public health centres can cost about 27,000 Congolese francs (£8), while ultrasounds can cost 60,000 francs. C-sections cost about 524,000 francs. According to the World Bank, more than 60% of Congolese live on less than $2.15 (5,600 francs) a day.
The Democratic Republic of Congo does not have comprehensive health coverage, and the majority of individuals are unable to pay for the limited care that is available. In some cases, hospitals have been known to keep patients until they have paid their medical expenses in full. This has resulted in new mothers being required to stay in overcrowded facilities for extended periods of time while their family members try to find a way to cover the costs.
The plan was first introduced in the city of Kinshasa in September, but is now expanding to other areas of the country, such as eastern DRC, which has been greatly affected by ongoing conflicts. The ministry of health has allocated $42 million towards the program, which is the initial phase of a larger $200 million effort to improve prenatal, maternal, and neonatal care. They are utilizing radio and television to inform women about the complimentary services.
Dr Simplice Kibatatu, from Kinkole general hospital on the outskirts ofKinshasa, said he welcomed the programme, but added that his health centre had been overwhelmed by the number of women seeking care.
The speaker noted an increase in the number of women receiving care, from 30 to approximately 65 per month. Previously, pregnant women would arrive around 10am, but now that the care is free, they are arriving earlier at 8am and waiting for their consultation.
Technician Claudel Diakileke from Barumbu, a district in Kinshasa, described the initial trial as a failure. He stated that there was a shortage of physicians and properly trained midwives to handle the demand, and that the government had not supplied health facilities with adequate equipment and medication.
The estimated number of doctors and nurses in the country is 9,500 and 73,000 respectively, to cater to a population of approximately 95 million. There is one midwife for every 20,000 individuals.
According to him, certain women expressed worry regarding the level of care they would receive. He mentioned, "They believe that anything provided for free is not of good quality."
Diakileke expressed disapproval towards the government for not seeking input from healthcare workers or community liaisons, who are responsible for educating the public. These workers are vital in establishing trust with expecting mothers and informing them that joining the scheme will result in receiving quality care.
Nenete Asuka, the owner of a restaurant in Kinshasa, stated that she has not yet received any benefits from the program. She recently had to pay for an ultrasound and exams at the Barumbu center. Despite being six months pregnant, Asuka had to pay despite being told that delivery would be free.
Filo Biancumpa, a pregnant dressmaker, is pleased with the program, but mentioned: "I was not aware that the free delivery services had started. Every time I come to the health center, the workers are on strike. It's difficult to talk to female health workers who provide guidance for pregnant women."
Source: theguardian.com