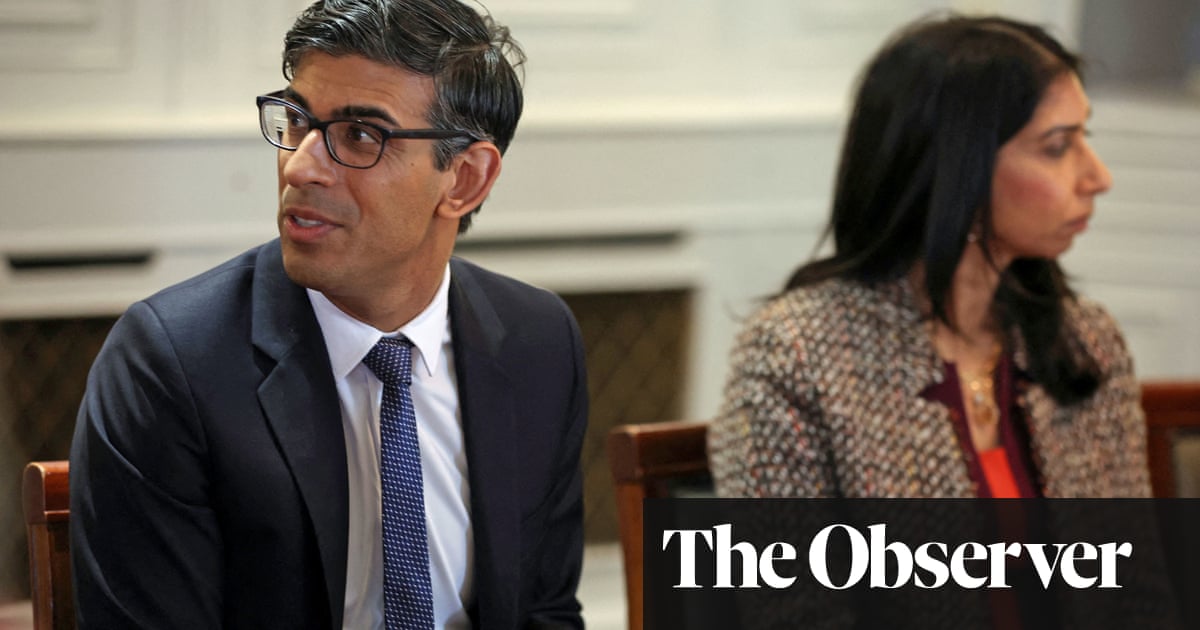 Senior members of the Conservative Party have stated that Rishi Sunak's credibility as prime minister will suffer greatly if he does not dismiss his controversial and polarizing home secretary, Suella Braverman, within a matter of days.
As anger at her incendiary claims of police bias and open defiance of No 10 grow, the expectation among most Conservatives is that Sunak will dismiss Braverman early this week, opening the way for a cabinet reshuffle that, his allies hope, could yet revitalise his premiership.
Although a small group of conservative MPs still support the home secretary, party officials are facing pressure from more moderate members of parliament to remove Braverman from her position after the Armistice Day celebrations and the pro-Palestinian march in London.
A former member of the cabinet shared with the Observer that Braverman's recent article in the Times, where she claimed that the police were biased towards pro-Palestinian groups, was a deliberate attempt to get fired. As a result, Sunak had no choice but to dismiss her.
Keeping her in the position would have dire consequences, as he would not only be an unpopular prime minister, but also a weak and disliked one.
According to him, Braverman's actions were causing significant harm to the party's ability to attract voters. Many colleagues believe that Suella's message is driving away voters in the south-east of England, and this cannot be tolerated.
According to Braverman's recent idea, homeless individuals are living on the streets by choice. This statement was deemed unacceptable by the senior Tory, who stated that it was a turning point in their views. Criticizing the notion that homelessness is a choice is not only ignorant but also cruel. When asked to rate his anger towards Braverman's actions on a scale of one to 10, he responded with an "11".
Many people are angry at the home secretary's refusal to tone down her article for The Times, despite being asked to do so. Her constant pandering to her rightwing supporters is a common sentiment. One high-ranking member of the Conservative party even went as far as calling her a "monster" and expressing that her views are unacceptable to those in the political mainstream.
Braverman's comments regarding police prejudice were considered to be not only divisive, but also hazardous, fueling discord leading up to the pro-Palestinian march and Armistice Day gatherings happening today. Yesterday, she had a meeting with the Metropolitan Police commissioner, Mark Rowley, in an apparent effort to ease tensions.
Even senior party members have been publicly stating that it is time for Braverman to be removed from the cabinet and left to fend for themselves as a backbench MP.
Sir Charles Walker, a former vice-chair of the 1922 committee of backbenchers, said: "The cabinet would be a happier place without her in it, and the parliamentary party would be a better place without everyone having to worry about what she is going to say next."
He stated, "The aggressive manner in which the home secretary is behaving indicates that she may be better suited to leading the Reform party rather than being a member of the Conservative party. While she may believe she has all the solutions, if there were easy fixes to complicated issues, we would have already discovered them. Navigating politics is not an easy task. Those who excel at it do so with subtlety, empathy, and comprehension."
Martin Vickers, a member of the executive committee for the 1922 committee, who typically refrains from publicly criticizing ministers, stated that the Home Secretary had gone too far. As a result, media coverage of last week's king's speech was overshadowed by a controversy caused by her. He expressed concern over the public disagreement between the Home Secretary and the commissioner and stated that such a situation cannot be tolerated.
A prominent member of parliament representing a traditionally Labour-supporting area stated that Braverman had the freedom to share her opinion in a nation that values free speech, but also noted, "she should have done so from her position as a regular MP."
Opponents of Braverman within the Tory party suggest that the timing of her potential dismissal is crucial. They assert that Sunak must remove her from her position before the supreme court makes a decision on Wednesday regarding the legality of her practice of sending asylum seekers to Rwanda.
According to one person, the decision must be made early this week because if the government wins, it will be a triumph for Suella and strengthen her position. Alternatively, if she loses, the Prime Minister may be perceived as firing her due to a court case involving a policy he supported. Therefore, he cannot wait until after the judgment. Personally, I believe it will happen on Monday.
Although there is speculation that several ministers who support Braverman may resign if she is fired, many MPs believe she does not have widespread backing within the party, both in parliament and among the public, to lead the party in the upcoming general election.
Moderate Members of Parliament are upset that a small group of extreme individuals within their party are causing damage to their chances in elections. This situation is disheartening and dysfunctional. The party is being controlled by a minority who believe that attacking different groups and going against the status quo will increase their popularity. However, the reality is that this behavior is causing harm to the party. It is necessary for the prime minister to consider if it is worth keeping the home secretary and her supporters in their positions.
A different MP with moderate views stated that the claim that dismissing Braverman would lead to the resignation of her supporters was unfounded. He expressed concern that a majority of the party in parliament was dissatisfied with the home secretary, not just because of her views, but also due to her lack of competence. He questioned the purpose of her role, as it did not seem to bring any political advantage or display competence, and appeared disorganized with no clear strategy.
David Gauke, a former justice secretary, also spoke out against Braverman's involvement. He stated that she has her own personal agenda that has nothing to do with fulfilling her duties as home secretary or aiding her party in presenting a united government to the nation. While she has every right to have concerns about the pro-Palestinian demonstrations, her actions only make the job of the police more difficult.
"Senior members of the Labour party have accused Braverman of inciting far-right aggression towards the police, as supporters of activist Tommy Robinson and football hooligans breached police barriers just before the two-minute silence on Armistice Day."
The leader of London, Sadiq Khan, stated that the chaos caused by the far-right at the Cenotaph was a direct consequence of the statements made by the home secretary. This has made the job of the police much more difficult. Humza Yousaf, the first minister of Scotland, expressed that the far-right has gained confidence due to Braverman's actions and believes she should step down from her position.
Source: theguardian.com