Justin Trudeau expressed strong disapproval of the recent acts of violence in Canada, specifically the shooting at two Jewish schools in Montreal and the clashes between pro-Israeli and pro-Palestinian students at a local university.
Authorities are currently looking into shootings that occurred at two Jewish schools in the Côte-des-Neiges area, following reports from staff that bullet holes were discovered in the schools' front doors overnight.
The Canada community is deeply divided over the Israel-Gaza war, as an increasing number of people are urging for a ceasefire in the ongoing conflict that has resulted in over 11,000 fatalities.
The prime minister stated on Thursday that although emotions are running high and people may be afraid, it is not in our nature as Canadians to attack one another.
The speaker stated that if any location is going to develop the necessary insights for achieving peaceful solutions in the Middle East, it would begin in a country like Canada.
An intense clash occurred at Concordia University in Montreal on Wednesday between individuals supporting opposing factions in the Israel-Gaza conflict, resulting in injuries and one person being taken into custody.
University administrators have reported an alarming increase in intimidating and intolerant actions, causing students to feel afraid.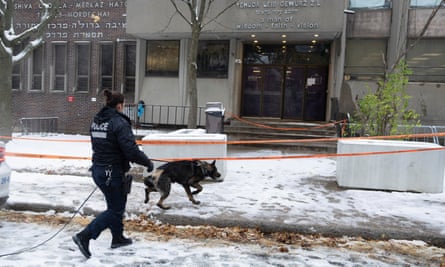 Earlier this week, authorities discovered two molotov cocktails near a synagogue and Jewish community center. The Montreal police have observed a rise in hate crimes targeting the Jewish community, as well as an increase in similar incidents against Muslims in the city.
Trudeau expressed concern over the alarming increase of antisemitism and Islamophobia throughout the country during a statement on Wednesday.
He stated that there have been Molotov cocktails thrown at synagogues, terrifying threats of violence, and discrimination against Jewish businesses and daycares based on hate. This behavior must come to an end as it is not tolerated in Canada under any circumstances.
He expressed disappointment over the growing Islamophobia, which he deemed "unacceptable," particularly towards Palestinians and anyone who displays a Palestinian flag.
The speaker stated that Canada has a history of peaceful coexistence among various groups and that it is the duty of every Canadian to acknowledge each other's struggles and fears in order to progress.
The police chief of Toronto, which has the highest number of Jewish and Muslim residents in Canada, cautioned about a notable increase in hate crimes. During most of October, reports more than doubled in comparison to the same time frame last year.
In Surrey, a city in British Columbia, an individual threw eggs at a rabbi's residence and vandalized it with a swastika. In Ottawa, the doors of a mosque were defaced with feces.
"Canadians are currently feeling fear within our own communities. It is important for us to continue utilizing our strengths by actively listening to our neighbors, understanding their pain, and acknowledging it, even if it differs from our own." – Statement made by Trudeau.
In the previous month, law enforcement documented 73 incidents of hate crimes directed towards individuals in Montreal's Jewish population, which surpasses the total number of hate crimes targeting all groups in 2022.
The current conflict in Gaza started when Hamas, on October 7th, launched the most destructive attack in Israel's history, resulting in the deaths of 1,400 people, primarily civilians, and the capture of over 200 hostages.
Israel has retaliated with continuous bombing and a land attack in Gaza, resulting in the deaths of approximately 10,600 individuals.
Source: theguardian.com