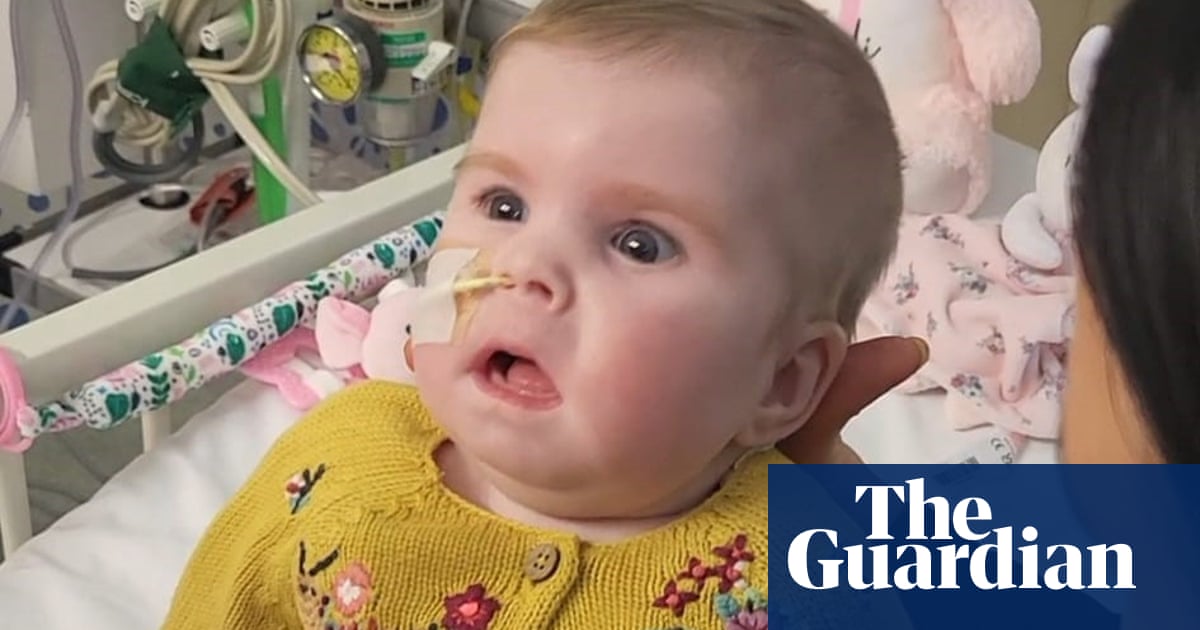 A father has announced that a baby girl, who was at the center of a legal dispute, has passed away after her life-sustaining treatment was stopped due to her critical condition.
Indi Gregory, who was eight months old, suffered from an untreatable mitochondrial condition and doctors declared that there were no further options for her.
The parents of the child, Dean Gregory and Claire Staniforth, desired continued treatment from specialists but were unsuccessful in their legal battles in both the high court and court of appeal in London.
On Monday, Gregory announced that the baby had passed away while in her mother's embrace just before 2am. This occurred after she was brought to a hospice and had her life support removed.
He expressed that they were both filled with sadness and regret, stating that the healthcare system and legal system not only denied her the opportunity for a longer life, but also stripped Indi of the dignity of passing away in her own home surrounded by loved ones.
"They were able to seize Indi's physical being and honor, but her soul will always remain untouched. Despite their attempt to erase Indi without anyone noticing, we ensured that she would be memorialized for eternity. I recognized her uniqueness from the moment she entered the world."
The Royal Courts of Justice recently heard Indi's end-of-life case, which is the most recent high-profile hearing in a series of contentious battles over the care of children such as Archie Battersbee, Charlie Gard, Alfie Evans, Isaiah Haastrup, Tafida Raqeeb, and Alta Fixsler.
The baby, who is from Ilkeston in Derbyshire, was recently given immediate Italian citizenship by Giorgia Meloni, the prime minister of Italy. This was done as a last-ditch effort to have the child transported to Rome for medical care.
The judges determined that relocating to Italy would not be in Indi's best interest and deemed the involvement of Italian consular officials to be completely misguided.
The decision made by three appeal court judges on Friday stated that life support can only be removed in a hospital or hospice, not at the family's residence.
On Monday, Christian Concern, a group advocating for the parents, expressed that the judges' decision to not allow the removal of Indi's life support at home was a denial of her parents' last request.
The group reported that the infant girl was transferred from the Queen's Medical Centre to a hospice under security and police supervision. After her life support was terminated, she received "invasive ventilation." She passed away at 1:45am on Monday.
The Vatican released a statement on Saturday in which Pope Francis expressed his prayers for Indi's family. The statement also mentioned the pope's support for Indi, her parents, and all children who are suffering or facing danger due to illness or conflict around the world.
On February 24, Indi came into the world with mitochondrial disease, a hereditary condition that the NHS states cannot be cured.
Experts at the Queen's Medical Centre stated that the patient's condition was terminal and that the current treatment she was undergoing was causing discomfort and had no chance of success. However, her parents held a different viewpoint.
Mr. Justice Peel, a judge in the high court, determined that it would be legal to restrict treatment and that doing so would be in the best interests of Indi.
Despite their efforts, her parents were unsuccessful in convincing the judges at both the court of appeal and the European Court of Human Rights in Strasbourg, France, to reverse the decision.
Indi received emergency Italian citizenship on the previous Monday, less than an hour before doctors were scheduled to stop life support treatment.
On Friday, Lord Justice Peter Jackson, a judge from the appeal court, expressed deep worry about certain aspects of the case brought forward by the Christian Legal Centre on behalf of Indi's parents.
Source: theguardian.com