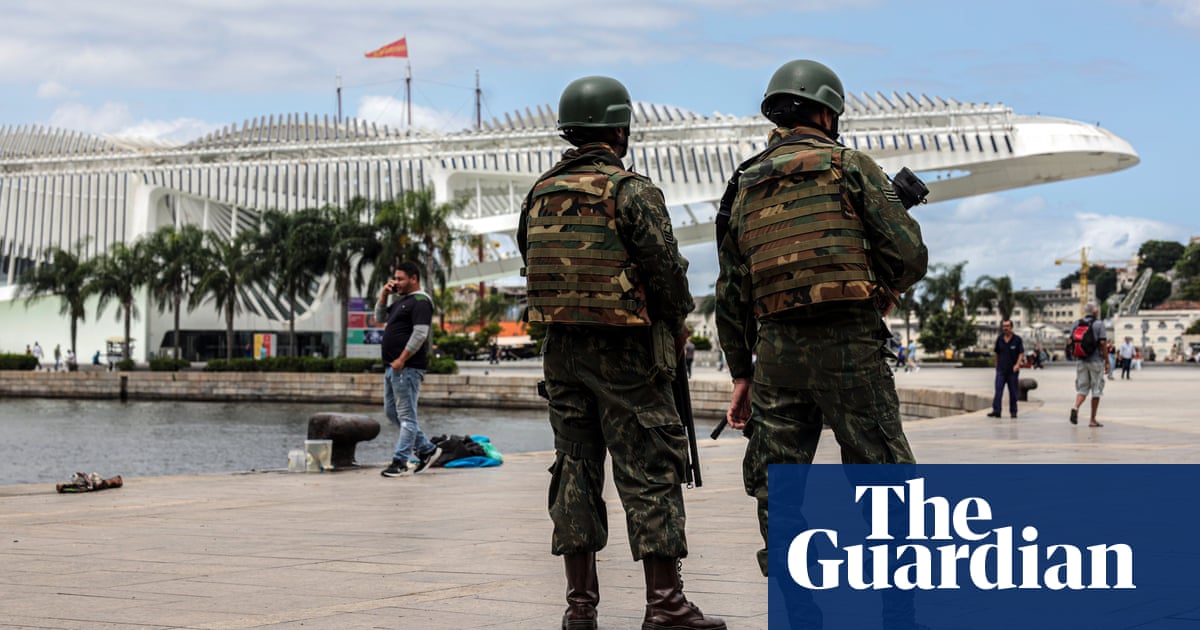 Numerous soldiers are now stationed at the ports and airports in Rio and São Paulo, as well as along Brazil's western border, in an attempt to suppress organized crime and combat the recent increase in bloodshed and aggression.
The recent military action, commanded by President Luiz Inácio Lula da Silva on Friday, will continue until May and aims to disrupt the routes used by drug and weapon smugglers that are crucial to the operations of trafficking and mafia organizations.
In recent months, the heavily armed groups that have long dominated large areas of Rio have been making frequent appearances in Brazilian news headlines due to a string of violent and lethal assaults.
In the previous month, armed groups referred to as "milícias" caused chaos in western Rio by destroying multiple buses and a train in an attempt to prevent the arrest of a notorious mafia leader. In early October, three physicians were killed outside a luxurious beach hotel when hired killers mistook one of them for a mafia boss they were targeting.
Separately, there was a public outcry over drone images released by police that showed rifle-toting drug traffickers holding guerrilla-style training sessions in the Complexo da Maré, a sprawl of favelas near Rio's international airport.
This week's deployment will involve the dispatch of 600 air force personnel to both that airport and Guarulhos International Airport in São Paulo.
Over 1,000 navy personnel will be present at the container ports of Rio and Itaguaí in Rio state, as well as Santos in São Paulo state. According to Brazilian prosecutors, these ports are responsible for shipping large amounts of South American cocaine to Europe every month.
Meanwhile, 2,000 soldiers will increase their operations on Brazil's western borders with Paraguay and Bolivia. These borders are frequently used for the illegal transport of marijuana, cocaine, and weapons into Brazil.
Lula stated last week that the government is committed to assisting Brazil in combatting organized crime, gangs, drug and gun trafficking. He expressed concern over the increasing violence in the country.
The security situation in Rio has worsened despite the decrease in murder rates over the past few years. Following the recent bus burnings, the newspaper Estado de São Paulo criticized the state for failing to maintain its control over violence and declared that Rio is in a state of crisis.
Pablo Nunes, a security specialist, stated that the current security crisis in Rio was instigated by the fatal shooting of Wellington da Silva Braga, also known as Ecko, in 2021.
Braga's forces had controlled huge swaths of west Rio and his death sparked a fierce and chaotic turf war, with rival gangs of paramilitaries and traffickers scrambling for control of communities whose residents they could milk for extortion payments or where they could sell drugs. The surge in killings caused by that criminal fragmentation now meant that if Rio's westside was a city, it would be Brazil's seventh most murderous.
According to Nunes, from the Centre for Studies on Public Security and Citizenship in Rio, Ecko's departure has left the entire area up for contention. The conflict is unfolding block by block and street by street. The current situation in Rio de Janeiro is chaotic and uncontrollable.
According to Nunes, the national government has a responsibility to assist state authorities in addressing Rio's ongoing issues, but he is skeptical about the effectiveness of a military intervention.
"We lack a plan. Our issue is massive – however, what we witness are spontaneous actions from each level of government to demonstrate their efforts. The state government claims to be taking certain measures. The federal government claims to be taking different ones. But what is the overarching plan? What is the strategy? What is the ultimate goal of all these actions?" He inquired.
Source: theguardian.com