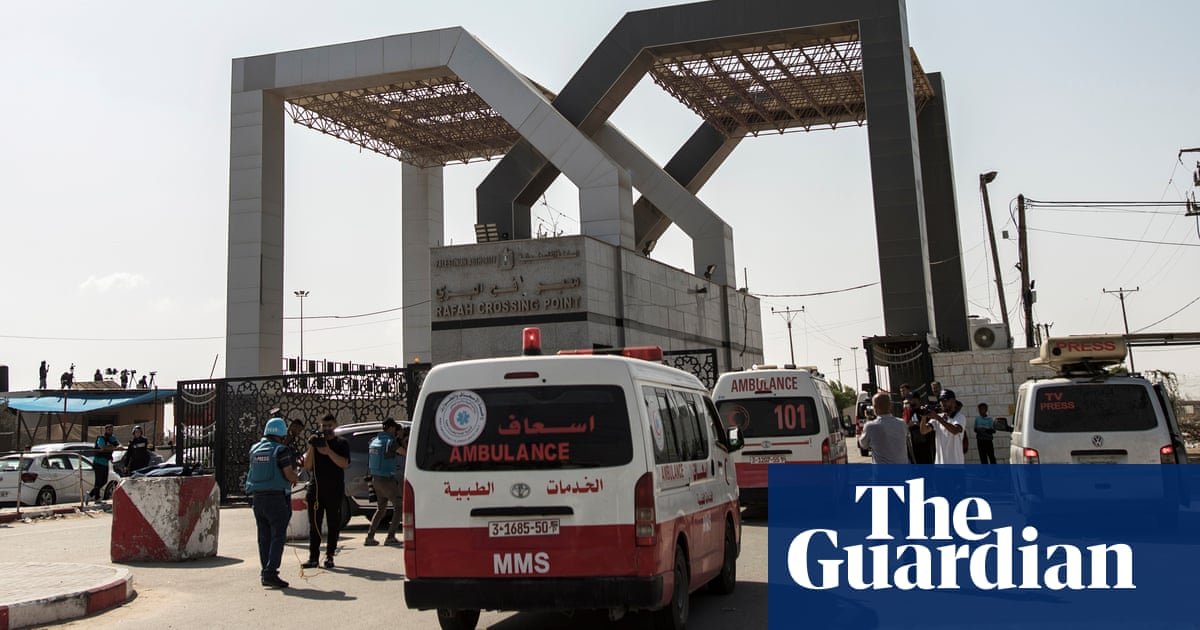 A surgeon from the United Kingdom who has 16 family members stuck in Gaza is disappointed that there are no British citizens included in the recent list of foreign passport holders permitted to exit the area via the Rafah crossing.
Dr. Ahmad Abou-Foul reports that his family, which includes a four-month-old baby, is currently in a dire situation. They are all living in a cramped one-room basement as they await the opportunity to escape.
The British Foreign Office announced that the Rafah border crossing in Egypt will be temporarily opened in a controlled manner for certain groups of foreign nationals and severely injured individuals to exit. They have coordinated with Egyptian and Israeli officials to compile a list of British citizens wishing to leave Gaza and confirmed that the first group has crossed on Wednesday evening.
According to the most recent list released on Thursday, there are no British citizens included among those eligible to depart. The list consists of 400 American citizens and several Europeans. Out of the approximately 500 individuals on Wednesday's list, only two were British. Downing Street has confirmed to the Press Association that two British aid workers have successfully reached Egypt with the assistance of border force officials.
On Wednesday afternoon, 67-year-old Dr. Abdel Hammad, a transplant surgeon from Liverpool who works for a charity in Gaza, was unable to cross the border. Along with another British aid worker, he went to the crossing but was informed that it was closed.
Salim Hammad, age 34, is a doctor residing in Goring, Oxfordshire. He informed the Guardian that his father and another British aid worker were headed through the crossing on Thursday morning.
Last night, I had a conversation with him and he was still located in Gaza. This morning at around 5am, he called me to inform that he was headed to the crossing. He recently sent me a text, probably around 9:30am, stating that he successfully passed through the Palestinian side and is now en route to the Egyptian side. This is a positive sign and we are hoping that he will be able to leave in the next few hours.
"It has been a while, but I cannot allow myself to believe it until I receive a phone call from him saying he is out and in Egypt. With all the recent challenges we have faced, we just want to ensure his safety."
According to Salim Hammad, the remarks made by Downing Street regarding two aid workers successfully crossing did not pertain to his father or the other British citizen on the list. Hammad clarified that he had spoken to his father and the other individual, who were both on the list yesterday, at 9pm and again this morning, and they were not yet out.
He stated that he was unsure of the course of action once his father reached Egypt, and added, "If things go poorly, I will personally retrieve him."
Dr. Abou-Foul, a surgeon specializing in head and neck procedures, serves at University Hospitals Birmingham and has expressed concern that the Foreign Office has not given any guarantees that British citizens will receive priority assistance in the near future. It is estimated that approximately 200 British individuals or those with dual citizenship are currently unable to leave the Palestinian territory.
He stated on BBC Radio 4's Today programme that a new list was recently released with mostly Americans, as well as a significant number of South Americans and Europeans. However, it is unexpected that there are still no British citizens on the list.
I am hopeful that the British nationals will be included at some point. However, the Foreign Office has not given us any reassurances that they have already spoken with the Egyptians and made them aware of our presence. It does not seem like they will prioritize us in the near future.
Abou-Foul discussed the challenges his family faces on a daily basis as the conflict has now been ongoing for four weeks. This comes after Hamas launched violent attacks on Israel on October 7th, resulting in over 1,400 fatalities. The Palestinian death count, according to Gaza's health ministry under Hamas control, has now reached 8,525.
Abou-Foul expressed deep concern about the current circumstances, which are deteriorating each day. Access to basic necessities such as clean water and food remains a daily struggle, particularly for families with young children, including a four-month-old. The constant threat of airstrikes adds to the already challenging and dangerous conditions. Overall, the situation is extremely difficult.
The Foreign Office has announced that they have created a list of British citizens who wish to depart from Gaza, and have coordinated with both Egyptian and Israeli authorities. They will be notified beforehand when those on the list are able to cross, in order to be able to offer any necessary support.
Source: theguardian.com