Rosamund Pike is jolly when she appears on my laptop screen in a cream-coloured blouse, with a cream jacket draped around her shoulders. Vanilla hair only adds to the suggestion of dessert. It is early evening, and the actor is calling from Prague, where she lives with her partner and their two sons. (She was filming the Amazon fantasy series The Wheel of Time there, and stayed put when the pandemic hit.) Is the wood-panelled opulence behind her real or virtual? "It's a real hotel," she protests, then starts brandishing props to prove her point. "It has water and cookies and tea, and a cup with four straws, which is how I roll." The part that earned her an unfair reputation for iciness – the turncoat Miranda Frost from Die Another Day, which she got straight after university having never seen a Bond film – suddenly feels like centuries ago.
One hour later, Pike's smile remains, but the friendly atmosphere has slightly soured. "I initially had a great time," she says as we part ways. "But at some point, I started feeling quite uneasy. It was like you showed me a reflection that I didn't want to see." It is difficult to pinpoint exactly what went wrong.
If we focus on the new movie, we are on stable ground. Think of it as The Talented Mr. Ripley meeting Brideshead and getting lost in the maze from The Shining with the cast of The Go-Between – that's Saltburn. In Emerald Fennell's next film after Promising Young Woman, Barry Keoghan portrays Oliver, a scholarship student from Merseyside who is taken under the wing of Felix (Jacob Elordi), a charming young man who invites him to spend the summer at his country estate. It is here that Oliver encounters the entire unpleasant family, including Felix's mother Elspeth (played by Pike), who steals the show. Elspeth is like the snarky younger sister of Patsy from Absolutely Fabulous, openly expressing her disgust for ugliness, mocking her daughter's bulimia ("Fingers for dessert"), and reminiscing about her time as a fashion model, temporary lesbian, and Britpop muse. Pike's hilariously wicked performance is sure to earn her an Oscar nomination.
Inquire with her about the character and she will reply with a sense of horrified fascination. According to Pike, the character is unable to cope with anything that resembles reality. She believes that even the slightest touch of genuine emotion will pull her into an inescapable vortex. In Saltburn, there is a scene where Elspeth responds to a shocking discovery with a scream, although it is only heard and not seen. During the looping session, where sound is added after filming, Pike was apprehensive about recording the scream again. However, once she closed the curtain in the small booth, she was immediately transported back to that moment. This could be due to Elspeth's tendency to suppress her emotions, causing them to linger within Pike. As the film progresses, Elspeth transforms into more of a ghostly figure as she becomes starved of real life experiences. She also suffers from emotional and sexual anorexia, finding control through denial. Despite craving attention, she despises physical closeness.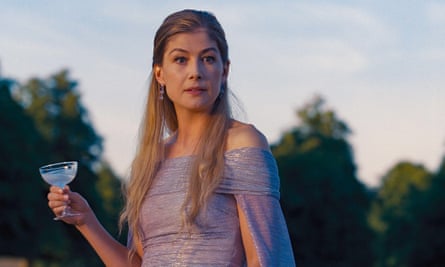 Is Elspeth's true self genuine? Pike mocks, "A true self? Who would desire that? How dull and sincere!" Sincerity is considered one of the worst traits in Pike's society, although she is not immune to it herself: she stated in 2020 that she chose to take on the award-winning role of a scammer targeting elderly individuals in I Care a Lot because she had previously portrayed many "worthy" women, such as journalist Marie Colvin in A Private War and Marie Curie in Radioactive. She felt she was becoming too earnest for her own good.
Examples of her commitment can be seen in her actions, such as when she used gaffer tape to bind her upper arms to experience the physical tension that Colvin felt in her limbs. When I bring up this memory, she exclaims, "Oh my gosh, I did!" and then adds, "I had forgotten about that. How amazing." Elspeth's approach was not focused on preparation. Instead, she aimed to avoid certain behaviors, like refraining from reading books because Colvin disliked them for not having enough pictures. As Elspeth, she would often be found on set reading magazines and feeling envious of the people featured in them.
Pike, who is 44 years old, possesses a refined and elegant speaking voice, received an education at Oxford, comes from a family of opera singers, has a background in costume dramas (including a spirited version of Pride & Prejudice directed by her former fiance, Joe Wright), and has a talent for portraying characters from the upper class (her performance as the sweetly sad dim-bulb socialite in An Education is particularly impressive). However, she does not see herself as similar to Elspeth and believes she may have more in common with Oliver. She reflects, "There have been moments where I have felt like I didn't fit in. I was once invited to a horse race and, as usual, I was worried about the proper etiquette – there are so many rules in British society. I asked some girls if I needed to wear a hat and they responded, 'Oh God, no. No hats.' Of course, when I arrived, everyone was wearing hats, including the girls who told me it wasn't necessary." She places her hands flat against her cheeks, mimicking the famous painting by Edvard Munch. "Perhaps I made a mistake by even asking."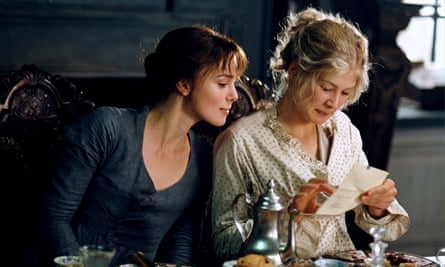 She has always felt like an outsider, not just during one specific event. As an only child, she often spent time with adults, accompanying her parents to their rehearsals and shows, and wandering around backstage. She especially enjoyed the lively atmosphere and playful nature of the costume department. The seriousness of it all was not present in these moments.
Her mother cautioned her that she may feel like an outsider when she was sent to Badminton boarding school in Bristol with a 75% scholarship. She told her, "I want you to know that you may find that others have things we cannot provide for you." As a child, would she have noticed? It was her mother's concern, and perhaps not her own.
Was she aware of the difference her mother anticipated? "People would take vacations, so there was a lot of disconnect. I don't think I had ever been on a plane before. Girls would arrive at school from other countries, discussing this phenomenon called 'jet lag'."
She discovered her community, according to her, when she became a member of the National Youth Theatre. These were young individuals from all corners of the country who shared the same sense of liberation when performing. For her, true freedom was always found in the arts, not in social situations. She desired to surround herself with others who were passionate about exploring the human experience. However, financial struggles still persisted. In order to continue living with her fellow performers in north London, where all the excitement was happening, rather than with her parents, she had to find a way to cover living expenses. She took her cello to the streets of London and played music for money. Eventually, someone generously gave her ten pounds, an act of kindness that has stayed with her to this day.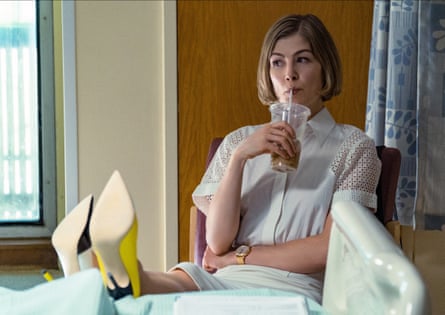 Portraying the role of Juliet in a performance of Romeo and Juliet led her to acquire an agent, which meant she already had representation when she began acting in plays at Oxford. She chose to keep this advantage hidden from her fellow classmates. When I mention this information, she questions me as if I had been snooping through her belongings. She explains, "Is that from some previous interview? Yes, I purposely kept it a secret because I didn't want to come across as arrogant or different." While studying at university, she would secretly travel to London for auditions. "I would pay £6.90 for a coach ticket on the Oxford Tube. Most of the time, I would return feeling defeated and wishing I had spent my time in the library instead."
She was asked if she felt like she belonged at Oxford. She responded cautiously, saying, "No." However, upon reflection, she has come to realize that the people she found intimidating were actually just as anxious as she was. She looks back with fondness on the days before smartphones, particularly the Pigeon Post system. This allowed students to write notes to someone they were interested in and have it delivered by a cyclist to the correct pigeonhole. She recalls receiving a note titled "Looking for Cinders" from someone who had seen her at a party. It was a sweet and romantic gesture, but required a lot of effort.
Suddenly, the temperature drops without warning. "I am feeling a bit self-conscious, can you tell?" she asks. She had her hands in her lap when we began talking, but now they are crossed over her chest. "I reach a certain point where I no longer want to talk about myself. Are we almost done?" It's not the ideal response for an interviewer, but I reassure her that we are more than halfway through. Perhaps she is bothered by these questions about being different, even though they are relevant to Saltburn. I start to explain that it could be assumed that someone with such a successful career has always… "Always fit in?" she interrupts to finish my sentence. "No, I have always felt like an outcast."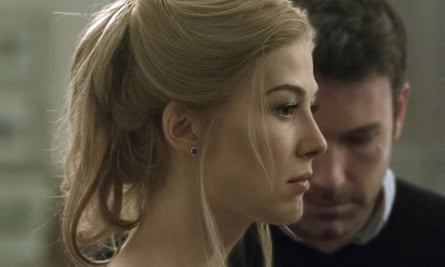 This worked in her favor. David Fincher wanted a relatively unknown actress for the female lead in the suspenseful film Gone Girl. Pike, who was nominated for an Oscar for her clever and cunning portrayal of Amy Dunne, was the perfect choice. She explains, "I am drawn to complex characters who have both admirable and unlikable qualities. Amy in Gone Girl is satirizing something that is now more common: people crafting a persona for the media, trying to appeal to the masses. This was before the age of Instagram and the constant sharing of every moment, from baby showers to gender reveals."
Did Pike previously express that she experimented with various personas in her adolescence and young adulthood? Is this still the case? "Wow, did I really say that?" she exclaims, caught off guard once more. "No, I no longer feel that way. I am fully aware of my identity now."
Who is she? "Who am I? Er…" She is unsure. "You'll have to join me for a drink sometime." Then she becomes anxious and begins to wave her hands, losing any composure in an amusing way. "Oh my God, that sounds like I'm asking you out! You see, this is what happens when it's late in the day. Oh dear." She returns to the topic at hand: "I can't have someone saying, 'Let me tell you about myself.' I can't respond to that!"
After our conversation, she shares her opinion: the awkwardness, the unflattering reflection, and so on. Thankfully, it's finished now. "I'm relieved," she says, revealing her inner Elspeth.
Source: theguardian.com