A
In the beginning of the Chilean documentary "The Eternal Memory," a woman inquires about her husband's feelings towards his life, as he suffers from Alzheimer's disease. He responds with a smile, stating "I love life." This couple is well-known to audiences in Chile, with the husband being Augusto Góngora, a journalist who was part of an underground television news service during the Pinochet dictatorship. Despite the personal risks involved, Góngora bravely filmed the reality of life under military rule on the streets. The group's bulletins, recorded on VHS tapes, were circulated throughout the country. When Chile transitioned to democracy, Góngora became a prominent figure on public television. His partner of 25 years, Paulina Urrutia, is a renowned stage and screen actor. Sadly, in 2014, at the age of 62, Góngora was diagnosed with Alzheimer's disease. "The Eternal Memory" chronicles the final years of the couple's life together, as Urrutia takes on the role of his full-time caregiver.
Amazingly, this is a touching and ultimately uplifting depiction of a couple who are still deeply in love. The director of the film, Maite Alberdi, agrees with a smile, saying "Yes, it's a narrative that may seem tragic on paper but in actuality it is not. Throughout the years of filming, I never left feeling sorrowful."
In 2018, while speaking to film students at a university where Urrutia taught theatre, Alberdi encountered the couple. Prior to this, Góngora had publicly disclosed his diagnosis of Alzheimer's in a magazine interview a few months earlier. Alberdi commended his bravery as he was the director of a public television channel at the time and chose to resign and share his story with the entire country.
On that particular day at the university, Alberdi was struck by the fact that Urrutia had brought Góngora along to work with her. He had become a regular part of her daily routine and was warmly accepted by her colleagues, who took turns caring for him. Both Urrutia and Góngora seemed content and their relationship appeared completely normal. This is illustrated in a scene from the film where Urrutia is seen rehearsing a play with Góngora by her side on stage, both of them smiling and happy. The other actors were at ease with the situation, with one even giving Góngora a goodbye kiss on the cheek as he left and another squatting down to have a chat with him.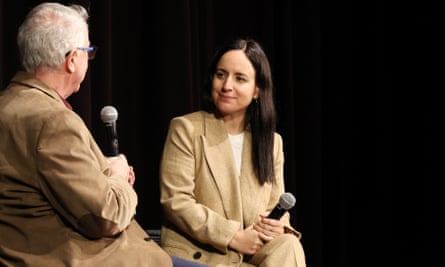 In previous films, Alberdi has explored the stories of individuals marginalized by society. Her documentary The Mole Agent, which received an Oscar nomination, depicted the loneliness of elderly individuals living in a care home. Was filming Góngora and Urrutia together a complete contrast to that? "Yes, it was. I have filmed individuals with dementia before and they were always portrayed as isolated from society. This was the first time I saw someone actively trying to be a part of society. It was incredible and very unique. I knew I had to capture this love story."
Góngora readily accepted being recorded. He did not feel embarrassed or ashamed of his illness. He also believed it was important to share his experience with others. He told Urrutia, "I have filmed many people throughout my life. During the dictatorship, people opened up to me to reveal their vulnerability and suffering. So why should I not do the same and show my own vulnerability?" In archived segments of his news broadcasts, his empathy and wit as a journalist shine brightly on screen.
Urrutia was not enthusiastic about the concept of making a film, a sentiment shared by Alberdi. Urrutia, being a prominent figure in Chile, expressed concerns about facing criticism. In 2006, she was unexpectedly thrust into the role of the country's first culture minister, which had its challenges. Alberdi recalls the scrutiny Urrutia faced during her time as minister, with invasive questions about her personal life and priorities. Alberdi is appalled by the way Urrutia was treated, stating, "How dare you ask such a question to a minister!"
The couple together decided to appear in the film. Alberdi's intention was to showcase their lifestyle, including social events, without concealing Góngora's illness. Alberdi, who is a mother, shares that she has learned from Urrutia to be more open about her responsibilities at home. Prior to meeting Urrutia, she used to hide her domestic issues, but now she follows Urrutia's example and says, "I'm with my son, but it's alright. I'll bring him along."
After two years of filming, the onset of the Covid pandemic disrupted the process. Due to Santiago's strict lockdown measures, Góngora was unable to receive any visitors for a year and a half. This was deemed too risky. During this time, Urrutia took on the role of cameraperson and captured some of the most touching and heartbreaking moments of the film. These included scenes of Góngora wandering alone at night, filled with worry and longing for his adult children from a previous relationship. Reflecting on this experience, Alberdi recognizes it as a valuable lesson in filmmaking. In the past, he had been preoccupied with capturing the perfect shot or image, but this film taught him the power of intimacy and vulnerability. He acknowledges that he will never again have the opportunity to capture such raw and intimate moments in the middle of the night with people who are truly alone.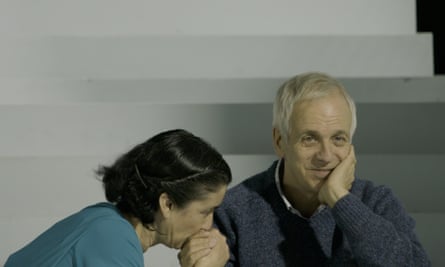 During the lockdown, the couple faced many challenges. Urrutia had to take care of her husband by herself, while Góngora was isolated and lacked companionship. Alberdi explains, "You can see it in the film. Before, he was able to ride a bike, but now he can hardly walk. He lost his ability to communicate after the pandemic." According to his doctor, his condition deteriorated significantly in just one month during the pandemic, which is equivalent to a year's worth of deterioration under normal circumstances, due to lack of social interaction.
Alberdi had intended to continue filming Góngora until his death, but there was a pivotal moment captured in the film during lockdown when she made the decision to turn off the camera. Góngora, speaking to his wife, expressed that he no longer felt like himself. This was the first time Alberdi felt uneasy behind the camera. She recalled Góngora's statement the day before, when he had said he no longer wanted to live.
She takes a moment to reflect. "It was evident to me that if he had no desire to live, then he certainly would not want to shoot." This marked the final day for me." Góngora passed away in May at the age of 71, under the care of Urrutia until the very end. A few months prior, The Eternal Memory debuted at Sundance and received the grand jury prize for best world documentary.
I inquired with Alberdi about Urrutia's opinion of the film, following her initial hesitation. She expressed deep gratitude and stated that the film is a precious gift to her. In what manner? She initially did not expect it to be so true to Augusto's character. She thought it would focus more on his Alzheimer's, but she now believes it accurately reflects how Augusto would have portrayed himself. She feels like he is still alive through the film.
Urrutia devoted all her time to caring for her husband during the advanced stages of his illness. Now, she is embarking on a journey around the world to attend film festivals. She shared, "I returned to society with my husband by my side, holding my hand, through the film. This is how I want to remember him."
She also mentioned that it's comforting to grieve together. When a loved one dies, no one wants to talk about it with you. But she wanted to talk, and the film provided the perfect opportunity.
Source: theguardian.com