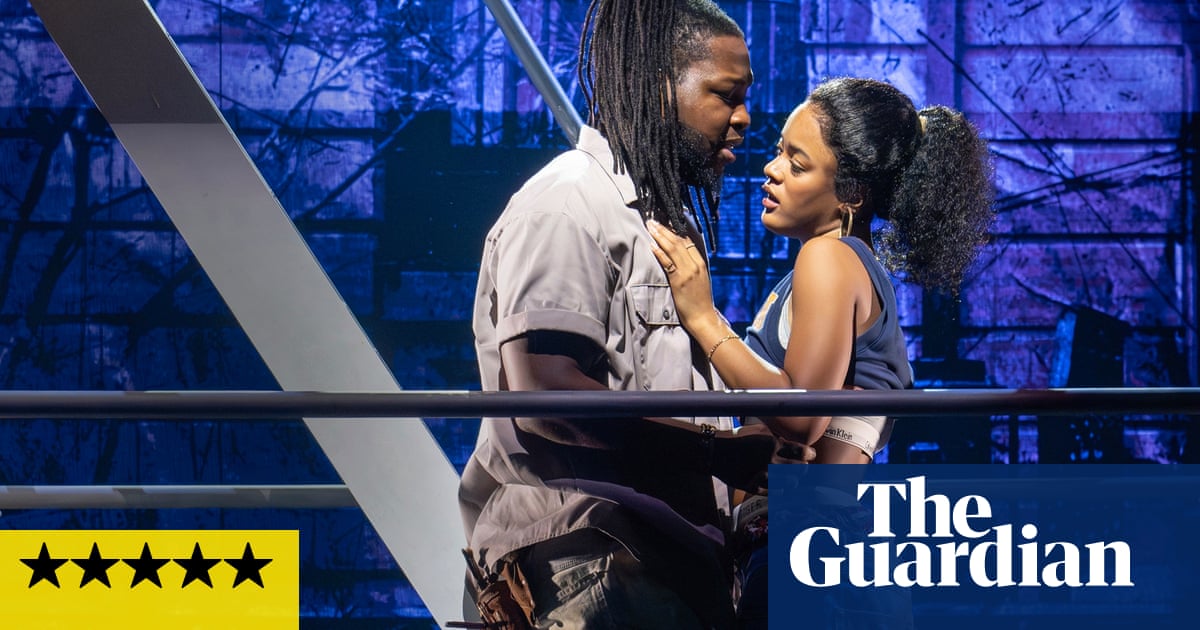 A
Ah, the jukebox musical. A favorite of wealthy Broadway producers seeking easy profits by bringing popular music to the stage and attracting large audiences night after night. These shows rely on hit songs with minimal dialogue, but can often lack depth and cleverness. In fact, New York Times critic Jesse Green has even referred to jukebox musicals as the "cockroach of musicals."
Alicia Keys's electrifying theatrical adaptation, "Hell's Kitchen," based on her own hits, surpasses all other shows in the genre. It has been in the works for over twelve years and is making its off-Broadway debut at the Public Theater, where "Hamilton" originally premiered. This is not a mere compilation of songs, but a vibrant and lively celebration of love, music, and a bygone era of New York City, before the rise of TikTok. Directed by Michael Greif, known for his work on "Rent" and "Dear Evan Hansen," and overseen by Keys herself, who was involved in every aspect of the production, from the dynamic dance routines to the selection of understudies. During a recent preview performance, audience members were moved to raise their arms and shed tears amidst the songs.
Keys, the Grammy-winning and classically trained R&B star, loosely based the story on her Manhattan childhood. The erratically present father, powerful and possessive mother, and life-changing piano teacher are all there (played, respectively, by Brandon Victor Dixon, Shoshana Bean and Kecia Lewis, who together have enough star power to light up a constellation).
The focal point of the production is Maleah Joi Moon, a 21-year-old newcomer with a captivating voice. She hails from New Jersey and portrays the character of Ali, a 17-year-old living with her mother in Manhattan Plaza. This apartment complex is located in the gritty midtown area, which serves as the inspiration for the show's title. Moon embodies the struggles of being a teenager, sporting the popular 90s look of baggy pants, boxer shorts, and Timberland boots. She skillfully conveys a mix of childlike excitement and intense teenage emotions, making her portrayal of a 17-year-old truly remarkable.
Similar to Persephone, our protagonist is torn between staying attached to her mother and giving into the temptation to break away. She is at a crossroads, and the play captures the tumultuous experience of being a teenager on the brink of adulthood.
Jersey, a rapid speaker who abandoned her artistic aspirations long ago, still manages to prepare dinner at 6pm every evening despite having to work. Meanwhile, Ali, who is left to her own devices, discovers new passions such as playing the piano and develops a fascination for an older boy named Knuck (played by Chris Lee), who identifies himself as a "thug" and has a charming singing voice that could attract a whole flock of Disney birds. One of the most notable aspects of this production is its acceptance of opposing ideas. There are no clear antagonists or damsels in distress. Ali's struggle is multifaceted: she desires both to hold onto her mother and to break free from her.
Hell's Kitchen, produced at the Public, is said to be the most expensive production ever. It features a lively cast of dancers, with choreography by the renowned Camille A Brown, and a vibrant set design that captures the spirit of pre-millennial Manhattan bohemianism. The wall projections, designed by Peter Nigrini, seamlessly create a world within the production, from the bustling street exteriors to the thrilling elevator rides that take place in Ali's 40-story playground. Ali, a 90s-era version of Eloise at the Plaza, is sharp and observant, fully immersed in the stories unfolding around her.
New compositions are constantly being released by Alicia Keys, along with her popular hits. The lyrics and rhythms have been updated to fit the story, and none of the songs feel forced. Each one provides a chance to immerse oneself in intense emotions. The work is filled with anguish and suffering, and the performances bring a new depth to beloved songs like Fallin', Empire State of Mind, and Girl on Fire.
The tickets for the run have been fully purchased, but it's difficult to believe that there won't be another chance to watch it. If this performance doesn't make its way to Broadway, we should all give up hope.
Source: theguardian.com