W
Wherever Shirley Thompson travels, she always brings along a CD of her original musical compositions. She states, "Many people have praised or teased me for my drive… I am the ultimate businesswoman."
This routine proved useful when she was speaking with Prince Charles at Clarence House in March of last year. She was attending an event to celebrate her recognition on The Powerlist, which recognizes the most influential Black individuals in the UK. "We discussed music and he asked me about my own music," Thompson remembers. "He mentioned that he would like to listen to my music someday, and I happened to have a CD of it in my bag."
It can be assumed that Charles was pleased with what he heard. One year later, Thompson was among 12 musicians chosen to create a composition for his coronation. Despite having been a composer for nearly 40 years, this was a significant moment for her. "I tried not to let nerves get to me, but it was definitely not like any other commission," she recalls. "To prevent stage fright and allow my creativity to flow, I had to be strong, fearless, and take the leap." This mindset seems to have been a recurring theme throughout Thompson's career, which started outside of the classical music world and has now reached its highest levels.
Born in 1958 in Newham, east London, Thompson is the eldest of four siblings. Her parents, who had immigrated from Jamaica a few years prior, worked as a district nurse in intensive care and a forklift driver. Looking back, Thompson can now recognize that her childhood was idyllic, with attending school during the week and going to church on weekends as regular activities.
Although her parents were not employed in the field, they strongly desired for Thompson to have a thorough understanding of the arts. She spent her childhood attending dance classes and learning tap and ballet. On Sundays, the house was filled with gospel, ska, and bluebeat music. However, Thompson did not start pursuing music until later on. At the age of 11, a visiting violin instructor at her school recognized her talent and she began playing the violin.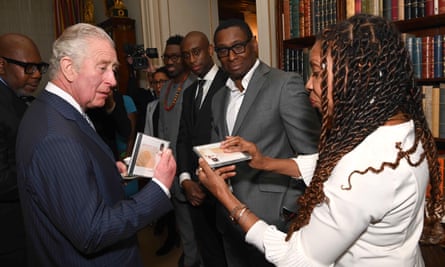 Thompson had a variety of interests during her childhood, which she sees as a good thing. "I participated in music, but I also enjoyed many other activities," she recalls. "People used to tell me, 'You're going to be a jack of all trades and master of none.' But I thought to myself, 'Well, I excel at all of these things.'" In person, she is outgoing and self-assured, qualities she has clearly possessed since she was young.
"I was a late starter compared to many of my fellow orchestra members," she recounts. "I never imagined I would pursue music as a result of always playing catch-up. My piano journey didn't begin until I was 14 or 15…but apparently, my talent was strong enough to conquer all of those challenges."
Participating in a youth orchestra was a significant aspect of Thompson's adolescence. It was her own choice, not something imposed by her parents like some of her peers. She recalls, "It was a major part of my life, as I spent three days a week there. School was my everyday routine, while orchestra was this unique activity I pursued after school. I believe it was the pleasure I derived from it that motivated me to continue."
At the University of Liverpool, Thompson received a stronger education in formal music, focusing on composition and musicology. Despite doing well in her studies, she became disappointed with the heavy emphasis on white, western classical music. She had hoped to study a wider range of music from different cultures, but instead was presented with a Eurocentric syllabus heavily featuring Beethoven and Mozart. This caused her frustration and ultimately led to feelings of depression.
Thompson shifted her attention to creating her own musical pieces. She finds it amusing that this was her weekend activity as a student. "But now, I am a composer because of my pastime while everyone else was at the pub," she chuckles.
Thompson credits James Baldwin and Richard Wright, both Black writers, as her main sources of inspiration. She also recalls a memorable visit from musician and poet Gil Scott-Heron, who demonstrated to her the powerful combination of music and politics. Reflecting on his message of freedom for Azania and South Africa, Thompson realized the potential for her own music to make a difference. His influence played a significant role in shaping her creative perspective.
The evidence of this was apparent in the music she composed for her master's thesis at Goldsmiths University of London. She explains, "The only thing that motivated me was including problems that were impacting me at the moment into my music." One of these problems was the disproportionate targeting of young Black men by the police – "because my brothers and their friends were constantly being stopped and searched. So I wrote a composition about stop and search, which was unprecedented. When my instructor listened to it, he was taken aback."
Following her graduation, Thompson appeared to be headed towards a successful career. She was showcased on the BBC program Ebony (1982-1990), which highlighted the Black community in Britain, and was also featured in the Radio Times in 1985. Additionally, she had her own string quartet. In 1990, her composition for the detective series South of the Border was chosen as one of the Top 20 BBC TV Themes. During her time in the BBC recording studio, the engineer noted that she was the first woman to both compose and conduct music in their studios.
However, Thompson encountered challenges with her non-TV compositions. Despite being able to present them through performances, they did not receive the desired reception. This lack of recognition led to a decrease in opportunities for commissions.
She thinks that critics purposely ignored her shows, possibly because her musical pieces were considered "unorthodox" during that period. "It felt personal," she explains. "The classical music community is very exclusive … They probably wanted to use their influence to determine who they wanted to promote. I definitely did not fit their criteria."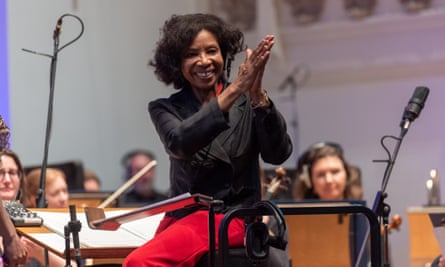 Excluded from the traditional music industry, Thompson decided to focus on a career in television. For approximately 15 years, she worked as a researcher and director for various production companies while also taking on freelance projects. Despite her busy schedule, she never stopped composing. However, she struggled to have her work performed. Then, she was approached by a promoter to establish an ensemble, which ultimately served as a turning point for her. The ensemble featured a diverse group of performers including singers, dancers, visual artists, and instrumental soloists, and their performances were held at London's Southbank Centre.
In the 2000s, her hard work in composing began to pay off. She was chosen to create a large piece of music to honor the Queen's Golden Jubilee in 2002: New Nation Rising, A 21st Century Symphony. This made her the first woman in Europe to both compose and conduct a symphony in four decades. The symphony, which was later recorded by the Royal Philharmonic Orchestra with nearly 200 performers including a rapper and dhol drummers, paid tribute to London's extensive 1,000-year history. New Nation Rising was well-received at the time and is said to have influenced Danny Boyle's celebrated opening ceremony for the 2012 London Olympics. Thompson believes she was chosen for the royal commission because her compositions were unique and drew inspiration from different musical genres such as hip-hop. She explains, "I wrote in a specific style, not using heavily discordant elements." However, she still felt like an outsider within the classical music world. "They wouldn't touch it. I write music that people can understand, but the current ethos in contemporary classical music is to be completely abstract and incomprehensible. If people can make sense of what you're doing, it's considered not good enough."
In 2007, Thompson received an invitation from a parliamentary committee to create a significant work for the launch of an exhibition at the Palace of Westminster in London, titled "The British Slave Trade: Abolition, Parliament and People." According to Thompson, the piece aimed to represent the triangular trade between Europe, Africa, and the Americas by featuring three women, one from each continent.
She drew inspiration from three influential women for her composition. These women were Queen Nanny, who fought against British colonizers in 18th century Jamaica as leader of the Maroons (a community of free Black people), Dido Elizabeth Belle, a biracial woman who was born into slavery but lived as a gentlewoman in England, and an unidentified enslaved woman known as The Woman who Refused to Dance. Each of these women had a significant impact on history and the composer sought to bring their personalities and stories to life through her music.
Thompson describes the response to the piece as "extraordinary", which inspired her to create a series called "Heroines of Opera" with a similar theme. She explains, "I am still deeply moved by the impact of that commission, as it sparked the concept of honoring women of African heritage."
The notable tasks have persisted. In 2009, Thompson was hired by the South Bank Centre to compose a musical composition honoring the first 100 days of Barack Obama's presidency. This piece was played by the BBC Concert Orchestra. Her Heroines of Opera series, influenced by her New Nation Rising: A 21st Century Symphony, is currently ongoing and evolving.
Thompson's background in music education during her school years and her current position as head of composition and performance at the University of Westminster have shaped her strong views on the current state of arts education. She is particularly critical of Prime Minister Rishi Sunak's recent statements about cracking down on what he deems as "low-value" arts degrees. According to Thompson, this mindset is misleading and limits individuals' opportunities. She expresses disbelief at how society has regressed to thinking in such a narrow-minded way, comparing it to a thousand years ago. Thompson firmly believes that culture is an integral part of life and essential for personal growth.
For many young people with no interest in classical music, their first encounter with Thompson may have been her appearance last year on Cunk on Earth, the mockumentary show featuring comedian Diane Morgan as Philomena Cunk. In her deadpan tone, Cunk posed questions to Thompson such as "Did Beethoven have an actual full-size horse living inside his face?" and, "Is it true that in the final years of his working life Beethoven was dead?", which Thompson handled with good humour.
She definitely caused a stir among her colleagues with her appearance on the show. She recalls, "One of my professor friends asked me, 'Why did you do that?'" Her motivation, she explains, was to share classical music with a wider audience. She describes the whole experience as strange. However, taking unconventional approaches is something Thompson believes has propelled her career to its current success. "Everything I've done in music has been innovative and daring, really breaking the norm."
Thompson has been honored with prestigious commissions and recognition, such as receiving an OBE for her contributions to music in 2019. However, she considers her most proud career moment to be a humble request from her mother.
Thompson recalls his mother accompanying him to all of his music events, including the first piece he ever composed, "Sempliche," during his school days. However, she never discussed the music itself and was only there to support him practically.
I wrote this piece when I was a student studying for my A-levels. It was my first composition for flute, piano, and violin and was originally written just for fun over a weekend. However, it became popular at my academy and we even performed it at a concert with a phenomenal reception. Surprisingly, 30 years later, my mother still remembered this piece and it was incredibly heartwarming.
Source: theguardian.com