Hip-hop legend and creator of Bad Boy Records, Sean Combs, is facing serious allegations of rape and abuse in a lawsuit filed by singer Cassie. The lawsuit claims that Combs used his influential connections to keep Cassie trapped in a toxic and abusive relationship with him.
According to a report by the New York Times, Cassie, also known as Casandra Ventura, was in a relationship with Combs for over ten years. She claims that during this time, Combs physically and sexually assaulted her, as well as exerted complete control over her life. The lawsuit states that she was trapped in a constant cycle of abuse, violence, and sex trafficking until their relationship ended in 2018.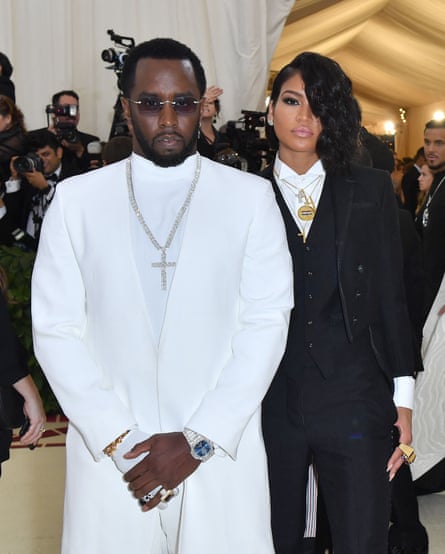 In a statement to the Times, she stated that she had been silent and in the dark for years, but now she is prepared to share her story and advocate for not only herself, but also for other women who experience violence and abuse in their relationships.
A spokesperson for Combs, also known as Puff Daddy, P Diddy, Diddy, and Love, refuted the accusations, stating that they were "deeply offensive and outlandish." These claims were made after Ventura requested $30 million from the influential figure.
"Ms. Ventura has chosen to file a lawsuit filled with groundless and scandalous accusations, with the intention of damaging Mr. Combs' character and seeking monetary gain," states the statement.
According to a lawyer representing Ventura, she was offered a significant sum of money in an attempt to silence her and prevent her from filing a lawsuit. However, she declined the offer.
Requests for a response from Ventura's representatives were not promptly answered via email.
The lawsuit reveals a disturbing portrayal of their connection, in which Combs took over her personal and work life and subjected her to prolonged physical abuse, coerced sexual interactions, and constant fear of harm.
Sean Combs, who has won three Grammy awards, oversees a successful business empire that encompasses various industries, including alcohol and music. He has been a prominent figure in the world of hip-hop since he established Bad Boy Records in 1993, where he launched the careers of artists such as Notorious BIG, Mary J Blige, and Lil Kim.
According to the lawsuit, Combs aggressively pursued Ventura, who joined Bad Boy at 19 years old and rose to fame quickly. He invited himself to her 21st birthday celebration, where he forcibly kissed her and used his power and influence.
The lawsuit claims that because Combs is the founder of Bad Boy Records, Ventura believed she had to accept his advances and drug offers in order to protect her career. She was enticed into a lavish and drug-filled lifestyle by him, according to the lawsuit.
Once they started their relationship, Combs treated Ventura to extravagant trips, covered the costs of apartments in both New York and Los Angeles, and provided her with expensive clothing and drugs. The lawsuit claims that this lifestyle was intended to keep her content and obedient. However, as their relationship progressed, Combs became possessive and violent, repeatedly physically assaulting her by punching, kicking, and stomping. The suit also alleges that he forced her to carry his guns in her purse on at least two occasions.
According to the lawsuit, the individual, who is currently 54 years old, was known for having uncontrollable fits of anger and would frequently force Ventura to participate in sexual activities with male sex workers. These acts were often documented through photographs and videos. The individual also provided drugs to Ventura before and during these encounters, causing her to disconnect from the traumatic experiences. The lawsuit asserts that Ventura was a victim of sex trafficking, as she was compelled to engage in non-consensual sexual acts in various locations.
According to the lawsuit, in 2015, Combs caused serious harm to Ventura, resulting in her having "two black eyes, a burst and bruised lip, and a huge welt on her forehead". When his security guard and assistant saw her injuries, they started to cry. Ventura claims that she was frequently forced to hide in hotels until her bruises had healed.
According to the lawsuit, Combs utilized his businesses to exert more authority over her life. Despite his "loyal network" witnessing his attacks, they were hesitant to take any significant action to prevent Mr. Combs' actions.
According to the lawsuit, her partner, who was both volatile and abusive, also owned her label and had complete control over her life, making it difficult for her to achieve success in the future.
According to the lawsuit, he utilized both the possibility of more violence and his connections to prevent Ventura from leaving the relationship whenever she attempted to do so. In 2012, after Ventura briefly entered into a relationship with Kid Cudi, Combs reportedly exploded the rapper's car. Kid Cudi verified Ventura's statement to the New York Times, stating, "This is all accurate."
According to the lawsuit, James Cruz, the president of Bad Boy Management, informed Ventura in 2016 that her single would only be released if she responded to phone calls.
In 2018, Ventura was eager to terminate their romantic partnership. According to the lawsuit, Combs forcefully entered her home and sexually assaulted her after a dinner where she expected to address their problems. She then left the residence, which he had funded, returned the car he had purchased for her, and completely cut off ties with him.
The injuries and emotional distress she underwent necessitated "extensive medical and psychological treatment."
The lawsuit states that Ms Ventura is seeking justice for the ten years of her life that Mr Combs took from her through threats of violence, excessive drug use, physical and mental abuse, and sexual exploitation.
The legal action is pursuing compensation for both income lost and the suffering of mental anguish and intense emotional turmoil.
Source: theguardian.com