T
Last year at this time, Low was scheduled to be the main act at Le Guess Who, a music festival in Utrecht that focuses on experimental music. However, the popular American indie band had to cancel their tour plans due to Mimi Parker's declining health. She had been diagnosed with ovarian cancer two years prior and unfortunately passed away on November 5th, 2022 at the age of 55 in her home in Duluth, Minnesota. Her death marked the end of the haunting and hymnal group that she formed with her husband Alan Sparhawk in 1993. The band, which had been evolving at a rapid pace, released their final two albums in 2018 and 2021, titled "Double Negative" and "Hey What" respectively.
Sparhawk, who has previously only played music in Duluth and Minneapolis, returned to Le Guess Who where he performed with his son, Cyrus, in two bands: Derecho, a funk band inspired by Roy Ayers and Curtis Mayfield, and Damien, a four-piece Afro-Cuban group where Sparhawk sometimes dresses as a ship's captain. At the packed Protestant church on Saturday night, Sparhawk's highly anticipated solo debut initially appeared to lean towards his funk roots: he played guitar with his long, weathered hair reminiscent of a heavy metal priest, while Cyrus played bass, Owen Mahon played drums, and Dave Carroll played banjo. They opened with "Liquid Love," an energetic instrumental piece with a jazzy refrain that falls somewhere between Thundercat and Chicago post-rockers The Sea and Cake.
If the Sparhawks continued to play in this manner for the entire set, it is likely that the audience would have been pleased due to their reputation and understanding of the absence on stage that was once filled by Parker. However, their performance takes a turn with a set list of stunning and powerful new songs that fill the void.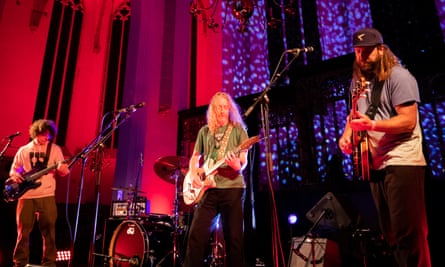 "When you flew out the window and into the sunset, I never thought I would stop screaming. The love between you and I seems eternal, but if it is, then I will probably be screaming for eternity," he sings with his famous, tortured voice. His guitar is distorted and aggressive while Mahon pounds the cymbals with soft mallets, cutting off any lingering sound and reflecting the frustration in the beat. Many songs on the album reflect a sense of despair and damnation, as seen in "JCMF" where Sparhawk boldly declares that when Jesus returns, everyone will be forced to pray. But on tracks like "Torn", which has a Neil Young influence, he is defeated and laments the repetitive and disappointing outcomes of certain situations. The song "Princess" features a classically tender refrain reminiscent of Low's signature sound, with Sparhawk singing about the futility of trying to save the world and the toll it takes on their relationship. The title of their debut album, released almost three decades ago, was "I Could Live in Hope" – a poignant yet futile sentiment that echoes throughout these songs filled with impending conflicts and uncomfortable truths.
Some express their pain and sorrow directly, with raw emotion and repetition of phrases that grow in intensity. On the bluesy track "Home 2 Me," Sparhawk begs for comfort with the words "Hold me," while on "Get High," he and Cyrus harmonize the invitation to let go, as if offering solace to Parker as she transcends this world. In "Don't Take Your Light," Sparhawk sings with a sense of desperation, pleading not to be left alone. It is heartbreaking to imagine him performing these songs without his life and musical partner by his side (and it is evident in the tears streaming down the faces of many in the audience), but it is also a crucial part of the grieving and healing process for the family.
The final track, "Want It Back," is a strikingly uncomplicated one, with Sparhawk continuously chanting the title while the music transitions from gritty rock to the funky wah-wah guitar that opened the song. (The performance even prompts some audience members to dance in the aisles, an unusual sight for the usually reserved band, Low.) Sparhawk's smile shines as he sings his spell, and the jazzy beginning and ending of the show feel like a symbolic conclusion to a holy ceremony.
Source: theguardian.com