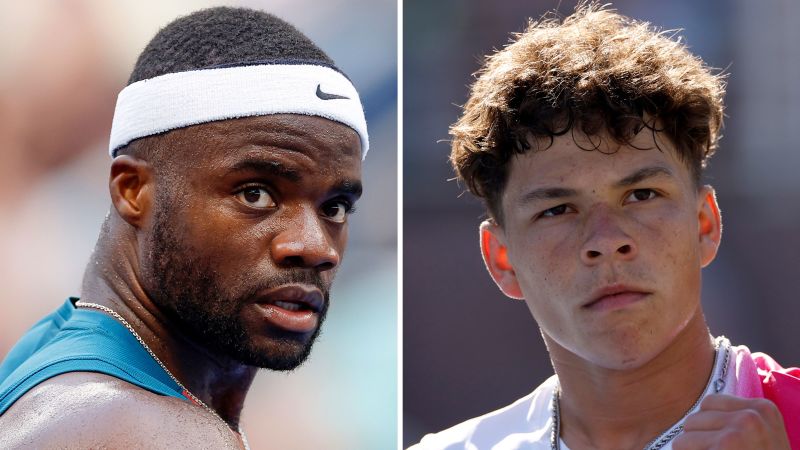 The US Open quarterfinals match between Frances Tiafoe and Ben Shelton on Tuesday was significant because it was the first time in history that two Black men competed against each other. Regardless of the outcome, it was a groundbreaking moment.
Shelton emerged victorious in the crucial match, causing an upset against the 10th ranked player Tiafoe with a score of 6-2 3-6 7-6(7) 6-2 and securing a spot in the semifinals where he will face 23-time grand slam champion Novak Djokovic.
This year marks the first occurrence since 2008 of two African American men competing against each other at Arthur Ashe Stadium. It has been nearly 20 years since a male American tennis player has won the US Open. While many are eagerly anticipating the end of this drought in 2023, tennis enthusiasts are currently reveling in this monumental match.
Before the match, Art Carrington, a former professional tennis player turned coach, described it as a unique cosmic occurrence.
According to him, the personalities of Tiafoe and Shelton will bring value to the game.
The competition between the two emerging tennis players has brought attention back to Black men's involvement in the sport. Tiafoe, 25, and Shelton, 20, competed against each other at a stadium named after the pioneering Black tennis icon who shattered barriers in the sport.
Arthur Ashe was the pioneer African American male to achieve the top ranking in tennis and secure multiple titles, such as winning the US Open, Australian Open, and Wimbledon in singles. He also made history as the first Black American to compete on the United States Davis Cup team.
Carrington, who used to be Ashe's practice partner, stated to CNN that it is crucial for younger generations to witness the success of Black men in the sport of tennis.
He expressed the importance of having visible tennis matches featuring Black players.
He also mentioned that although people are familiar with the journey of Venus and Serena Williams in tennis, there is a lack of representation of family stories about African American men. This is a significant achievement.
Tiafoe and Shelton were both exposed to the sport at a young age.
Tiafoe, whose parents immigrated from Sierra Leone, grew up at a junior tennis center where his father was employed in maintenance. After a few years, he joined a tennis clinic at the center.
In 2022, he achieved the distinction of being the first Black American man to reach a US Open semifinal since Ashe in 1972.
Shelton is emulating his father, Bryan, a successful tennis player who earned two professional titles and competed on the Association of Tennis Professionals Tour.
Earlier this year, Shelton's father stepped down as coach at the University of Florida to become his son's coach in the world of professional tennis.
According to Carrington, it is crucial for young African Americans to be exposed to tennis in order for the sport to thrive. He believes that it is the responsibility of older generations to share their passion for the game with younger ones.
Prior to Tuesday's game, Carrington stated that if he were coaching Tiafoe and Shelton, he would advise them to not let the significance of this moment overwhelm them.
He advised, "Relax and have fun, do not let stress control you. Release the stress."
This report includes contributions from CNN's Ben Church.
Source: cnn.com