West Ham's unbeaten European record was reduced to ruins in Athens as they crashed to a 2-1 defeat at Olympiakos, a first loss in Uefa competitions in 18 matches.
David Moyes, the manager who guided his team to victory in the Europa Conference League last year, decided to switch up his lineup for their Europa League Group A match in Greece. However, this decision did not work out as planned, as Olympiakos' captain Kostas Fortounis scored a questionable goal and West Ham's temporary captain Angelo Ogbonna scored an own goal, ultimately ending their undefeated streak. Despite a late goal from Lucas Paquetá, it was not enough to secure a win for the Hammers.
The Georgios Karaiskakis Stadium was expected to have a hostile atmosphere for West Ham, as Olympiakos cautioned their fans against throwing objects and using laser pointers on players. This warning came after their previous match against rival team Panathinaikos had to be stopped due to a visiting player being struck by a firework thrown from the stands.
Amidst heightened tensions in Athens, Panathinaikos was also hosting a game nearby. To avoid any possible conflicts, approximately 1,600 West Ham supporters were escorted by police from the city center to the stadium. The local 'ultras' did not disappoint, displaying a large banner that read "tonight you dine in hell" as the visiting team entered the field amidst a loud and intense atmosphere. West Ham's performance in the first half would have surely been difficult for Moyes to swallow.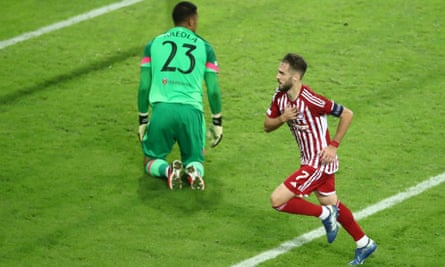 In the 34th minute, the hosts gained the advantage as Fortounis evaded Emerson Palmieri, James Ward-Prowse, and Pablo Fornals with ease, 25 yards from the goal. Fortounis then used a traditional toe poke technique from the edge of the box, which sailed past the stationary Alphonse Areola in the West Ham goal.
At the end of the first half, the Hammers were down two goals after Ogbonna experienced a tragic moment similar to a Greek tragedy. The experienced Italian player accidentally deflected a cross from Brazilian defender Rodinei into his own goal past Areola.
In the second half, West Ham showed more determination, but a pass from Emerson was kicked over the crossbar by Danny Ings. Before the hour mark, Moyes made three changes to the team with Paquetá, Jarrod Bowen, and Michail Antonio joining the game.
In the closing minutes, Paquetá's impressive volley from outside the penalty area reduced the deficit by half. Despite a strong push towards the end, they were unable to score an equalizing goal. A win would have practically guaranteed West Ham's advancement to the next round, but they now have some catching up to do. They are currently tied with Freiburg for the top spot in the group, with Olympiakos trailing by two points.
Source: theguardian.com