According to Mary Earps, it has become increasingly challenging to please everyone due to the difficulty of players being able to engage with fans at games with bigger crowds.
Earps took to social media to express her frustration over a fan's post on Instagram following Manchester United's 5-0 victory against Everton. The post thanked Ella Toone and Nikita Parris for taking the time to meet the fan's daughter, but also expressed disappointment that Mary Earps was too busy and important to do the same for her fans.
Earps shared a picture of a comment and expressed, "I attempt to overlook comments of this nature – but after a satisfying victory and spending a significant amount of time after the game meeting so many wonderful people, it's upsetting to come home and be tagged in comments like these. Let's spread kindness. Have a happy Sunday. With love, Mary x."
Discussing the engagement leading up to England's Nations League game against Belgium at the King Power Stadium on Friday evening, Earps stated: "As players, we are facing a unique experience as the landscape of the game shifts. While we enjoy connecting with our supporters, it can be challenging to satisfy everyone and engage with a large audience."
The goalie stated, "We are grateful for the thousands of individuals who want to meet and speak with us. However, we must acknowledge that if that is the expectation, we will never fully meet it. I believe the focus needs to shift now. While we appreciate the increased connection with fans due to the growth of the game, we also face unnecessary comments and criticism. I hesitate to use the word 'abuse' because it may be too strong, but it is an additional aspect of the game that is not necessary. We are giving our best effort."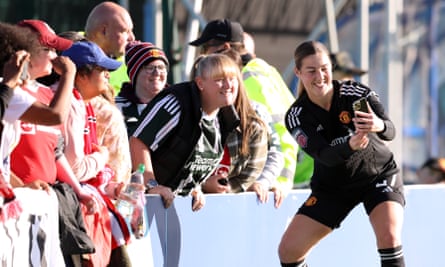 Earps expressed her happiness at the rapid sell-out of her England goalkeeper jerseys, which became available for purchase after she publicly advocated for the change before the World Cup. As part of their efforts to advance the development of goalkeepers, the FA invited 103 young keepers to observe training, receive an England goalkeeper jersey, and participate in a Q&A session with Earps, Hannah Hampton, Ellie Roebuck, and Khiara Keating.
Earps expressed that it is extremely fulfilling to give back to others. While she enjoys playing football and representing her country at a professional level, her true purpose lies in helping others. She finds joy in seeing young children progress and being able to make a positive impact on their lives. It was an incredible experience to have 103 kids attend her training session, and she was grateful to be able to gift them shirts with her, Roebuck's, or Hannah's name on the back.
The recipient of the Golden Glove award at the World Cup shared her goal of fostering a positive atmosphere as the top goalkeeper for the England team. "I've always aimed to establish a strong group of goalkeepers with a dynamic where we can tease each other a bit, but ultimately be united by our drive to be the best versions of ourselves and put in a lot of hard work," she stated. "In the past, it was challenging for me to fit in with groups of older players, and that's not the kind of environment I want to create."
Lauren James will not be available for England's consecutive matches against Belgium, with the second match taking place in Leuven on Tuesday. Sarina Wiegman stated that the Chelsea striker suffered a concussion.
The manager reassured that James' concussion was not a cause for concern, but emphasized the importance of following protocols. Unfortunately, due to the short time frame before the two upcoming games, James will not be able to play. Lotte Wubben-Moy is currently undergoing training, but her ankle injury is still being evaluated.
Source: theguardian.com