Vincent Kompany had no qualms about the lengthy delay to check an offside call late on in Burnley's defeat, but was incensed by the decision not to review a possible Bournemouth handball in the final moments of the match.
Burnley experienced their eighth loss of the season when Antoine Semenyo and Philip Billing scored, negating Charlie Taylor's early goal. In the 89th minute, there was a contentious situation as Jay Rodriguez's shot was disallowed for offside, but VAR David Coote took six minutes to review it at Stockley Park.
At first, a green line was used to indicate that the play was within boundaries. However, a subsequent red line was drawn and the play was ultimately deemed invalid. Kompany was surprised that the referee did not review a possible handball by Chris Mepham during the eighth minute of added time.
The Burnley substitute, Sander Berge, and Mepham got entangled from a cross by Taylor. This led to Bournemouth's goalkeeper, Andrei Radu, making a save at close range. It seemed to be from Berge's head, but Kompany clarified that it was actually from Mepham's hand.
"I am still trying to understand what happened in that crucial moment during the game. It takes us five to seven minutes to review whether a play is offside or not. The green line indicates a goal, while the red line indicates that it is not a goal."
I have a strong belief that when someone takes their time to make a decision, it is because they want to ensure it is the right one. However, in this case, the decision was made against us.
"It was difficult to accept, especially since the situation occurred in the final moments of the game. Why wasn't there a pause to review the handball? The players and bench staff had called for it and from a wide angle it was clear that a handball had occurred."
The hand is responsible for bringing the ball down, and there is no pause or delay for the restart, resulting in us losing the game. I am attempting to comprehend what is occurring in that moment.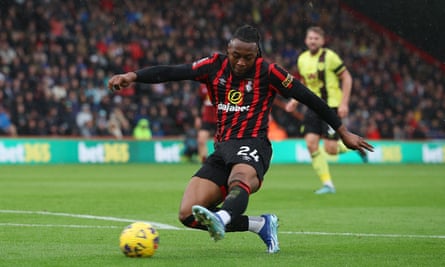 I approached the referee, Sam Barrott, for a discussion after the game. I believe this is the first instance in my managerial career where I have respectfully and calmly sought clarification from the officials.
"They were quite transparent with me and it appeared that they were caught off guard by our desire to have this [handball] reviewed by VAR. This suggests that no one from VAR alerted them to the possibility of a review."
Upon examination, the evidence is quite obvious. I am quite certain that this would have only taken them 15 seconds to evaluate.
Bournemouth manager, Andoni Iraola, stated that he did not witness the handball incident. He was in a much better mood as his team achieved their first Premier League win after 10 attempts. This was made possible by Semenyo's impressive solo goal and Billing's lob from a distance of 40 yards in the 76th minute. The manager expressed his happiness and relief at the much-needed victory for his team.
"Perhaps when you find yourself in this predicament, everything becomes more expensive. That's what occurred today. We definitely earned a victory, but the final VAR ruling on the offside call forced us to endure until the very end. We couldn't help but recall the Brentford game and worry that history would repeat itself in added time. It's clear that we deserved to win the game."
Source: theguardian.com