Brentford solidified their reputation as Chelsea's unlucky opponent with their third consecutive win against the Premier League team at Stamford Bridge. Recently, Mauricio Pochettino admitted that Chelsea is not yet at the level he desires, and based on this game, they have a lot of progress to make. The harsh truth is that Chelsea has only won one of their last 13 home league matches, defeating Crystal Palace, Luton, and Leeds in this year's competition.
Chelsea's frustrations were evident in the incident where Jesús Pérez confronted Bernardo Cueva, the team's analyst, in the Brentford dugout. This heated exchange led to the referee, Simon Hooper, issuing a red card to Chelsea's assistant manager. This was Hooper's first Premier League match since the VAR mistake in Tottenham's victory over Liverpool.
Chelsea have invested over £1 billion in acquiring top players for their team since the Todd Boehly-led takeover last year. However, during their recent game against Brentford, it looked like the only goal and ultimate victory would come from Brentford's Ethan Pinnock. Pinnock, who was signed in 2019 from Barnsley for £3 million, had previously played in non-league teams. The match took an unexpected turn when Bryan Mbeumo scored on a counterattack in stoppage time, surprising Chelsea who had sent all of their players forward in search of an equalizer.
Yehor Yarmolyuk failed to capitalize on a great opportunity to increase Brentford's lead when they had a four-on-two advantage with only a minute left in regular time. However, Mbeumo managed to score a second goal soon after. Neal Maupay, who had not scored in 13 months, ran towards an open net with Chelsea goalkeeper Robert Sánchez chasing after him. Just as it seemed that Maupay may have missed his chance, he passed the ball to Mbeumo on his left. The goal was ultimately disallowed by VAR due to Mbeumo's apparent foul on Chelsea substitute Ian Maatsen during the buildup.
The initial period seemed like a practice of offense versus defense, but as the game went on without any goals, Chelsea became more tense and Brentford's confidence grew. Their defensive strategy frustrated Chelsea, who frequently found themselves faced with red-and-white jerseys when they looked up. Noni Madueke, who was given a starting position, almost scored in the 10th minute with a great shot that hit the crossbar, but aside from that, Chelsea only had a few opportunities to score. Pochettino admitted, "We were not aggressive or precise enough when it came to scoring."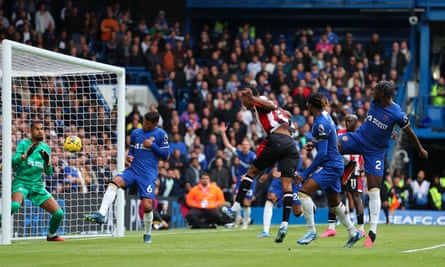 Brentford endured a challenging match, but they also relished stifling Chelsea's offensive efforts by crowding the area near the 18-yard box. Mbeumo, playing as a team player at the front, received recognition from his coach Thomas Frank for securing a throw-in near the middle of the field. The image of Brentford's left center-back Nathan Collins aggressively pressuring Cole Palmer all the way to the Chelsea goal line highlighted their determination to disrupt their opponent's game.
Chelsea's performance against Brentford was disappointing, as the hosts failed to live up to their early promise. Despite recording two consecutive wins for the first time this season, Frank downplayed his team's performance and admitted that the first half was average or even below average. He did acknowledge the potential of the Chelsea team, but stated that they still have room for improvement. As a Chelsea supporter, Frank believes that there is still reason to be positive and has confidence that the team will eventually reach their full potential.
Pochettino had to make three changes to his team for their match against Arsenal, as Enzo Fernández and Mykhailo Mudryk were unable to play due to minor injuries. One of the new players in the starting lineup, Nicolas Jackson, had a rough start when he missed an early shot. As the first half was coming to a close, a Chelsea supporter in the stands behind the dugout expressed his frustration towards Jackson. Pochettino responded by offering a sharp retort to the fan, stating that the team needed support and for the fans to stay positive. He explained, "The energy in the stadium was low at that moment. I told him, 'Stop talking like that. Come on, we need support and for the fans to stand behind the team.' I was very respectful."
Brentford created the opening opportunity in the second half, with Sánchez blocking a shot from Vitaly Janelt after Kristoffer Ajer, who was advancing forward from the centre-back position, found him with a quick pass from the side of the field. Brentford took the lead when Pinnock, another centre-back making a run, took advantage of poor marking by Axel Disasi and scored with a header. Mbeumo delivered a high cross from the right, and Pinnock showed the most determination in the penalty area to score with a strong shot.
Source: theguardian.com