CNN
—
On Monday, Novak Djokovic, a renowned tennis player from Serbia, conveyed a political statement by writing on a TV camera lens at the French Open, in light of the tumultuous conflicts occurring in Kosovo.
After winning the first round against American player Aleksandar Kovacevic, Djokovic expressed his message "Kosovo is at the core of Serbia. Let's end the violence" in Serbian by writing it on a camera lens and including a heart symbol.
The announcement appeared on the large screen of Court Philippe Chatrier.
In the last week, tensions have escalated in Kosovo, a country that declared independence from Serbia in 2008. On Monday, there were confrontations with demonstrators when ethnically Albanian mayors were sworn into office in northern Kosovo. This area is predominantly inhabited by Kosovo Serbs, who had refused to participate in the April elections.
At least 34 members of the NATO peacekeeping mission in Kosovo sustained injuries during the confrontations.
At a press conference, Djokovic further explained his statement in Serbian, stating: "This is the least I could do. I feel a responsibility as a prominent figure, regardless of my field, to offer my support."
Being the son of a man from Kosovo, I strongly feel the urge to show my support for our people and for Serbia as a whole. The future of Kosovo and the Serbian people is uncertain, but it is crucial to stand in solidarity and show unity during these challenging times. The outcome is unknown.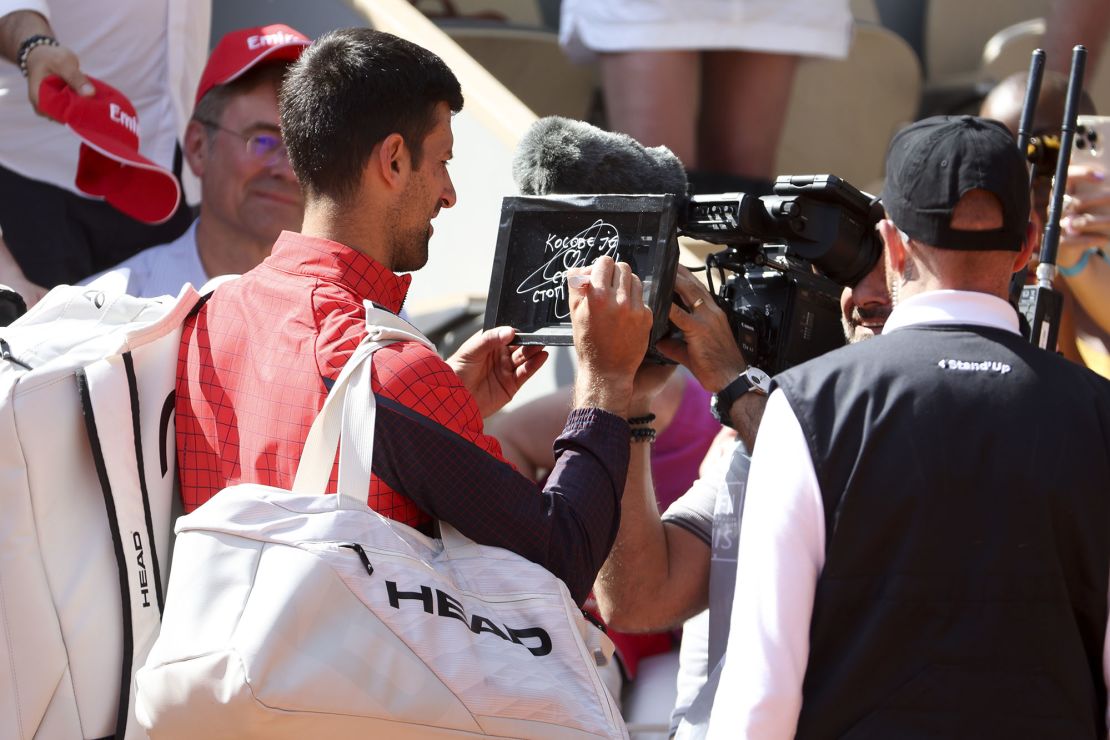 Djokovic's statement about the "whole of Serbia" aligns with the stance of the Serbian government, which maintains that Kosovo is an inseparable part of its land and has not acknowledged its independence.
On Monday, KFOR (NATO's Kosovo Force) announced an increase in their presence in the northern region of Kosovo due to recent events.
The Italian defense ministry reported that several KFOR soldiers were harmed after demonstrators hurled "Molotov cocktails with nails, firecrackers, and rocks."
According to Reuters, Djokovic stated that he was not contacted by French Open officials regarding the message he wrote on the camera lens. He also shared a photo of the message on Instagram. CNN has reached out to the French Tennis Federation for a response.
I have made my position very clear: I am opposed to war, violence, and any form of conflict, as I have consistently expressed in public. I sympathize with all individuals, but the case of Kosovo sets a precedent in international law," stated the 36-year-old.
During his childhood in Belgrade, Djokovic experienced the 78-day NATO bombing in 1999. The bombing aimed to stop the violence against ethnic Albanians in Kosovo, committed by troops under Yugoslavia's then-president Slobodan Milošević.
Djokovic hopes to secure his 23rd grand slam victory at the French Open, surpassing Rafael Nadal as the all-time leader in men's tennis.
Jessie Gretener, Sugam Pokharel, Tara John and Sharon Braithwaite from CNN were involved in contributing to the reporting.
Source: cnn.com