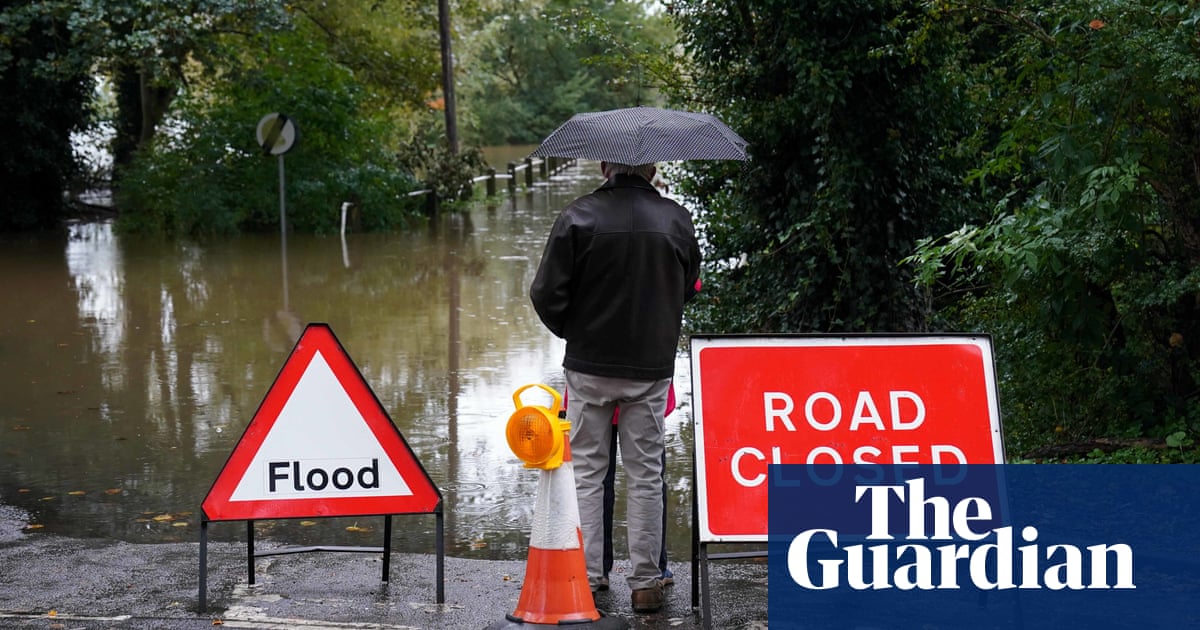 The Met Office has stated that Storm Ciarán is expected to bring powerful winds, intense precipitation, and the potential for flooding to southern England and Wales towards the end of the week.
On Sunday morning, forecasters revealed the name of the new storm, following the damage caused by Storm Agnes and Storm Babet in recent weeks.
Ciarán, named after a government employee, is expected to bring powerful winds and substantial rainfall to the southern regions of the United Kingdom on Wednesday evening and throughout Thursday.
The Met Office's deputy chief meteorologist, Chris Almond, stated that Storm Ciarán will bring strong winds with gusts up to 80mph along the south coast of England. There is a slight possibility that some exposed areas may experience gusts of 90mph, and winds could reach up to 50 or 60 mph further inland.
This strong low-pressure system will also cause significant precipitation across the majority of the UK, with the most intense rainfall predicted for southern and western regions. Rainfall amounts of 20-25mm are likely to be widespread throughout the area, but higher elevations could see up to 40-60mm.
"Heavy and persistent rain will fall on to already saturated ground, bringing a risk of further impacts such as flooding in areas that are already struggling to clean up from the heavy rainfall we have seen over the last week or so."
The Met Office advised people to heed their weather warnings. Yellow warnings will be in effect every day until Thursday.
Warnings were issued for heavy rain in eastern Scotland, north-east England, south-west Wales, and south-east England on Sunday and Monday. A separate yellow warning has also been issued for a significant portion of Northern Ireland on Monday.
The yellow warning for Storm Ciarán will start at 6pm on Wednesday and will continue throughout Thursday. It will affect areas in south-east England, the west country, and south Wales, and includes cautions for potential flooding and travel disruptions.
Several areas in the United Kingdom are currently in the process of recovering from the aftermath of Storm Babet. The storm resulted in a minimum of seven fatalities and displaced hundreds of individuals from their homes as a result of severe flooding.
Agencies have issued warnings that despite Babet's completion, the threat is still present. As of Sunday, there are 73 ongoing flood warnings in England, such as in Alfriston on the South Downs and the Wye estuary at Brockweir in the Forest of Dean. Additionally, there are 176 flood alerts, indicating potential flooding in certain areas.
There were a total of 15 flood warnings and 11 flood alerts in Scotland, while Wales had seven flood warnings and 17 flood alerts.
A West Sussex town experienced destruction on Saturday night when a tornado caused a roof to be torn off a house and damaged cars and other properties.
On Sunday, the Tornado and Storm Research Organisation conducted an inquiry and informed the BBC that a confirmed tornado struck Littlehampton.
The process of naming storms is a collaborative effort between the UK's Met Office and similar organizations in the Republic of Ireland and the Netherlands.
Ciarán was named after Ciarán Fearon, an employee of the Department for Infrastructure in Northern Ireland. His work involves disseminating data on river levels, coastal flooding, and the effects of extreme weather.
Following Ciarán, the next names on the list could potentially be Debi, Elin, and Fergus, with the list extending to Walid. However, it would be uncommon for all of these names to be used in one year. In the 2022-23 season, only two names, Antoni and Betty, were used by the Met Office. In the previous season of 2021-22, six names were used, including the destructive Storm Arwen.
Source: theguardian.com