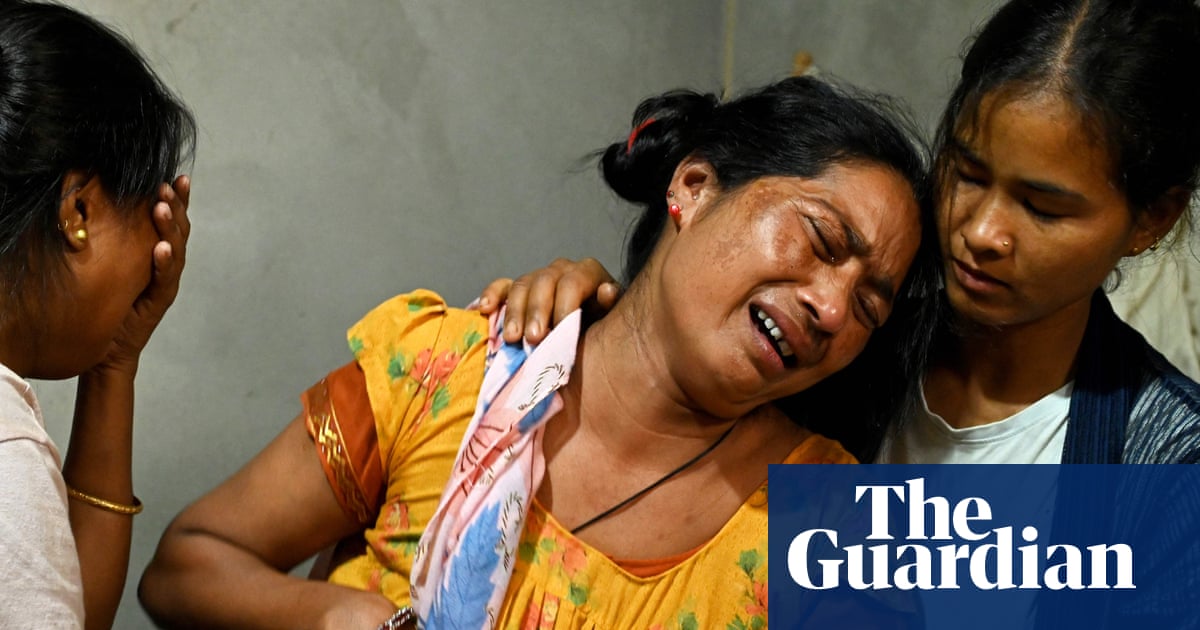 Dhanbahadur Chaudhari is currently experiencing nightmares about blood-filled rivers. Despite having recently returned to his home in Nepal, he cannot shake the memories of what he witnessed in Israel and has been struggling to get a good night's sleep.
Chaudhari, 25, was among almost 50 students from Nepal who were staying on a kibbutz in Alumim, the border area between Israel and Gaza, when it came under attack from Hamas militants on 7 October. Since the current conflict broke out that day, at least 4,200 people have died in Israel and Palestine.
Ten students from Nepal lost their lives at the kibbutz due to gunshot wounds and shrapnel from grenades. Their bodies were returned to Kathmandu this week along with the evacuation of hundreds of citizens. It is suspected that one Nepali student was taken captive by Hamas.
The passing of the students caused a ripple effect across the nation, where it is typical for people to go overseas for temporary employment. The majority of those who passed away were participating in a "learn and earn" initiative on a kibbutz, where they assisted with cultivating and picking avocados and tomatoes while earning a modest wage.
Chaudhari remembers being awakened by the noise of missiles and gunfire around 6am while at the kibbutz. He, along with a group of over twelve people, hurried to the bunker as they had been instructed. However, Hamas fighters hurled grenades into the bunker, causing him to lose consciousness.
"I also sustained injuries from shrapnel," he recounted. "Upon regaining consciousness, I found myself drenched in blood and surrounded by my deceased and wounded friends. One had lost their legs, another their hands. The entrance to the bunker was blocked by the lifeless bodies of my comrades."
In the following hours, he made efforts to assist his friends who were injured by bullets. He had to maneuver over dead bodies to reach them and provide water and bandage their wounds with bedsheets. Unfortunately, some of them passed away due to lack of timely help from Israeli forces, which arrived hours later that evening.
Chaudhari expressed that he believed this would be the end of his life. He shared that he managed to get through the lengthy wait for rescue by shutting his eyes and reflecting on his loved ones in Nepal until the Israeli police arrived.
On that morning, 24-year-old KC Pramod was present in the bunker. He saw his companions, Ganesh Kumar Nepali and Dipeshraj Bista, being fatally shot in his presence. Bipin Joshi, another friend, was abducted by Hamas militants from the entrance of the bunker and has not been found since.
"We began yelling 'We are Nepali, we are Nepali' but they ignored us and continued shooting, eventually throwing two grenades into the bunker," Pramod recounted. "The bunker was then drenched in blood."
The individual stated that he took cover under the bodies of multiple acquaintances for a minimum of four hours. "Certain friends were experiencing severe bleeding, but I was unable to assist," he recounted. "During that moment, I was unaware of who had survived and who had perished."
"I continue to be haunted by memories of my injured friends pleading for my assistance, even after returning home to Nepal. This traumatic experience will remain with me for the rest of my life."
The families of the victims of the kibbutz attack were filled with disbelief. Some parents were unfamiliar with Israel and never thought their children would be in danger. The loss of their children was especially devastating as they were often the main source of income for the family.
Mukesh Swarnakar was one of the casualties at the kibbutz, but it took a few days for his family to receive confirmation. His sibling, Rajesh Kumar Swarnakar, age 24, shared that their mother has been inconsolable and hardly able to speak since they received his body back in Nepal.
The speaker expressed frustration and concern over their brother being sent to a dangerous area. They lamented the perceived disregard for Nepali lives and emphasized the brother's role as a breadwinner and source of hope for the family.
Kanaiyalal Chaudhari, 70, lost his grandson Ashish Chaudhari in the attacks. He described how Ashish had been working in Israel to save up money and return home to get married and take care of his grandfather who had raised him.
"Why was I not taken first by God?" he wailed. "Who will be there for me in my old age? Grandson, why have you departed from this world?"
Source: theguardian.com